Disclosure: Some of the links in this article are affiliate links, which means that if you purchase through those links I will receive a small commission. For example, as Amazon Associate, I earn from qualifying purchases. If you decide to use these links, thank you!

"What in the world do I need to pack?" and "How do I not spend my entire life savings?!" are the most asked questions when planning a trip to Disney World. It can be extremely overwhelming to decide what to pack in order to have a great time and not overspend at Disney. My family and I just returned from our trip, so I wanted to share what we found is the ultimate Disney World survival kit.
I was traveling with my husband and my five-year-old daughter. I read so many posts before our trip that each time I opened Pinterest I broke into a sweat and felt like I was heading into a battle zone. For example, why would I need to pack a full first aid kit, equip myself with a stroller lock, and wear a full rain suit? Ok, you wouldn't need a stroller lock in battle, but you get the point. So, I read through the long list of suggestions and packed the the ultimate Disney World Survival Kit: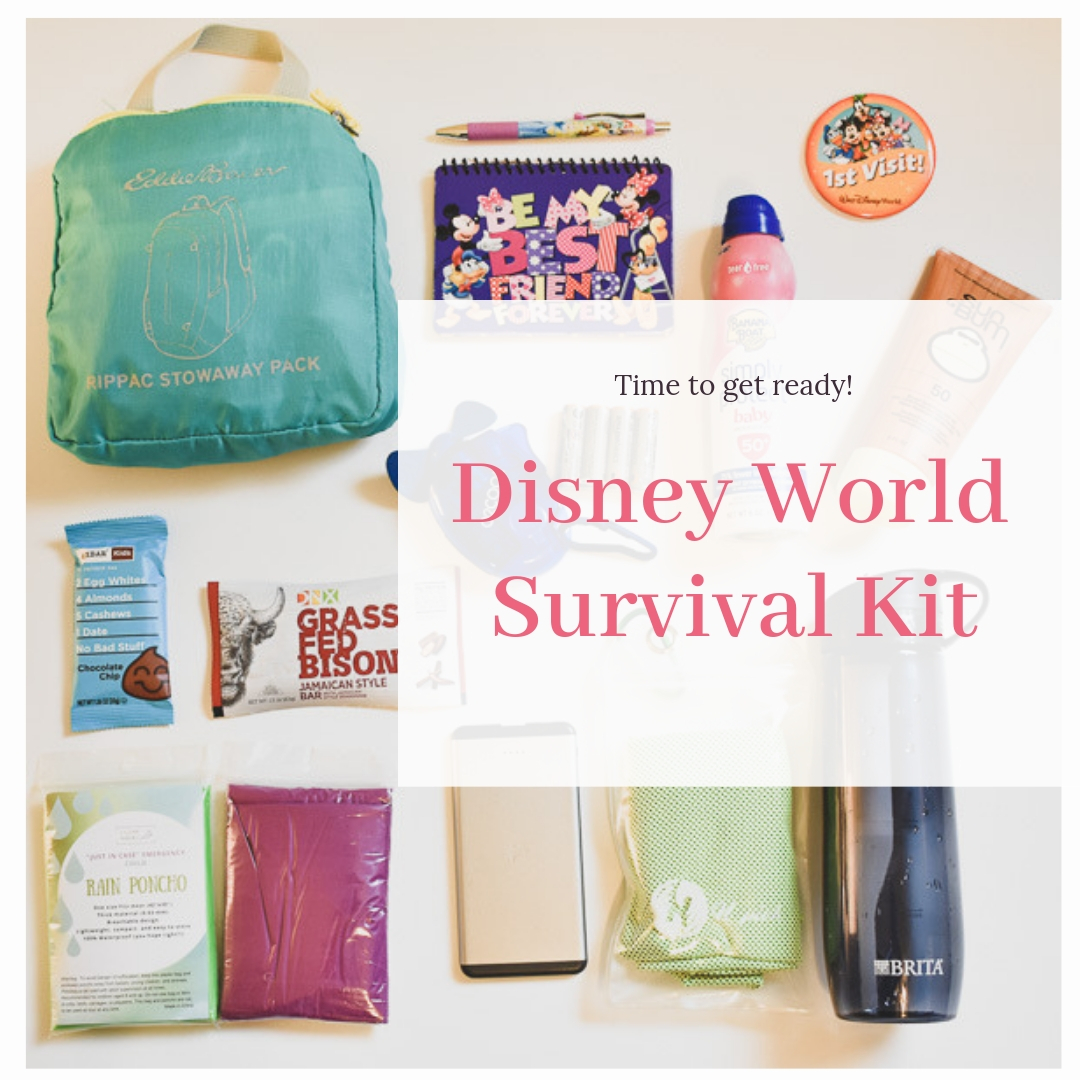 The Disney World Survival Kit
Items not pictured for the Disney Survival Kit:
Phone with the My Disney Experience App loaded. This app is essential for viewing your fast pass selections (and making more once they are used!), viewing your itinerary and show times, viewing a map of the park and getting directions quickly, seeing wait times for attractions, finding characters to meet, ordering food, making dining reservations, and viewing hotel/resort information. You also want to make sure to have your phone to take pictures. We opted out of the Memory Maker and took our own photos. It's also a good idea to take a ziplock bag for your phone if you plan on going on water rides without a poncho.
Body Glide. I wore flip flops during our four days at the park, so I used Body Glide daily before putting on flip flops to protect my feet from rubbing that causes hot spots, blisters, raw skin.
Hat. I purchased a hat at Homegoods before leaving for our trip. This will save you from having to spray your head with sunscreen. will keep you cool, and will hide your crazy hair in the humidity of Florida.
Stroller. Even if your child thinks they are too big for a stroller I would recommend taking one for them anyway. We walked at least 8 miles a day (yay for 20,000 fitbit steps!). My daughter rode in the stroller for the majority of the walks through the parks and she used the shade cover frequently. There are many places to park your stroller and you can keep your daypack in it when you go on rides.
More Useful Tips to Save Money and Make the Most of Your Trip
We worked with a Disney Planner through Design My Trip: http://designmytrip.net/ Our agent was Bridget Weckesser and she is amazing! She helped us to make resort reservations, plan our park days, set up dining reservations, and set up our fast passes. She even answered questions while we were at Disney. I would highly recommend her!
At check-in you can opt out of mousekeeping services to receive a Disney gift card for the amount of $10 per night. After a bit of discussion (my husband wanted the gift card and I wanted a clean room) we chose to forgo mousekeeping. This worked out well for us. I used it to pay for my trenta Iced Coffee's at Starbucks and we were able to call housekeeping whenever we needed anything.
Stop at front desk/guest services to make sure that your magic band can be used to make purchases. We attempted to buy lunch from one of the Disney resort restaurants when we arrived and our magic bands did not work. We were so excited to use them for the first time and it was not very "magical" to have them declined. My husband's personal credit card did not work either since we were out of state and the bank was being helpful and not letting us use his card. We stopped by guest services and it was easily fixed. So, I would stop by guest services and make sure your magic band is working for purchases.
We did not choose to purchase a dining plan. This website provides a great Disney dining calculator to help you determine whether it is worth it for your family to purchase a dining plan: https://www.distripplanner.com/ For example, I checked to see how much we would spend just for breakfast for the five mornings that we would be there and it came to $161! And that is using quick service restaurants. I also didn't want to be worried about how many dining credits we were using and have some left over. I saw one family that bought a ton of overpriced snacks from the gift shop the last day of there trip just to use up their credits.
We ordered groceries through Instacart so that we would not have to eat out for breakfast. This saved us time and money since we ordered food that we could pack with us to eat on the bus if needed. They will deliver it to bell services who will refrigerate your items if needed.
That wraps up my ultimate Disney survival kit and tips for your trip to Disney. I hope you have a magical time!! Please share this with your family and friends!