Disclosure: Some of the links in this article are affiliate links, which means that if you purchase through those links I will receive a small commission. For example, as Amazon Associate, I earn from qualifying purchases. If you decide to use these links, thank you!

Thrive Market is one of my go-to shops for healthy snacks and pantry staples. I follow a gluten-free and dairy-free diet and Thrive Market makes it effortless to find foods that fit my dietary needs. This article contains my complete Thrive Market Review, and answers the question, "is it worth the cost of membership?) (note: the answer is yes!)
In the past, I have spent hours at the grocery store reading product labels. I became discouraged because of the limited choices or I got tired of reading labels and gave up. I would sometimes end up just buying the same products each time I went to the store. However, I am definitely a foodie and I like to mix it up and try new things. So, I was excited when I discovered Thrive Market and how easy it makes it to shop based on your dietary needs and values.
Thrive Market Review
What is Thrive Market?
Thrive Market is an online marketplace that offers healthy foods and products at 25-50% below retail price. They simplify the supply chain to deliver an average savings of $30 on every order. It's kind of like the Costco of high-quality health products.
Free Products
Thrive Market offers FREE full-size products as gifts with your purchase when you spend $49 or more. You can even choose the gift you want! I have received items like Justin's Maple Cashew Butter ($10.50 value), SmartSweets Sweet Fish ($3 value), and Daiya Creamy Italian Dressing ($5 dollar value). These have become some of my favorites!
Convenience
I am lucky to live near several grocery stores like Whole Foods and Trader Joe's, but some of my friends that live in more rural areas don't have easy access to stores that carry a variety of foods that fit their dietary needs (like gluten-free and dairy-free). Thrive Market makes it easy for them to find healthy foods at a lower cost for their families and have it delivered to their door.
Free Shipping
Shipping is free on all orders over $49. Orders totaling less than $49 are charged a shipping & handling fee of $5.95 (but I always make an order over $49, so I've never had to pay shipping fees). Thrive Market currently ships to all residential and commercial addresses in the Contiguous U.S.
How it Works
Shop your favorite brands – Browse 6,000+ wholesome food, home, and beauty products at 25-50% off retail.
Start your 30-day free trial – with your first purchase you will receive a FREE 30-day trial membership. You can cancel anytime.
Join and Give – Your $60 annual membership earns you free gifts and guaranteed savings. Your membership also sponsors a free membership for a low-income family.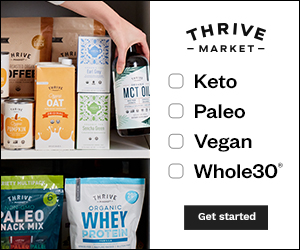 Thrive Market Review: How Much Will You Save as a Member?
As a member, you will get wholesale pricing on over 6,000 products. Thrive Market reports that the average member saves $30 off retail pricing per order, which means that you will make back the membership fee in savings in just two purchases. They also guarantee that if you don't make back your membership fee in savings over the year, they will give you the difference in credit when you renew.
I just checked and as of January 23, 2020, I've saved $1,122.78 since becoming a member.
Shop Based on Your Values
I love Thrive Market because I know that all of their products are high-quality. For example, they carefully screen their products to ensure that they do not carry any GMO foods. They also focus on providing USDA Certified Organic options.
They also make it super easy to find foods and products that fit your family's dietary needs and values. There are over 70 options, so you can easily filter the categories to find products that fit your needs.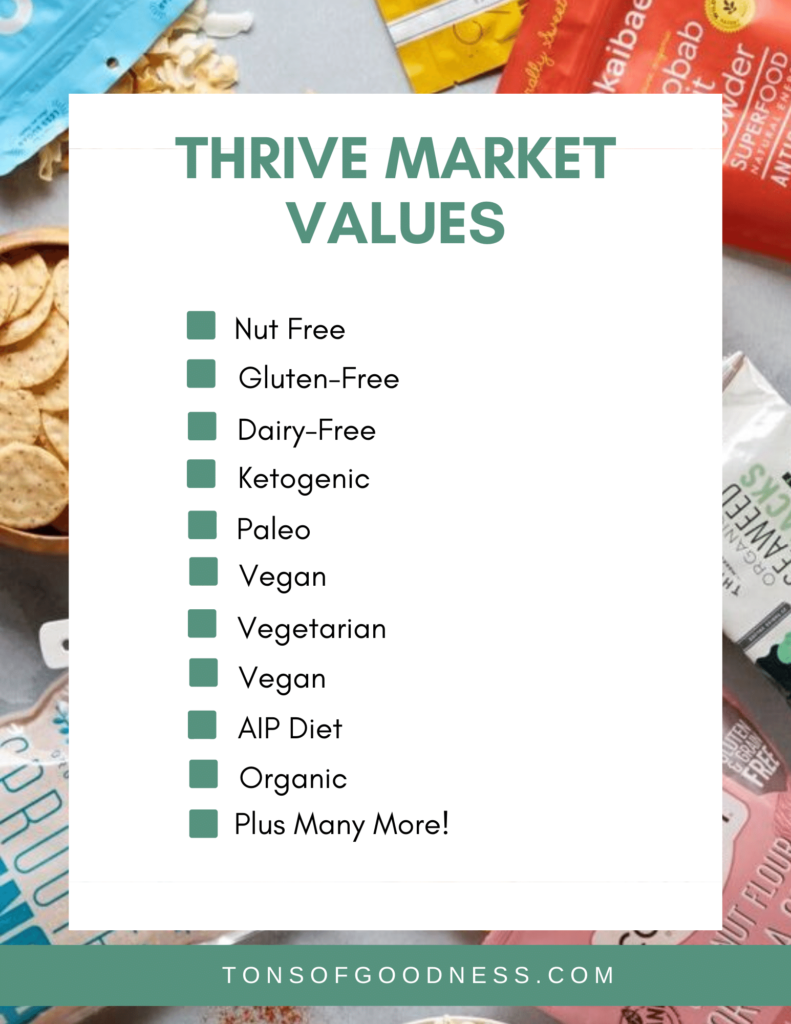 A Few of My Favorite Thrive Market Products – Gluten Free & Dairy Free
Simple Mills Vanilla Cake Almond Flour Mix – This is my go-to cake mix. It's made with simple, whole-food ingredients including almond flour, coconut flour and coconut sugar for nutrient value and lower glycemic impact, this vanilla cake mix is deliciously sweet (but not too sweet).
Simple Mills Almond Flour Pancake & Waffle Mix – It's made with simple, whole food ingredients including almond flour, coconut flour and coconut sugar for nutrient value and lower glycemic impact — and is delicious. I like that it has a much lower sugar content than other mixes. I really like all of Simple Mills products.
Primal Kitchen Avocado Oil Mayo – I love Primal Kitchen's Mayo and Salad Dressings. They are made from real-food ingredients with no artificial colors, preservatives or additives. They are free of added sugar, gluten, dairy, soy and canola-oil.
Health Warrior Dark Chocolate Pumpkin Seed Bars – Just honey, spices and one of the best plant-based sources of protein on the planet, pumpkin seeds.
Thrive Market Plantain Chips, Lightly Salted – These crisps are made with just three simple ingredients—plantains, non-hydrogenated vegetable oil, and sea salt—making them vegan-friendly and gluten-free.
Califia Farms Almond Milk Creamer, Unsweetened – I love Calidia Farm's milk and creamers. They are made with 100% natural almond cream, and free from dairy, soy, and carrageenans.
Thrive Market Organic Coconut Aminos – Coconut aminos provides the same sweet-yet-salty umami flavor as soy sauce and its wheat-free cousin tamari, but offers a big difference when it comes to nutrition. Because coconut aminos is made from the organic sap of the coconut tree, it can have anywhere from two to 14 times the amino acid content of soy.
Thrive Market Organic Dark Chocolate 72% filled with Cashew Butter – Thrive Market offers several types of dairy-free chocolate! It is Paleo, vegan, and irresistibly delicious. This is one product that I add to every order.
This list could go on, but you get the idea. They also have a great selection of home, bath and body, and kid's products. As I mentioned in this post, Give Me All the Wine..Without the Headaches, Thrive Market also recently introduced Clean Wines, a sustainably-sourced selection from artisanal producers—organic and biodynamic wines.
Remember, you can always register for free to get a 30 Day Free Trial Membership. You will also get up to $20 in shopping credit when you purchase a Thrive Market Membership! 
I hope this Thrive Market Review helped you to decide if Thrive Market is right for you. I also hope this post gave you some ideas for gluten-free and dairy-free picks. I'd love to hear about your favorite products too!