Disclosure: Some of the links in this article are affiliate links, which means that if you purchase through those links I will receive a small commission. For example, as Amazon Associate, I earn from qualifying purchases. If you decide to use these links, thank you!

Like many of you, I have read and reread Rachel Hollis' book Girl, Wash Your Face. If you haven't read this yet go order it now here, or go check it out at the library or borrow it from a friend. Each chapter begins with a specific lie Hollis once believed that left her feeling overwhelmed, unworthy, or ready to give up. It's truly inspirational and I think that every one can relate to at least one chapter of this book.
So, why am I talking about Rachel Hollis and water bottles?!?
Well, Rachel Hollis has created a #Last90Days challenge where she challenges her listeners and readers to commit to, "Five to Thrive." These are five things Rachel feels like are essential to thrive, and things that have worked for her:
Drink more water – half your body weight (in ounces) of water every day
Exercising at least 30 minutes a day, every day
Giving up one category of food that you know is not good for you
Getting up one hour earlier each day to spend time doing something for yourself
Writing down 10 things you're thankful for every day
Drink water like it's your part time job! Seriously, getting dehydrated can really throw off everything from your skin to your equilibrium. Do yourself a favor and carry around a bottle of water wherever you go. Add lemon or orange or even herbs if you want to mix up of the flavor but make sure you're drinking eight glasses a day.
ONE thing on this list that I don't do daily is drinking enough water. I know of the many benefits of drinking water, but it's something I definitely have slacked on. So, I went on a search to find a water bottle that would help me get motivated to drink more water. My criteria are that the water bottle is easy to drink from, has a built in tracker, and is pretty. Who wants to carry an ugly water bottle? So, I found five favorites and I want to share them with you so that you can thrive too!

5 Water Bottles to Help You Drink More Water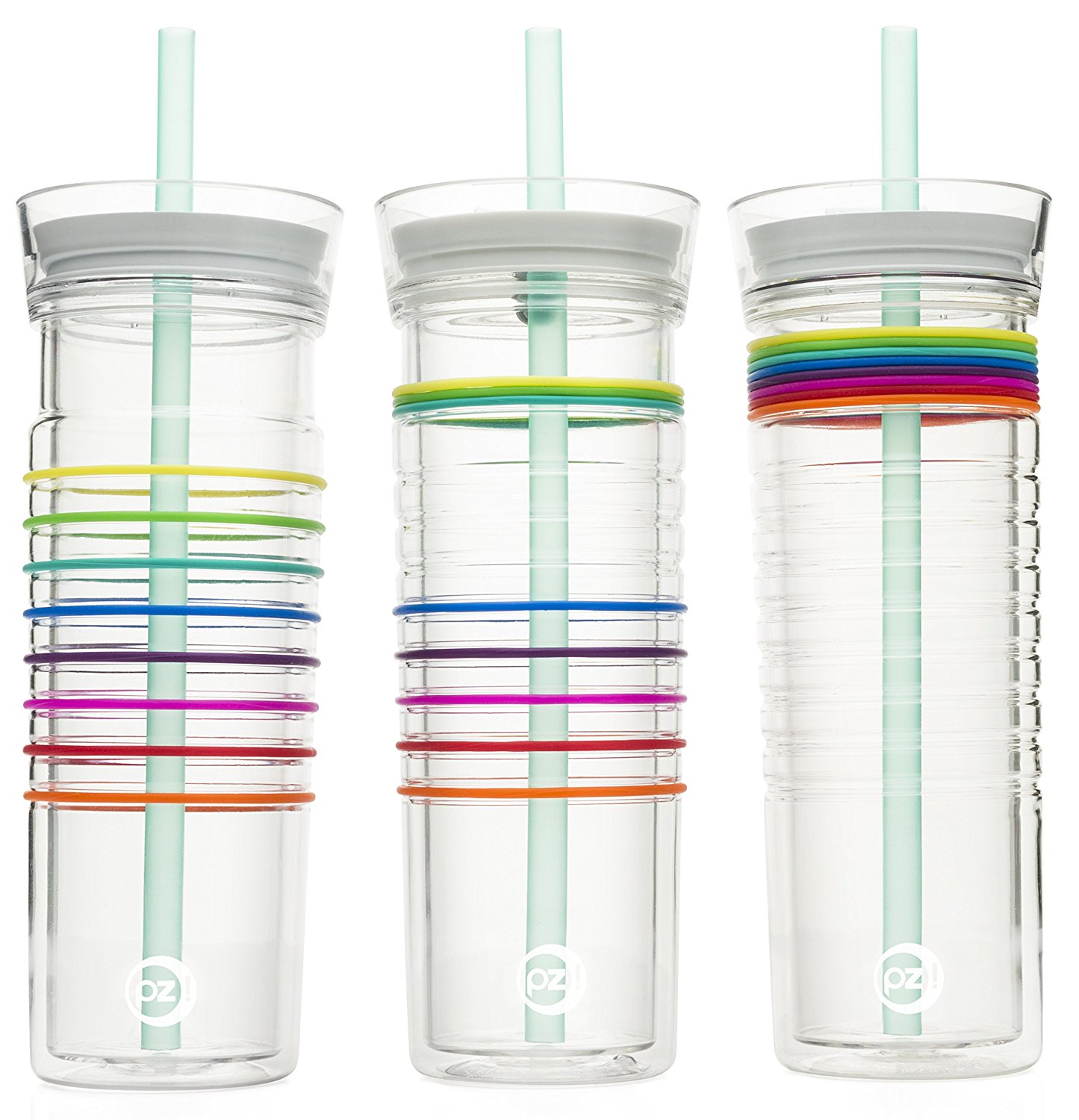 This is my favorite! Zak! Designs' HydraTrak Tumbler helps keep track of how much water you are drinking. You monitor your water intake with included rainbow bands; wear the rainbow bands as bracelets, or roll them up the tumbler. I can't see myself wearing them as bracelets, but that may be a fun idea for kids. You can remove the straw and use the built-in silicone stopper to plug the hole for a spill-proof lid; easy to remove lid has silicone gasket for secure closure Insulated double wall construction keeps drinks colder longer and reduces condensation. It fits in most cup holders. This bottle holds 20 oz. and is made of Tritan plastic that is durable and BPA-free; top rack dishwasher safe.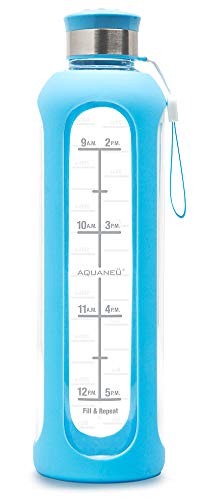 This is a good choice if you are looking for a glass water bottle. The bottle is timed marked with measurements and hold 32 ounces of water. It comes with a removable silicone sleeve to provide protection from drops. The lid is leak-proof and has a carrying strap.

This drink reminder bottle comes in a variety of colors and also has a removable filter if you like to infuse your water with fruit. It has hourly time markers to help you stay accountable. It is leak proof and is made from BPA-free plastic. This is one of the larger water bottles I've seen. It holds 36 ounces of water, so you will need fewer fillups. This would definitely help me to drink more water throughout the day!

If you want a fun visual reminder to drink more water, then this may be the water bottle for you. This one is a bit pricey, but it glows to remind you to stay hydrated, tracks water intake, and syncs with smartphones (iOS and Android) via Bluetooth. Integrates with Fitbit, Apple Watch, and other activity trackers to adjust your daily water goal to your daily activity level. Holds 24 ounces. Fits in a standard cup holder. No charging needed.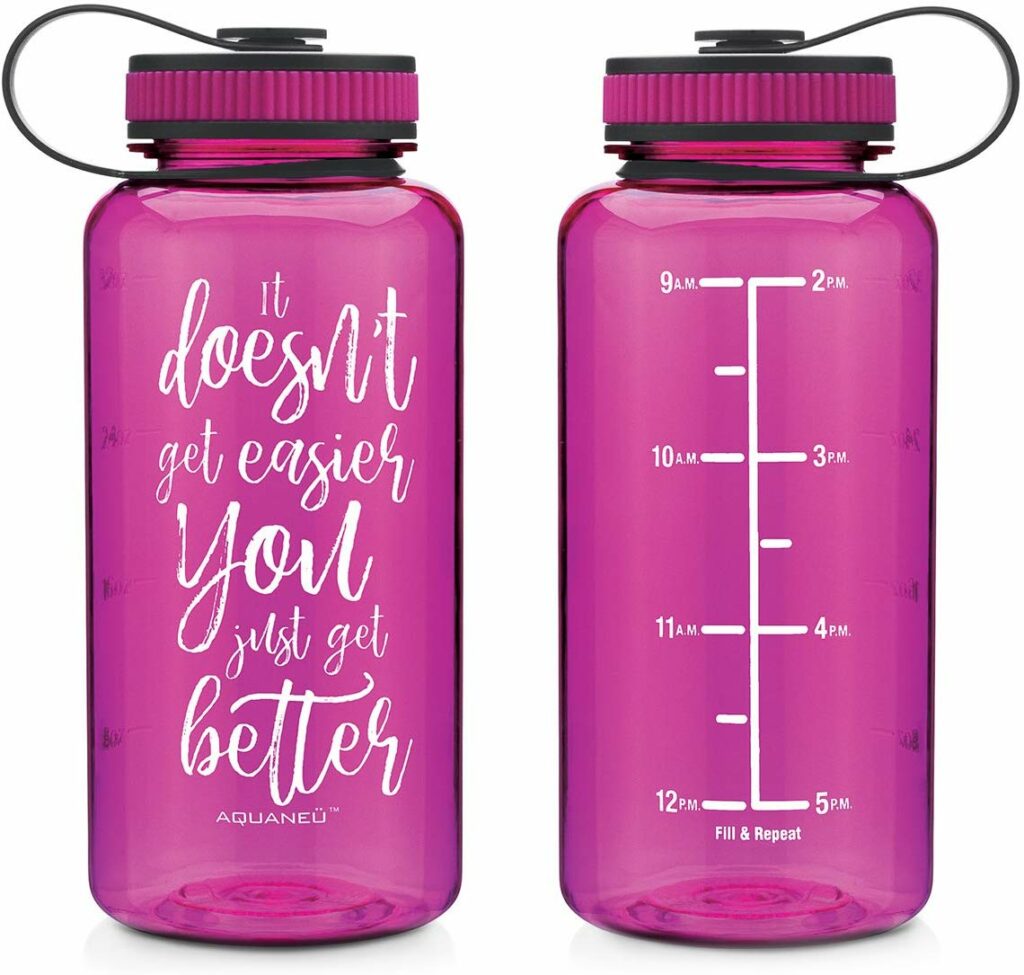 I really like that this one has an inspirational quote to inspire you all day. It is 100% BPA FREE Tritan Plastic Water Bottle: Shatter-proof, scratch-resistant, leak-proof, and Eco friendly. Time Marked Water Bottle with Time Marker and Measurements: Easily remember to drink more water throughout the day with times to drink. It holds 34 oz and has a wide-mouth opening. It is easy to fill and clean.
Which water bottle will help you thrive? Let me know in the comments. I would love to hear from you!
If you would like to read more about finding the motivation to exercise at least 30 minutes each day, check out this post, How to Find Your Winter Workout Motivation. Thanks!
Wishing you tons of goodness in your life,
Kat