Disclosure: Some of the links in this article are affiliate links, which means that if you purchase through those links I will receive a small commission. For example, as Amazon Associate, I earn from qualifying purchases. If you decide to use these links, thank you!

I don't know about you, but I have a TON of apples from apple orchards and farmer's markets. I love apple season and am always looking for new ways to use apples. So, today I decided to make a juice recipe with celery, apple, carrot, and romaine. It's so tasty and refreshing. I know you'll love it!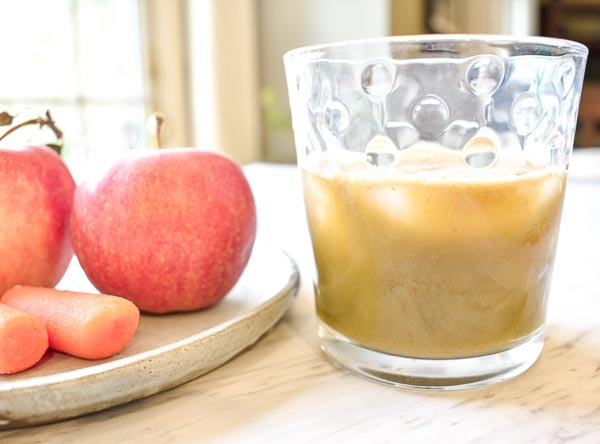 I recently purchased a juicer, which I love! After reading way too many reviews I purchased the Aicook Juice Extractor. It is super easy to use, easy to clean and has two speeds to get the most juice out of your veggies and fruits.
I always use greens (celery, kale, cucumber, spinach, etc) as a base for my juices. Then I sometimes add fruit to sweeten. Today I had apples, carrots, celery, and romaine in my fridge, so I pulled them out to make a quick juice.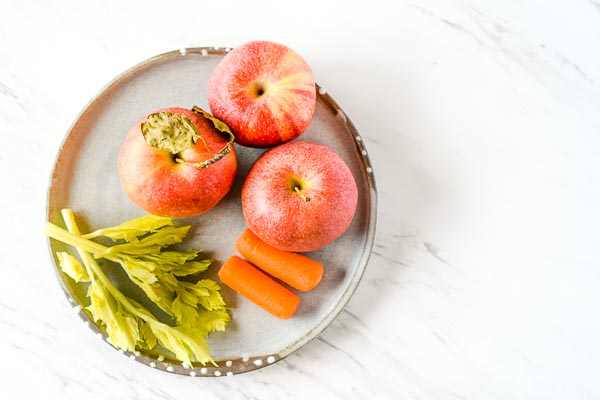 I love juicing because the vitamins in fruits and vegetables, such as vitamin C and vitamin A, are absorbed better in liquid form. Your body can bypass unnecessary digestion of fiber and then more quickly and efficiently absorb nutrients. I always feel like I have a boost of energy after drinking this juice.

I always like to know what the benefits are to what I am eating or drinking. These are the benefits of this drink:
Apple – tons of antioxidants, vitamin C, B complex and beta carotene
Carrot – rich in vitamin A, high in carotenoids
Celery – calms nerves, lowers blood pressure, diuretic
Romaine – high in minerals, such as calcium, phosphorus, magnesium, and potassium. Packed with vitamin C, vitamin K, and folate and a good source of beta carotene.
I love juice, like this juice recipe with celery, as an easy way to get my vegetables throughout the day. It's also great for kids. My daughter doesn't yet like to eat celery, but she will drink it when it's juiced with apples or oranges. For more tips about kids check out my article, How to Help Your Kids Develop Healthy Eating Habits.
So, gather your ingredients and give this recipe a try!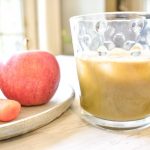 Juice Recipe with Celery, Apple, Carrot, and Romaine
A refreshing, energizing drink that features apples and celery as it's main flavors.

Ingredients
2

small

gala apples

2

stalks

celery

1

head

romaine lettuce

6

baby carrots
Instructions
Start by thoroughly washing your produce. Cut your produce into smaller pieces that your juicer will be able to process. For the celery, I use the stalks and the leaves.


Juice ingredients one at a time in your juicer. Enjoy!

Recipe Notes
You can use any type of apples you have on hand.
I prefer my juice over ice, try it and see what you like best.
This juice will stay fresh for two days in an airtight container.
Did you make this recipe and love it!? Please share the goodness and pin it or share on Instagram and hashtag it #tonsofgoodness. Thank you!
For more recipes, check out 14 Healthy Apple Recipes for Fall by Go, Green Mamas!