Disclosure: Some of the links in this article are affiliate links, which means that if you purchase through those links I will receive a small commission. For example, as Amazon Associate, I earn from qualifying purchases. If you decide to use these links, thank you!

Can't find a dress that fits?
Or maybe you find a dress you like, but the neckline, sleeve, or length isn't the way you like it?
If you said yes, then I guarantee you will love eShakti!
Trying on dresses is one of my least favorite things until I discovered eShakti.com. I like their dresses so much I decided to do a try-on video, an eShakti review, and provide tips for getting your best fit!
Honestly, every time I go to a store or shop online for a dress I end up buying a sweatshirt. Because they are cozy and they always fit, right?
Well, I was looking for a dress to wear to a wedding and nothing seemed to fit me correctly. My bust, waist, and hips are three different dress sizes (like most women). I was feeling pretty discouraged but was hopeful when I found eshakti.com.
What is eShakti?
eShakti.com is an online retailer that sells beautiful clothes that you can customize. They have hundreds of dresses to choose from whether you need something for work, a party, or a wedding.
You can choose to purchase a standard size or customize it based on your measurements and preferences.
One of the surprising things about eShakti.com is that the dresses are affordable. For example, the price range of the dresses that I had customized and received within 2-weeks was between $54 and $99!
Another thing that I love about eShakti is that their mission is to empower women by providing customized clothing that fits and makes us feel more confident. They respect the fact that we are all diverse in terms of our shape and size and they are there to help every woman find amazing clothes they can feel good in.
How Does eShakti Work?
It's super easy to order from eShakti. Here are the steps to follow:
1. Choose Your Favorites
First, you choose one (or many) of the dresses, tops, and bottoms in the eShakti collection. There are so many to choose from and they add new styles every week!
2. Customize your design to fit your style.
This is the fun part! Their dresses are fully customizable. So, you can choose your favorite neckline, sleeve, and dress length!
These are some examples of custom options: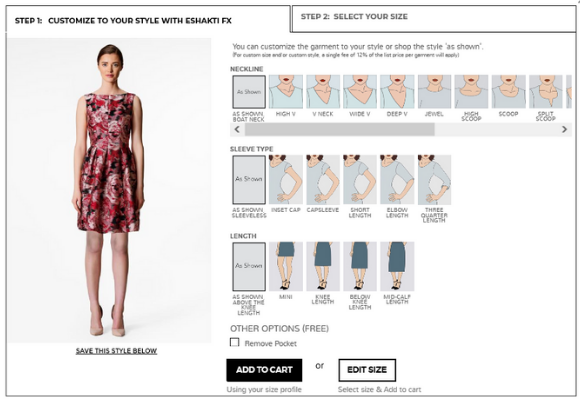 All of their dresses are fully customizable for fit and style details in sizes 0-36w. The customization fee is 12% of each garment's list price.
This is an example of one dress customized in three different ways!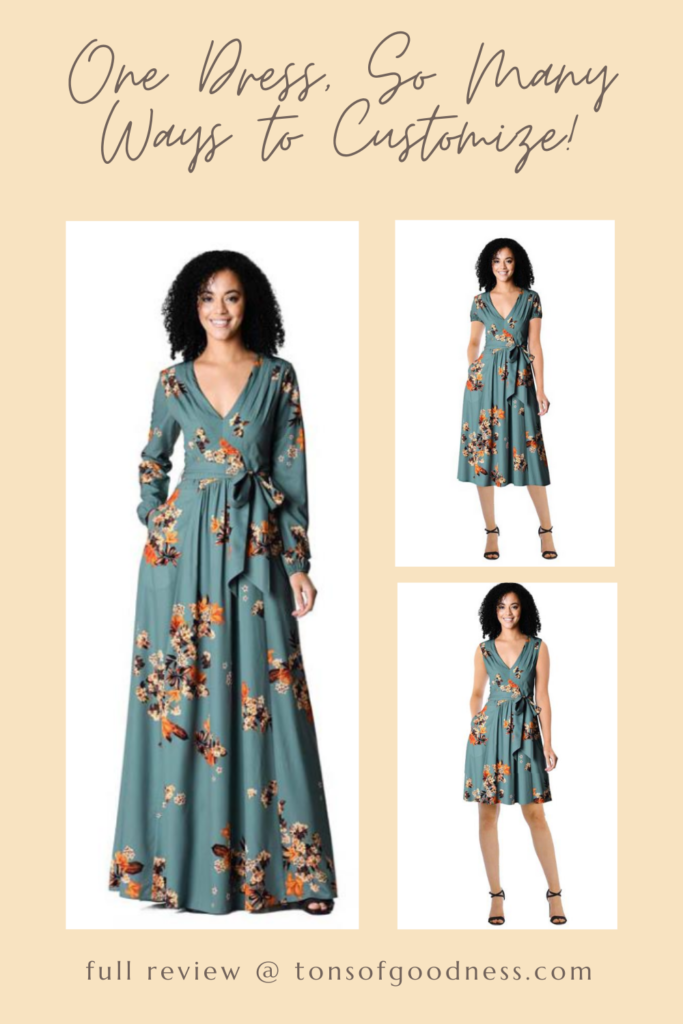 So, as you can see in the image above, you can choose your preferred neckline, sleeve, and skirt length. This specific dress only has two neckline options since it's a v-neck, but other dresses have more options (v-neck, scoop, jewel, square, etc.). So many choices!
The fun thing is that as you choose, the image of the dress changes. So, you can see exactly what the dress will look like when you receive it!
There is also an option to remove the pockets, but I love dresses with pockets!
The hard part is choosing which combination you love the most. You could always go with the "as shown" option if you love how it looks without customization.
3. Provide Your Measurements
The next step is to provide your measurements. You can choose to either purchase a standard size from 0 to 36. Or you can provide your measurements for a custom fit. Whether you choose to customize your item or not, they always ask for your height to give you a great fit.
I would highly recommend entering your custom measurements for the perfect fit.
This is an example of the measurements they will ask for: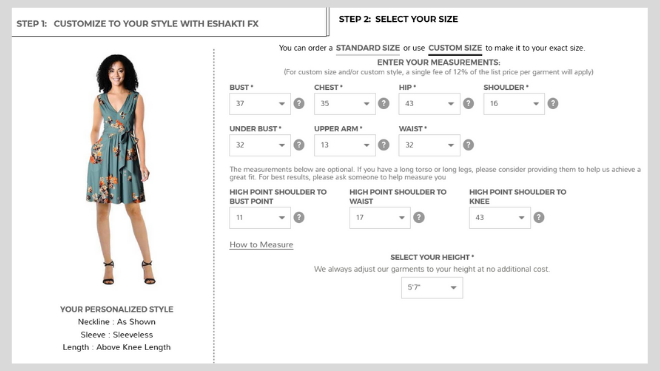 4. Wait for your shipment to arrive!
Your customized dresses will be hand-crafted to order and arrive within 14-17 days. Mine arrived in just 13 days, which is pretty impressive I think since they are made and shipped from India.
My Unboxing and Try-On of eShakti Dresses!
I ordered three customized dresses from eShakti and I was so excited to see what they looked like! They arrived in a large box sealed in a clear plastic envelope. They are shipped from overseas, so it's nice that they have the extra protection of the plastic around the box.
The three dresses were wrapped nicely in tissue paper and looked even better than I expected.
They even included a note with the names of the skilled professionals who made my dresses!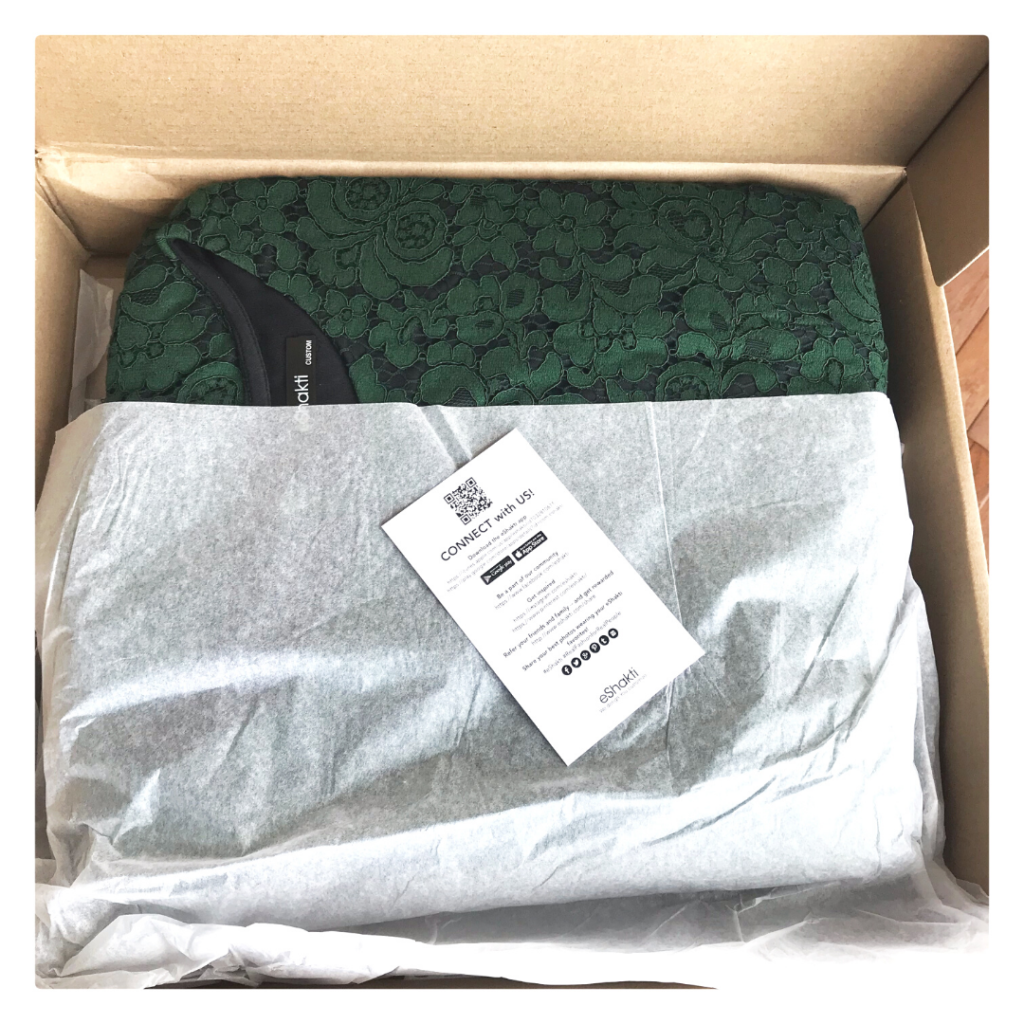 This is a video to show you the three dresses. I apologize ahead of time for the black bars on the sides of the video. I normally don't do video's, so now I know to turn the phone 🙂 Check it out here:
My eShakti Experience and Review
These are the three dresses that I ordered: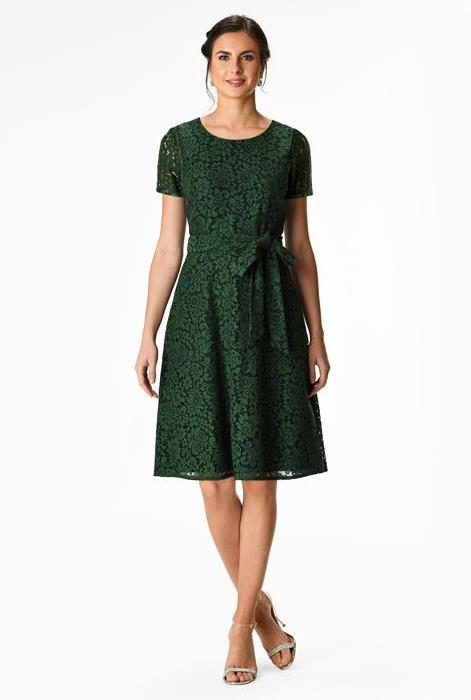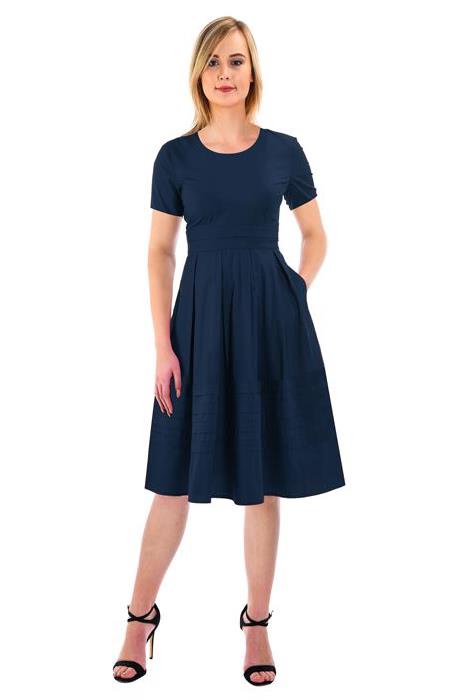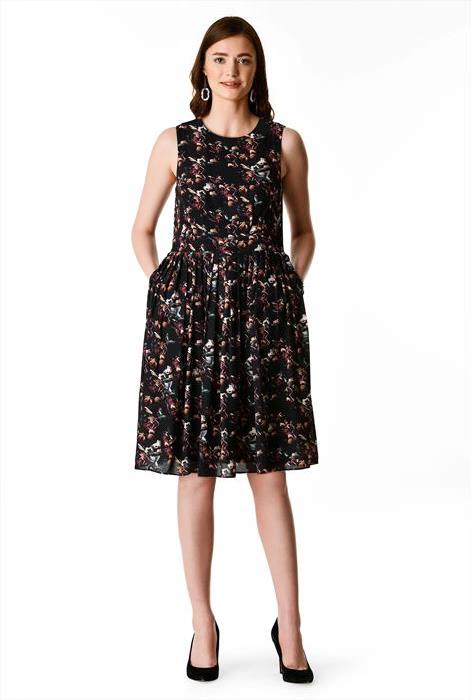 As you can tell, I really like fit-and-flare dresses. And I love dresses with pockets! Sometimes pockets can make my hips look wider or make the dress stick out oddly, but the pockets on each of the eShakti dresses are sewn well and are barely even visible. I don't like to carry a purse, so it was nice to have a pocket to keep my phone in.
Each of the dresses is made with high-quality fabric. The Floral Lace A-line Dress and the Floral-Print Crepe Dress both have a lining sewn in that is made well and never twists or bunches. The Pintuck Pleat Poplin dress does not have a lining, but it's a nice, well-made cotton dress that you would never be able to see through.
I still can't believe how affordable they are for the quality of the product you receive!
So, as you can see in the video, two of the dresses fit perfectly (the green Floral Lace dress and the navy Pintuck Pleat dress). I was so excited to find that they actually fit because, as I said, it's hard for me to find a dress that fits correctly.
The third dress, the Floral-Print Crepe dress, was a bit tight on top. The arm openings were cut a bit inward as opposed to lying straight (if that makes sense). I feel like when I put my arms down it was uncomfortable, so I decided not to keep it. I think maybe it's just the way it's meant to fit, but it just didn't feel comfortable to me, so it went back.
The eShakti Return Process
The return process was super easy. I just logged in to my account, clicked on the dress I wanted to return, then printed a return slip. There was a pre-paid return label in the box, so I just stuck that on the front of the box, sealed the box, and took it to the post office. Easy!
eShakti accepts returns of unworn merchandise within 30 days from the date of order delivery (as recorded by the shipping provider), including custom-sized and custom styled garments. For returns made between 31 and 60 days from the date of order delivery, you will be eligible for a refund of the item purchase price in the form of an eShakti Gift Card (valid for one year).
I should note though, that when you return an item you will not be reimbursed for customization fees. I think that's a fair policy.
eShakti Tips for Getting the Best Fit
These are a few tips to follow when you order your eShakti dresses to get the best fit:
Narrow down the dress options first. There are so many choices. So for example, if you know you like fit-and-flare and that looks best on you, choose that option and go from there.
When measuring, use a tape measure like this one: Body Measuring Tape (Amazon link). It will help to ensure that your measurements are accurate.
Have a friend help you measure. Some of the measurements are tricky if you don't have a second person to help you out. For example, measuring across your back from shoulder to shoulder would be almost impossible.
Follow the instructions about how to measure on the website. They make it super easy to understand what measurements they need.
The Bottom Line
Overall, I was truly happy with my purchase from eShakti. I wore the green, Floral Lace A-Line Dress to the wedding. It was super comfortable, I loved the pockets, and it fits perfectly!
I will definitely order from eShakti the next time I am looking for a dress. They are made with high-quality fabric, they are affordable, and they are customized for you!

Have you tried eShakti dresses? Do you think you'll give them a try? Let me know in the comments!