Disclosure: Some of the links in this article are affiliate links, which means that if you purchase through those links I will receive a small commission. For example, as Amazon Associate, I earn from qualifying purchases. If you decide to use these links, thank you!

When I first saw Noshi Food Paint on Instagram what caught my attention was their fun packaging and that playful little mascot on the Noshi logo. Initially, I was thinking, oh great, another company trying to advertise sugary toppings for kids. But this is definitely not the case with Noshi Food Paint. Noshi Food Paint is organic and vegan. It contains no gluten, no processed sugars, no salt, and no artificial preservatives or artificial colors. Yay! I am all about making food fun for my daughter, so I was excited to try it out.
Noshi Food Paint comes in a set of three tubes of yummy, organic fruit puree: red strawberry, yellow peach, and purple-ish blue blueberry. The package says that it is great on any food: pancakes, ice-cream, waffles, whatever.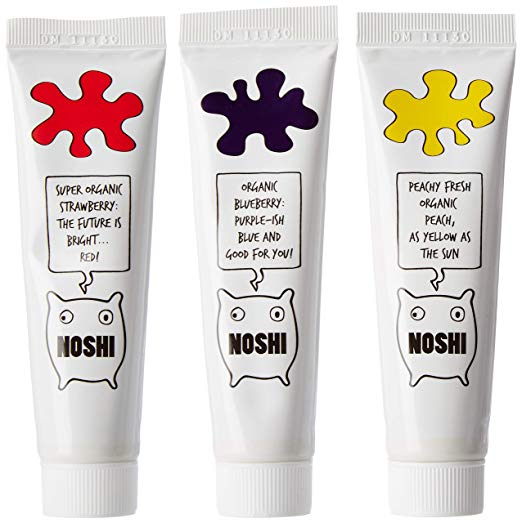 We love making banana "ice cream" using our Yonanas Frozen Treat Maker. This machine turns frozen fruit into a yummy, healthy frozen dessert. The thing is that my daughter usually wants to put chocolate syrup and sprinkles on top. Which kind of defeats the purpose of a healthy dessert. So, she was super excited when I showed her the Noshi Food Paints. She loves crafts and painting, so this was great for her.

She was a little unsure of the paint at first and asked, "Can I really eat it?". When I told her it was really food she squirted away making fun designs and painting on her ice cream.
As you can see, she gives it a thumbs up! 🙂
The texture of the Food Paint is similar to applesauce (since it is a fruit puree), but it's in a tube that makes it seem more like paint to your kids. The colors are vibrant and fun to paint with.
We also tried it on gluten-free crackers and chicken and it was great on both. My daughter sometimes does not like to eat chicken or pork, but letting her add this food paint made it more enjoyable for her. It also kept her at the dinner table longer. Double win!
As I talked about in my post, How to Help Your Kids Develop Healthy Eating Habits, research shows that kids are more likely to enjoy food if they can be creative and play with their food. Kids are also more likely to eat food that they helped prepare. With Noshi Food Paint you get both of these benefits. Make sure to check out How to Help Your Kids Develop Healthy Eating Habits for more fun ideas to help your kids enjoy mealtime.
Where to Find Noshi Food Paint
Are you ready to give Noshi Food Paint a try? You can find them on Amazon, and your package will contain all three colors and flavors that we used. To find out more about Noshi For Kids, visit Noshi's Official Website, where you can find out more information, get mealtime ideas, and so much more.
What are your favorite ways to make mealtime fun? Do you think you will try Noshi Food Paints? Let me know in the comments!
Please share the goodness and pin this post or share on Instagram and hashtag it #tonsofgoodness. Thank you!
Wishing you tons of goodness in your life,
Kat