Disclosure: Some of the links in this article are affiliate links, which means that if you purchase through those links I will receive a small commission. For example, as Amazon Associate, I earn from qualifying purchases. If you decide to use these links, thank you!

In my a previous post, Want to Reach Your Goals? Here's How, I discussed motivation theory and why it is so important to know WHY you want to achieve a goal and how knowing your WHY will help you make intentional choices that will lead to achieving your goal. If you haven't read that post please click here, read it, then come back to this post. I just think it's super important to understand motivation. Motives are the 'whys' of behavior—the needs or wants that drive behavior and explain what we do.
You can not achieve anything without motivation.
Remember Why You Started
In this post I will show you how I use the "Remember Why You Started" worksheet. I will also include updated posts of my progress toward achieving my goal. This is kind of selfish on my part because this is a way of staying accountable to my goals. But my main reason for doing this is to show you that you can do hard things, you can go outside your comfort zone, and you can achieve your goals. Your goal does not have to be the same as mine. The process for reaching a goal is the same no matter what that goal is, so this will be helpful to you. If you don't have your goal sheet yet, what are you waiting for?! Download it now and get started.
Enter your name and email address below to gain access to the Resource Library password. The Resource Library includes a PDF version of this Remember Why You Started worksheet!
Enter your name and email to download the FREE worksheet!
So, the first thing I did was print my goal sheet and wrote my goal at the top. My personal goal is: I want to have a clean, organized home that feels warm and inviting. Sounds easy, right? It is definitely NOT for me. I am not someone who enjoys cleaning. I, of course, want a clean home. However, it seems that I usually do the bare minimum and become frantic when I know that someone is coming over to visit. I have also tried to declutter or organize in the past, but I was not persistent and the house became just as cluttered as it was before.
This time, though, will be different. I have written down my WHY's and I am determined to make this a priority and not give up on this. I have also shared this with my daughter who added organizing to her chore chart in support of me. Love this! ?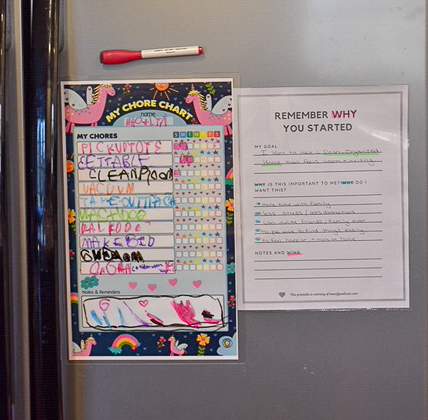 This is my 'Remember Why You Started Sheet' next to my daughter's chore chart. I posted it on the refrigerator so that it's in sight and does not ironically get lost in a pile of clutter. I don't have a color printer, so I just highlighted important areas.
Next, I made a list of my Why's (Why is this important to me? Why do I want to do this?)
More time with family.
Less stress and distractions.
I can invite friends and family over more often.
To be able to find things easily.
To feel happier and more at home.
I'm thinking that in the 'Notes and Wins' section that I will write down areas of our home that I have successfully decluttered and organized.
Getting Started
I chose to start with our playroom because I felt like it would be a monumental achievement to organize and declutter that area of our home. It was also the best place to start because it impacts all other areas of our home. If you have kids I'm sure you know what I mean. Stepping on tiny but painful hatchimals when you're walking through your kitchen, finding crayons on your living room carpet, wading through a thousand stuffed animals to find a place to sit on your couch (I'm exaggerating…kind of). You get the idea. Our usual go to was to just pick everything up and toss it into the playroom with a feeling of being overwhelmed. Sometimes I would go into that room to clean and would just turn back around because I wasn't sure where to start. I should explain that this is the room in our house that is meant to be a formal living room and dining room area. So, it's pretty large and is the first thing that people see when they walk in the front door.
Declutter the Playroom Like a Ninja

Today with my goal in mind I decided to start with our craft/art supplies in the playroom. My daughter was pretty enthusiastic about separating and organizing her crayons, markers, etc. into pink plastic totes that we bought at Hobby Lobby. I used magazine file holders for her activity and coloring books. I then went through all of the paint and playdough and tossed anything that looked dried up. Then, we made labels for our craft cart for everything else (string, beads, paint supplies, paper). We previously had two craft carts and were able to declutter enough to only need one cart.
We already had a cube storage organizer/bookshelf, so we used that to store games, puzzles, larger art supplies, and bins of smaller toys. I moved my daughter's table and chairs to this area so that she would have a place to do her crafts and play. Although, since we usually end up in the kitchen to do arts/crafts the totes and craft cart will come in handy to easily move them back and forth.

On the other side of the room were two storage bins of larger toys, a huge hamper full of stuffed animals, and a large playhouse. This took a long time to sort through, but I finally got the toys down to one bin and put the rest in a bag to donate. The pictures below are a huge pile of stuffed animals. I was able to declutter down to a storage container and a basket. And, of course, I did not get rid of the giant bear.
What I realized after 5 hours of working on this room is that this is going to be a long-term process. I'm not going to get this done in a day or a week. To meet my goals I need to dig in, work hard, and be patient. I don't enjoy cleaning and organizing. I wish I did, but I don't. So, this project is going to take perseverance and really focusing on why I started.
Valuable Tips

TIP: Choose one task a day to focus on. It can be as big or small as you decide. Or, try setting a timer for 10 minutes and do whatever you can in that amount of time. You'll be amazed how much you can achieve in 10 minutes when your efforts are focused on a single task. Make sure to take before and after pictures to track your wins!
TIP: Use Mel Robbin's 5 Second Rule: When you feel yourself hesitate before doing something that you know you should do, count 5-4-3-2-1-GO and move towards action. The counting will focus you on the goal or commitment and distract you from the worries, thoughts, and excuses in your mind. I highly recommend her book, The Five Second Rule. It has really helped me to pysh myself to act on things that I would normally avoid.
Clutter isn't just the stuff on the floor. It's anything that gets between you and the life you want to be living.

Peter Walsh
That's all for now! My next task for the playroom will be to make it look more inviting. I will keep updating this post as I make progress.

Did you find this post helpful!? Please share the goodness and click on an image to pin or share on Instagram and Facebook and hashtag it #tonsofgoodness. Thank you!