Disclosure: Some of the links in this article are affiliate links, which means that if you purchase through those links I will receive a small commission. For example, as Amazon Associate, I earn from qualifying purchases. If you decide to use these links, thank you!

I never thought I would try online grocery shopping and grocery delivery because I LOVE the grocery store. Walking down the aisles of Whole Foods and Dorothy Lane Market and looking at all the new food finds is actually fun for me. However, trying to do all of the grocery shopping for the week with my 5-year-old daughter is not so relaxing. Picture a small child running ahead in the aisles throwing items from the bottom shelves into her cart. Not so fun. I have found that ordering my groceries using the Prime Now app and Thrive Market has saved me money, time, and my sanity.
The Best Online Grocery Options
Thrive Market – I have been a member of Thrive Market for a few years. They are pretty awesome because they have tons of healthy foods and products at 25-50% below retail price. They offer free shipping with orders over $49. Also, for every paid membership, they provide a free membership to a low-income family, teacher, or veteran.
With Thrive Market you can also shop by Values and Diet, so you can easily find products that are keto friendly, gluten free, dairy free, vegan, etc. They also offer a free gift with purchase and have special offers almost daily. They also have their own line of Thrive Market Brand products (I especially love their coconut aminos and organic marinara pasta sauce). If you haven't already, check out Thrive Market now!
---
Amazon Prime Now – I have been using grocery delivery from Whole Foods since our trip to Disney World. We were staying at one of the Disney resorts and did not need to rent a car, so we didn't have a way to pick up groceries. I was hesitant to use grocery delivery because I'm pretty picky about produce. But, it was totally fine and convenient to have them delivered.
When we got home from our trip I started using the Amazon Prime Now app to order groceries from Whole Foods every week. Amazon Prime Now is exclusively for Amazon Prime members. By using this service I get FREE grocery delivery. I also use my Amazon Prime Rewards Credit Card to get 5% back on my purchases at Whole Foods.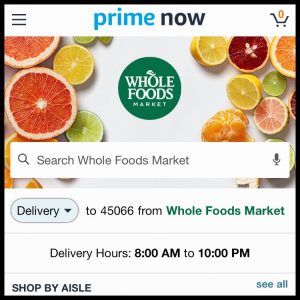 Benefits of Online Grocery Shopping & Grocery Delivery

1. You can shop on your timetable. This is a huge benefit because you can place your order whenever you have time available and can choose when it will be delivered. Prime Now lets you choose a two-hour window for delivery. I usually complete my order before my daughter wakes up and then have it delivered while she is at school. The Amazon Prime Now app and Thrive Market save your previous orders so that you can easily shop from past purchases.
2. You can check your inventory. I always hate when I'm at the grocery store and I can't remember if I already have something at home in the pantry. By ordering at home you can avoid duplicates and save money.
3. You can compare prices in a pressure-free environment. Ever find yourself sweating in the produce aisle with a crying toddler in your cart and four other shoppers breathing down your neck? No more. Now you can make your decisions one product at a time, bringing your total costs and your anxiety way, way down.
4. You can stick to the list (and save even more money!). I don't know about you, but a trip around the grocery store usually leads to impulse shopping (I am a sucker for any new dairy-free products). Ordering online lets you skip the impulsive purchases and again..save money. When I'm in the store I usually have no clue what my total will be at the register. When shopping online you can clearly see what you are spending and edit your cart as necessary.
5. You can stick to your list (to save your health!). Ordering online will save you from grabbing junk food when you are stressed out in the store. You can choose items from your meal plan and leave out the rest.
6. You will love the convenience. Picture this: You're at home, enjoying the afternoon when your doorbell rings. It's your groceries! And you didn't have to drive to the store or walk up and down a single aisle.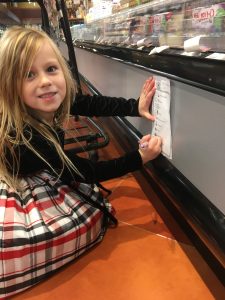 So, there are huge benefits to ordering your groceries online. Although, I do still visit the grocery store in person weekly with my daughter to pick up a few items. This is because I want her to understand where our food is coming from and how to pick out healthy foods. Check out How to Help Your Kids Develop Healthy Eating Habits (Using advertising techniques, digging in the dirt, and having fun!) for more ideas. She loves making and using her shopping list from The Trip Clip. I think that learning to grocery shop and to budget are important skill for her to develop.
Thank you for taking the time to read this! Please share the goodness and click on an image to pin or share on Instagram and Facebook and hashtag it #tonsofgoodness. Thank you!
Wishing you tons of goodness in your life,
Kat