Disclosure: Some of the links in this article are affiliate links, which means that if you purchase through those links I will receive a small commission. For example, as Amazon Associate, I earn from qualifying purchases. If you decide to use these links, thank you!

Guest Post by Wendy, Founder of Bakabee
I am excited to share this recipe for gluten-free banana chocolate chip muffins provided by Wendy, Founder of Bakabee. Wendy provides easy and delicious baking recipes that you can create in your own kitchen to impress your guests and amaze your family. Enjoy!
Hi everyone! Since I posted my gluten free, dairy free and refined sugar free swimming pool cake and on my Instagram and Facebook, I've got quite a lot of positive feedback and ask me can I post more allergy and food intolerance recipes. Also, some mums just want to bake some healthier bakes for their kids as a school snacks. But they don't know where to start. There was a mum told me she wanted to bake some healthier muffins for her four-year-old girl but it turned out a disaster!
I realized that it is definitely more and more people suffer from allergy and food intolerance. Does it mean that these people have no chance to enjoy delicious treats?
The answer is NO, of course!
The reason why I say that because I will share with you a healthy and delicious gluten-free banana chocolate chip muffins recipe which is perfect for breakfast or afternoon snacks. My husband came home after work and he tried it. He said it is very chocolaty and it is not sweet at all! It is delicious. After he tried it, he couldn't believe it is gluten free and refined sugar free. This is the neutral review from my hubby.
The muffins are rich of chocolate flavor and I am sure you and your kids will love it. Who doesn't like chocolate? Or chocolate chips?
On top of chocolate chips, I will put banana chunks into the muffins too! When you bite into it, you can bite either chocolate chips or banana chunks, or both! It sounds delicious, isn't it?
Let's talk about some main ingredients first.
Happiness is…an unexpected piece of chocolate.
Jump to Recipe
Flour
As you know, flour is the major ingredient in all kind of baking. So, the choice of flour will directly affect the taste or texture of your bakes. In this recipe, I use Bob's Red Mill Gluten Free 1 to 1 Baking Flour. I know there is gluten free baking flour under the same brand. I just go for this 1 to 1 baking flour. It makes the whole process easier and it won't mess up from converting the normal all-purpose flour to gluten free flour. It's perfect for these gluten-free banana chocolate chip muffins.
Sugar
I use coconut sugar instead of refined sugar. Coconut sugar is made from the nectar produced by coconut blossoms (not actual coconuts), which is then boiled and ground to create a granular substance with a texture similar to brown sugar. Also, I like the mild caramel flavor of coconut sugar, which rounds out baked goods with a slightly extra taste.
Why do I use coconut sugar?
Coconut sugar is an unrefined sugar and it is widely viewed as a healthier alternative of refined sugar. It is because it has a lower glycemic index (GI) ranking than cane sugar, which tracks how foods affect blood glucose levels. Food with low GI values are digested and metabolized at a slower rate, prompting smaller fluctuations in blood glucose and insulin levels, and reducing risk of diseases like type 2 diabetes. Keep it in mind, coconut sugar is still sugar!
Chocolate Chips
As you see in the picture, I use Pascha Organic Dark chocolate chips. There are two flavor, the darker package is 85% Bitter-sweet (which I use in this recipe). If you bake this for your kids, I perfect the 55% Semi-sweet one. They both are peanut/nut free, wheat/gluten free, dairy/egg free and soy free and perfect for baking.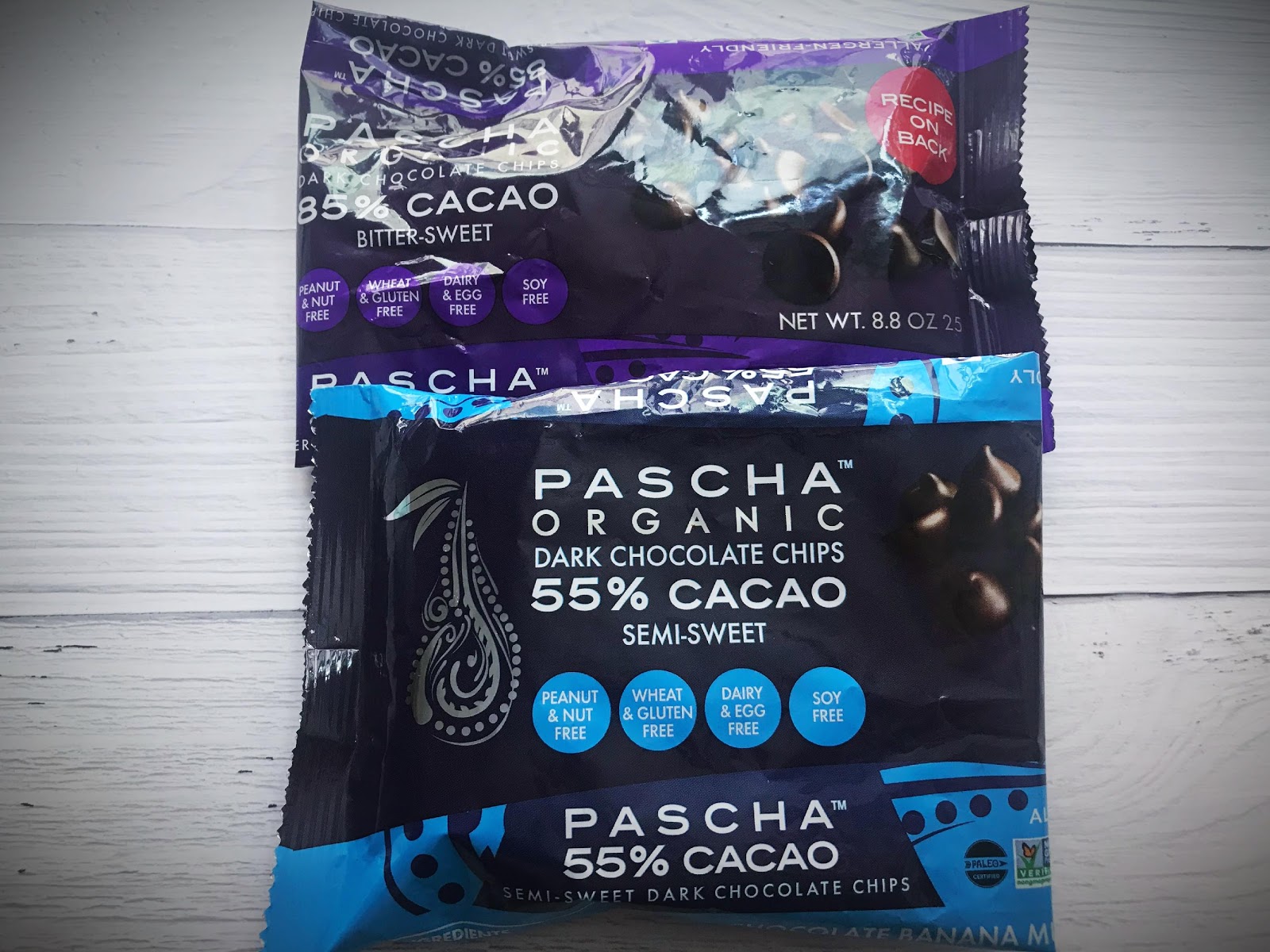 Where do I buy these special ingredients?
I looked for the different supermarket in Singapore. I could not find any chocolate chips for food intolerance. Until I googled it online, I found one shop called 'Eat Organic Pte Ltd' which located in Bukit Timah Rd. When I shopped there, I felt like this is a paradise for people who suffered from food Intolerance. You can find everything you need in that shop. Later on, I found another on located in Forum Shopping Center. So, you can check those shops out to find the ingredients that suitable for you.
Note: For my friends in the states, a great place to find a variety of allergen-friendly ingredients is Thrive Market.
Non-Allergy and Non-Food Intolerance Options
If you do not have any sort of food intolerance, you can use normal all-purpose flour. As I said, I use 1 to 1 gluten free flour, so in alternatively, you can measure the exact amount of normal all-purpose flour.
In addition, you can use caster sugar instead of coconut sugar and normal baking chocolate chips for baking. Also, the ratio is 1 to 1.
Keeping and Freezing
The best taste of muffins is to eat them while they are still warm from the oven. However, they can keep in an airtight container for up to 3 days and frozen for up to 3 months.
Wrap cold muffins individually in a foil and place in a freezer bag, expelling as much air as possible or pressing the bag gently.
To thaw muffins in a conventional oven, place foil-wrapped muffins in a single layer on an oven tray, at between 165°C and 175°C for around 20 minutes or until heated through.
Reminder
If you or your family have any sort of special diets, please READ the product labels first to MAKE SURE the ingredients are suitable for you and your family to eat.
I really hope you will enjoy this recipe. Please let me know how it bakes out ☺
Happy Baking!
YouTube Step-by-step video: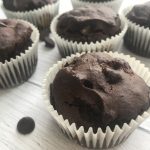 Banana Chocolate Chip Muffins (Gluten Free & Refined Sugar Free)
These HEALTHY Banana Chocolate Chip Muffins are your BEST choice. They are Gluten Free and Refined Sugar Free.  They are moist, soft and the easiest ever.  Banana Chocolate Chip Muffins are full of fresh banana chunks and indulgent chocolate chips. Perfect for breakfast and dessert, or even anytime snacks!
Ingredients
105

g

Gluten free 1:1 baking flour

1 1/4

tsp

baking powder

gluten free

21

g

unsweetened cocoa powder

1/4

tsp

salt

150

g

ripe banana (1 medium)

mashed

75

g

coconut sugar

60

ml

vegetable oil

1

large egg

1

tsp

vanilla extract

60

g

Gluten free dark chocolate chips

150

g

ripe banana (1 medium)

cut into small chunks
Instructions
Preheat the oven to 425°F/220°C.  Line about 9-10 muffin liners. Set aside.

In a large mixing bowl, sift the flour, baking powder, cocoa powder and salt. Set aside.

Mash one banana and cut the other banana into small chunks. Set aside.

In a small mixing bowl, stir mashed banana and sugar and just until combined.  Slowly mix in vegetable oil and just combined.

Add the egg and vanilla extract and mix until just well incorporated.  

Pour the wet ingredients into the dry ingredients and mix until just combined well.  Do not over mix at any above steps.

Fold in chocolate chips and banana chunks and just well incorporated.  

Use a medium ice cream scoop to divide the batter into muffin liners. Fill liners 3/4 to almost full.  You will get about 9-10 muffins.

Bake for 5 minutes at 425°F/220°C then lower the temperature to 325°F/170°C and bake additional 11-14 minutes or until a toothpick in the center comes out clean.  Do not over bake, otherwise, the muffins will end up dry.  Remove from the oven and let them cool for about 10 minutes then transfer to a wire rack to cool completely.  

Store leftovers in an airtight container at room temperature up to 3 days. 
Recipe Notes
Read the blog post for additional information for the ingredients I choose for this recipe.

Also, there is some additional information on how to store and freeze the muffins.

Watch my step-by-step video to see the whole process of making the muffins.
Did you make this recipe and love it!? Please share the goodness and click on an image to pin or share on Instagram and Facebook and hashtag it #tonsofgoodness. For more gluten-free recipes check out my recipe page!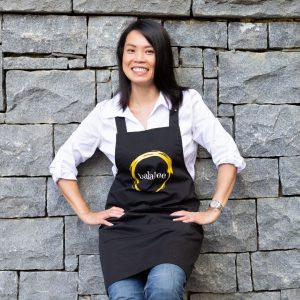 Wendy, Founder of Bakabee. Wendy provides easy and delicious baking recipes that you can create in your own kitchen to impress your guests and amaze your family.
For more goodness from Wendy, Founder of Bakabee, you can find her at: