Disclosure: Some of the links in this article are affiliate links, which means that if you purchase through those links I will receive a small commission. For example, as Amazon Associate, I earn from qualifying purchases. If you decide to use these links, thank you!

School will be starting soon and that means early mornings, getting everyone ready for school, and packing the school lunches. Luckily, I've put together a list of all the best Tips and Tools for Packing Healthy School Lunches to make your mornings run smoother.
I know that a lot of parents, including me, find it frustrating to come up with healthy school lunches. So, I've established a few guidelines that make this process a whole lot easier and hopefully will help you out as well. Ive also included the tools and containers that I find helpful.
Tips for Packing Healthy School Lunches
The following are tips to ensure that your child gets the nutrients and macro-nutrients they need to grow and thrive.
Tip 1: Always Include a Fruit and a Vegetable
Fruits and vegetables are easy to pack and are an excellent source of nutrients and fiber. Some of our favorites to pack include sliced cucumbers, grapes, strawberries, clementine slices, blueberries, tomatoes, carrots with ranch dressing, applesauce pouches, and snap peas with Wholly Guacamole minis.
If your child is reluctant to eat fruits and vegetables, it is helpful to take your child to the grocery store and ask them to pick out a new fruit or vegetable that they are willing to try. In addition, letting them help with preparing their healthy school lunch will also make it more likely that they will actually eat it. For example, kids can wash and dry the produce, cut up soft foods, and add colorful food picks.
Dried fruit is also an easy to pack option. Just make sure to check the label to ensure that there isn't a lot of added sugar.
Tip 2. Always Include a Protein
Protein is a macro-nutrient that is vital for your child's growth and development. Protein plays an essential role in many bodily functions, including recovery and repair of tissues in the muscles, skin, organs, blood, hair and nails.
Some of our favorites to pack include homemade lunchables (ham or turkey slices, cheese, and gluten-free crackers), almond butter and jelly sandwiches, hard boiled eggs, and turkey wraps made with Seite almond flour tortillas. I also like to make skewers with turkey or chicken rolled up, cheese squares, and tomatoes.
Sometimes it's easier to get protein in by providing it as snacks instead of the main course. Some examples of high protein snacks include whole milk yogurt, RX Bars (RXBAR makes whole food protein bars with simple, all-natural ingredients), trail mix, and jerky sticks (our favorites are from The New Primal).
Tip 3. Always Include a Healthy Fat
Healthy fats are very important for your child's diet. About two-thirds of your child's brain is made up of fat. Conequently, making sure that your child eats healthy fats supports the growth and development of their brain. In addition, many of the vitamins and micro-nutrients in food are fat-soluble, which means that we cannot absorb them without the presence of adequate fat.
For more information about healthy fats, check out Easy Ways to Add Healthy Fats to Your Diet.
Luckily, there are a lot of easy to pack healthy fats including: seeds and nuts (ex. nut butters, almonds, walnuts, pumpkin seeds); Wholly Guacamole minis, olives, hard boiled eggs, full-fat yogurt, full-fat cottage cheese, dressing made with healthy fats for dipping.
Tip 4. Sometimes Include a Dessert
I know that not all mom's will agree with this one, but I usually pack a small dessert in my daughter's healthy school lunches. In our home I try to not make sugar and candy a big deal. Do I like her eating candy throughout the day? No. But, I feel like if we restrict sweets and call them "bad", then she'll just want it more. So, we do have candy and ice cream at home. It's just one small component of our diet with an abundance of other foods.
Some of the sweets I pack are gluten-free cookies (Simple Mills cookies are amazing), fruit roll ups made from 100% real fruit, dark chocolate almond butter cups, YumEarth fruit snacks, Bobo's Oat Bars, Gluten-Free Banana Chocolate Chip Muffins, and 3 Ingredient Healthy Oatmeal Banana Cookies.
Tools for Packing Healthy School Lunches
The follow are the tools that I have found make packing healthy school lunches much easier. They also make lunches more appetizing for your kids. Who doesn't want a fun lunch?!
Bento Lunch Box Containers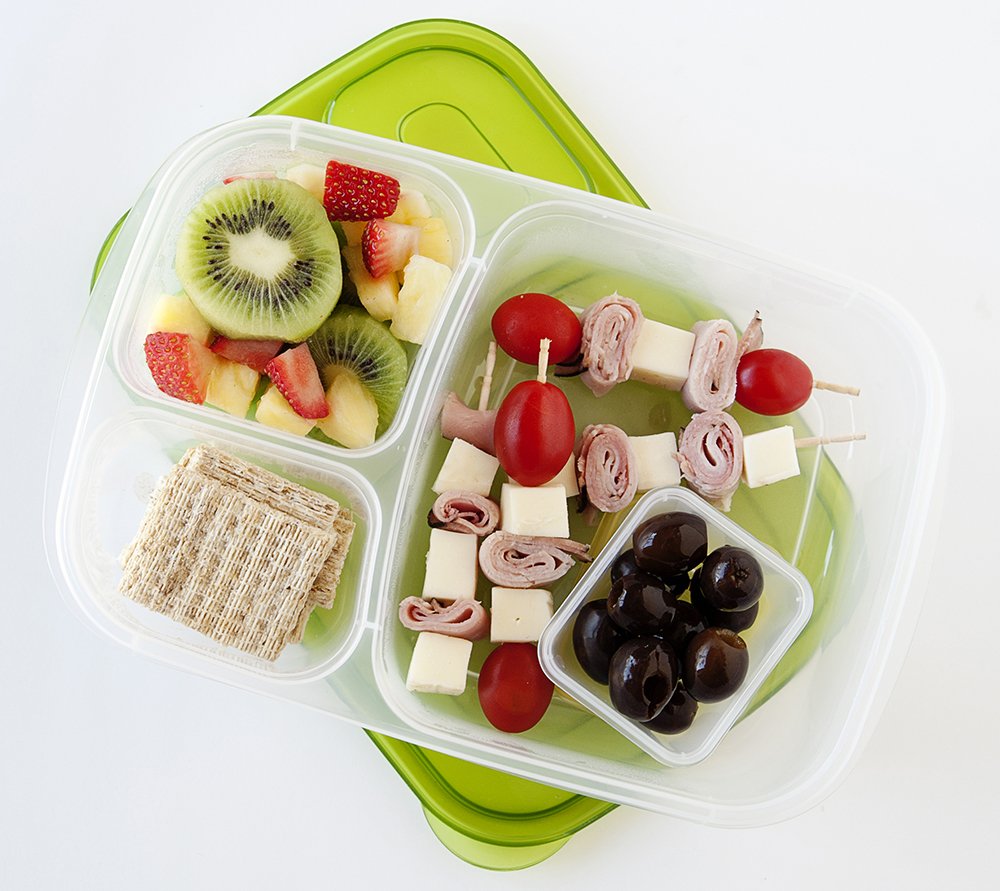 Bento lunch containers are the key to packing healthy school lunches. They make it super simple to make multiple lunches at a time since the foods stay in their own compartments. In addition, I think it's easier to think of what to pack if there are separate compartments (ex. vegetables go in one section, fruits in the next, etc.) The lids stay put, but are easy for kids to remove themselves. Also, you only have one container to clean instead of two or three.
There are some bento containers with four or more compartments, but the three compartment container has worked well for us. When needed, I use smaller containers for dressings, nuts, etc. You can find containers made with plastic, glass, or stainless steel.
Food Picks & Skewers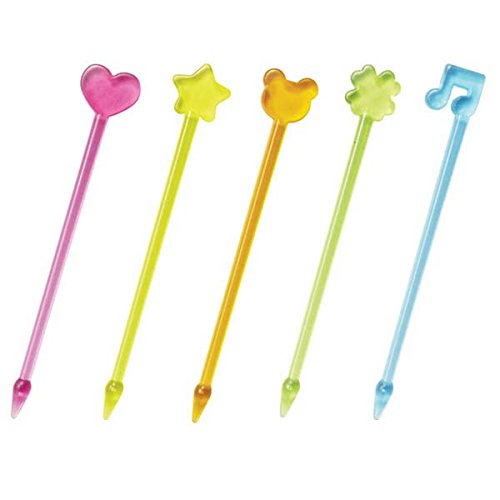 When preparing my daughter's healthy school lunches I like to use fun food picks and skewers. I purchased this package of fruit/vegetable cutters and animal food picks and my daughter loves them! The fruit and vegetable cutters are great because they have a rubber covers so that my daughter can use them. She loves cutting out shapes in bananas, apples, cheese, ham and turkey slices, etc. I also really like to use skewers so that I can make kabobs and other fun lunches.
Silicone Cups and Small Containers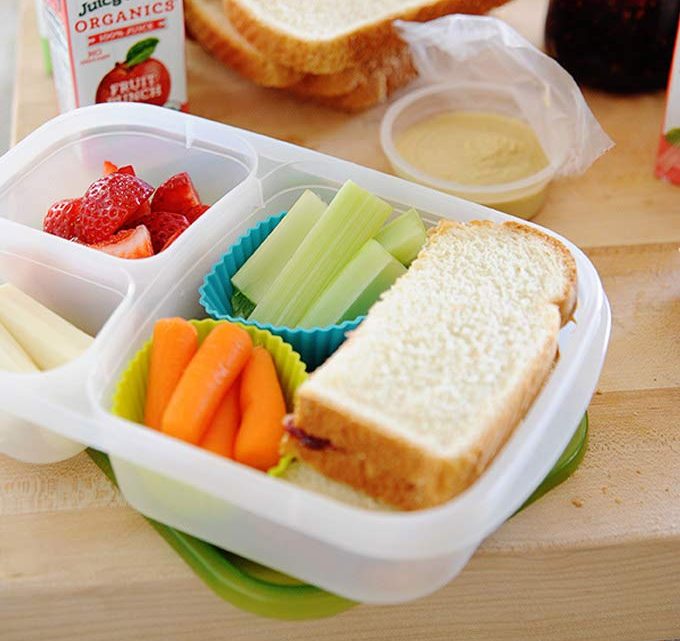 While bento lunch containers already have dividers in place, having a few silicone baking cups and containers can help further divide the largest compartment when needed. They come in different shapes and sizes. I like to use flower or heart shapes cups. I also use small containers with screw-top lids for dressings and other condiments.
Lunch Box Notes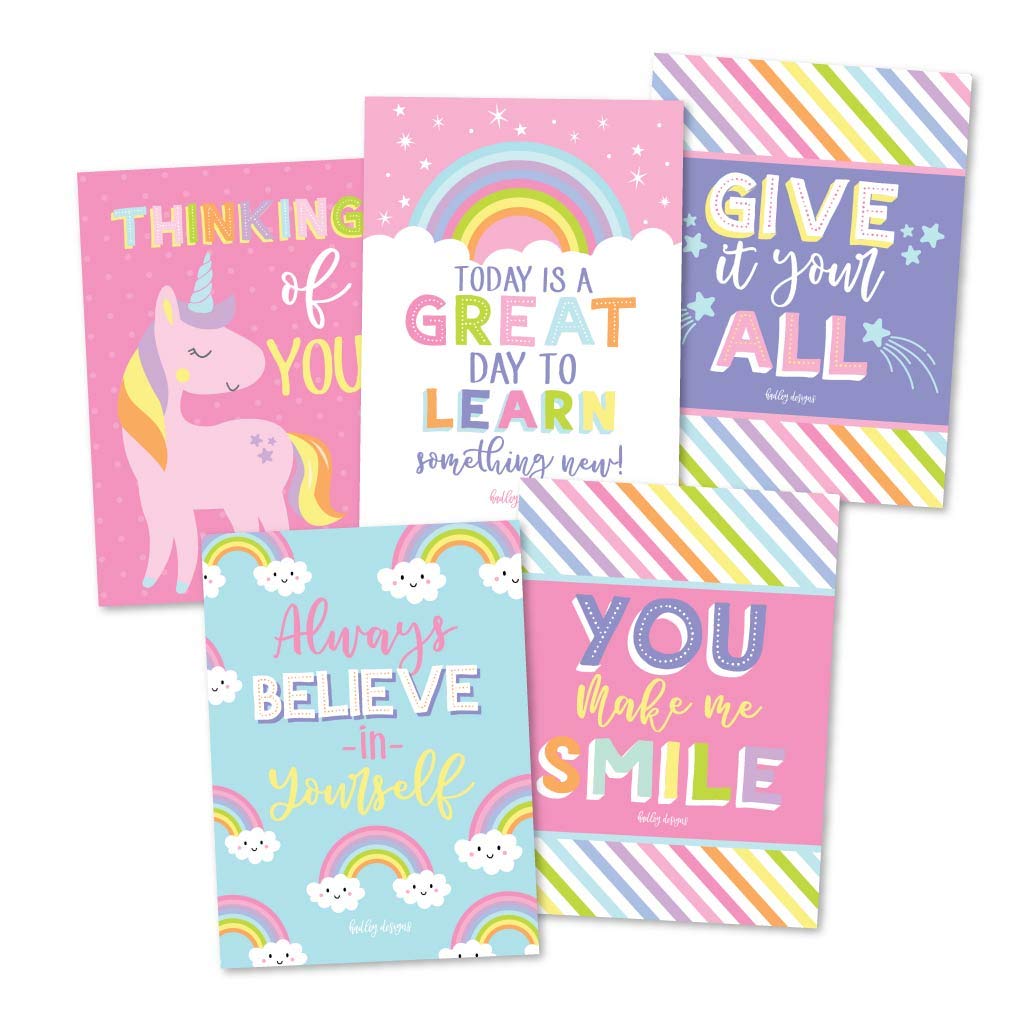 Lunch box notes are a great way to brighten your kid's day and let them know that you are thinking about them. The lunchbox notes pictured above are inspirational and motivational, especially if you add your personal message to them. There are also lunchbox notes with jokes, scripture, and blank for you to write your own message. You could also just use a post-it note to create your own message. My daughter loves getting a special note in her lunchbox and she sometimes writes them for me as well!
Drink Thermos
I struggle with getting my daughter to drink enough water throughout the day, so I make sure to pack water in her lunchbox. We use the Thermos Funtainer, which keeps water cold for up to 12 hours and does not leak. I like that its made of stainless steel and has a pop-up straw. It's easy to clean as well. They come in a variety of fun colors and characters.
More Useful Tools for Healthy School Lunches
If you like to pack warm foods for lunch, the LunchBots 16oz Thermal Stainless Steel Thermos is handy for soups, fruit salad, etc. You will need ice packs as well to keep foods cold until lunch time. I like to use thin ice packs like these from Healthy Packers.
If you are looking for a sustainable, natural alternative to plastic wrap and sandwich bags, then Beeswax Reusable Food Wraps are the way to go. You can use them to wrap up cheese, fruit, vegetables, cookies, and sandwiches. You can also use them as a place mat, or bundle up utensils for your kid's lunch box. They are washable and reusable.
Next Steps
For more healthy eating tips for kids check out How to Help Your Kids Develop Healthy Eating Habits (Using advertising techniques, digging in the dirt, and having fun!)
If your child has food allergies, then please check out my interview with Sonya North, Founder & CEO of SnackRoots. She has developed an amazing app that allows you to create a list of allergen free snacks in under a minute.
Also, please check out The Beginners Guide to Eating Healthy in Less Time. With this 15-page guide you will learn how to master meal planning and save time in the kitchen so that you can still eat healthy even if you have limited time and energy.  I am here to tell you that you CAN still win at healthy eating.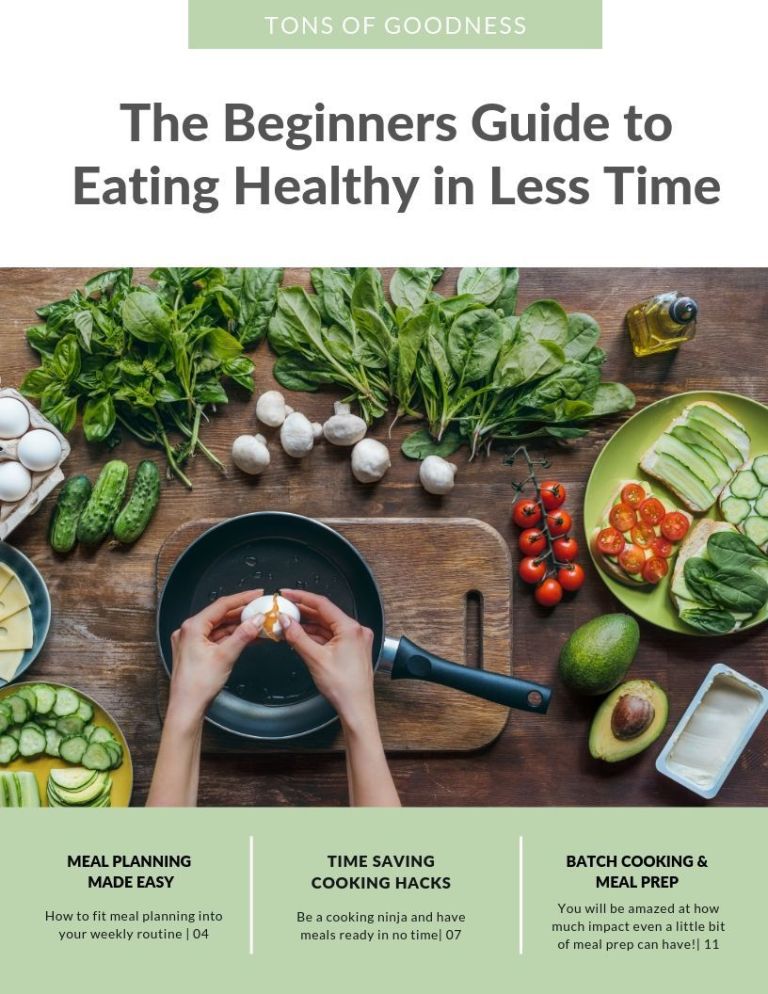 I hope these Tips and Tools for Packing Healthy School Lunches are helpful to you! Please share the goodness and click on an image to pin or share on Instagram and Facebook and hashtag it #tonsofgoodness. Thank you!