Disclosure: Some of the links in this article are affiliate links, which means that if you purchase through those links I will receive a small commission. For example, as Amazon Associate, I earn from qualifying purchases. If you decide to use these links, thank you!

St. Patrick's Day is just around the corner and I've been hearing about the famous Shamrock Shake from McDonald's. It's a tradition of many to roll through the drive-thru and enjoy a Shamrock Shake this time of year. Full discretion, I've never had a Shamrock Shake, so I had to ask my husband what it tasted like so that I could make a healthier version to share. What I created is a Healthy Shamrock Protein Shake recipe that is creamy and minty like the traditional shake, yet is dairy-free, high in protein, and is a pretty green St. Patrick's Day color so that it feels like a festive treat.
When I researched the ingredients of the Shamrock Shake I found that it has over 30 ingredients. Yes, I said 30. The ingredients include artificial flavors, artificial colors, 78 grams of sugar (in the medium size), corn syrup solids, and all kinds of preservatives. I could go on, but I don't think I need to. I don't know about you, but this doesn't really even sound like food to me.
Luckily, you can quickly and easily make this Healthy Shamrock Protein Shake recipe that you can enjoy all year long. I love making shakes for breakfast or snacks. My daughter even loved this one since it's a fun green shamrock color.
Easy Substitutions to Customize Your Shake
I noted in the recipe that you could easily make this low-carb or keto friendly by substituting the frozen banana with either avocado or frozen coconut milk (I freeze coconut milk into an ice-cube tray for easy to use portions of coconut milk). Another tasty option is to add cocoa nibs for a chocolatey, minty treat.
For a list of the best dairy-free protein powders check out this post:
The 9 Best Vegan Protein Powders You Will Absolutely Love
So, gather your ingredients and give this recipe a try!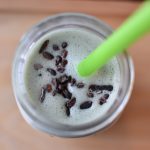 Healthy Shamrock Protein Shake
This healthy shamrock protein shake recipe is made with almond milk, vegan protein powder, mint extract, and spirulina powder. It's super easy to make with simple ingredients. You will not miss your drive-thru version!

Ingredients
12

oz

almond milk or other non-dairy milk of your choice

1

tsp

spirulina powder

(you could substitute with other greens powder or 1 cup of spinach)

1/2

tsp

mint extract

1

scoop

vanilla vegan protein powder

1/3

frozen banana

5

ice cubes
Instructions
Add all ingredients into the blender or food processor and blend until smooth.

Recipe Notes
I added a bit of cocoa nibs becuase I love adding them to by shakes. It makes this one taste like a chocolate chip mint shake. 
For a low carb/keto option you could subsutite the frozen banana with avacado or frozen coconut milk. 
Did you make this recipe and love it!? Please share the goodness and click on an image to pin or share on Instagram and Facebook and hashtag it #tonsofgoodness. Thank you!