Disclosure: Some of the links in this article are affiliate links, which means that if you purchase through those links I will receive a small commission. For example, as Amazon Associate, I earn from qualifying purchases. If you decide to use these links, thank you!

With your Air Fryer, you can prepare so many delicious and healthy meals! You'll love this roundup of 10 Air Fryer Chicken Recipes that are also gluten-free. From wings to entire meals, there are so many great options!
Do you have an air fryer, but you're not sure what to make? Today, I'm going to share 10 air fryer recipes for chicken that I know you'll love.
These recipes are easy to make, healthy, and gluten-free.
I have to admit, for a couple of years, I only used my air fryer for frozen foods like chicken nuggets and french fries. It's perfect for these two things, but I wanted to get more use out of this appliance.
What I have found is that you can make so many recipes with it from appetizers to main courses.
Why Use an Air Fryer?
Along with being versatile there are even more reasons that I really like this appliance:
Saves time since foods cook much faster in the air fryer. Click here for an air fryer conversion calculator and cheat sheet.
Much shorter heat-up time. The air fryer can go from zero to 400 degrees in a couple of minutes. It's so much faster than waiting for the oven to heat up.
It's great for frozen foods. I use it to make fish sticks, vegetables, frozen meatballs, and much more.
I love using it for vegetables. The air fryer gives them a crispy texture and brings out their natural flavor.
It can be used as a second oven when you are cooking more than one recipe and different temperatures.
Easy cleanup. The basket and drawer are both dishwasher safe. And even if you handwash it's really easy to clean.
Less mess. When cooking recipes like chicken thighs or fajitas on the stovetop, there's usually oil splattering out and it's a mess to clean up afterward. With the air fryer, it's all nicely contained in the basket.
How Does an Air Fryer Work?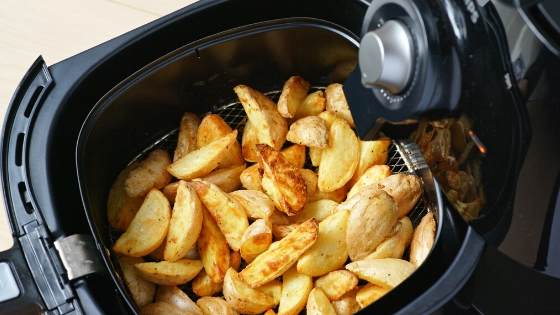 When I first heard about this appliance I assumed that it would fry my food. However, an air fryer doesn't actually fry. And you do not add oil.
So if it doesn't fry and there's no oil, what does it do?
The food goes into a perforated basket and the machine cooks the food by blowing hot air around it. The force of the air produces a convection effect that cooks and browns the outside of the food in the basket. This rapid circulation makes the food crisp, much like deep frying.
How to Choose an Air Fryer
The air fryer I have is the Phillips Starfish Technology Airfryer. It has a 2.75qt basket, which is on the small side for a family. But, it does work very well and is easy to use. All you have to do is set the temperature dial and the timer.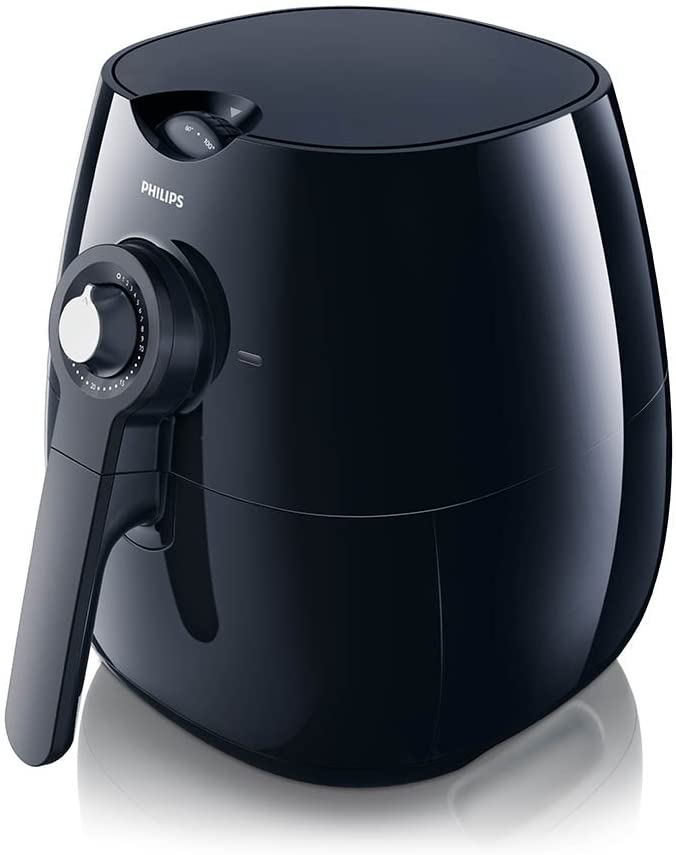 The West Coast Chef Air Fryer has a larger, 5.8 Quart basket. You can cook for about 5 people. It has a digital interface and six convenient presets. The only downside is that it will take up more space on your countertop.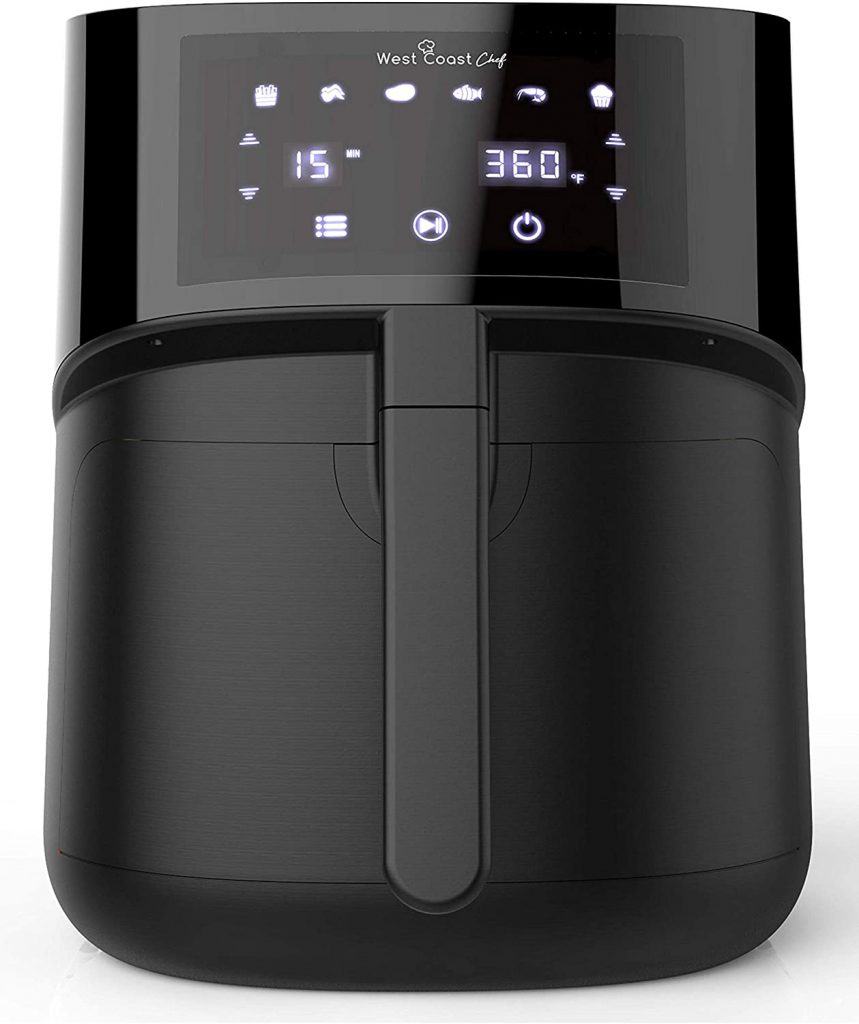 Air Fryer Tips
Preheat your air fryer for just 2 to 3 minutes before adding your food.
If you would like even browning, make sure to not overcrowd the basket.
Clean the drawer and the basket after every use. They are easy to clean, so it's easy to do right after you take your food out. I forgot a couple of times and the crumbs in the bottom burned.
I like to lightly spray my vegetables with oil before putting them in the air fryer. Using a kitchen spray bottle makes this super easy.
Chicken Air Fryer Recipes
1. Air Fryer Chicken Nuggets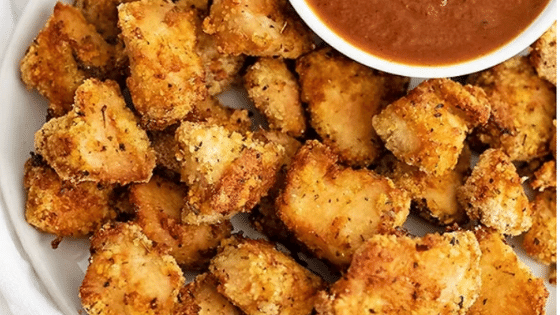 Air fryer chicken nuggets are an easy, healthy recipe that your whole family will love. And they taste better than the store-bought version I've been making! These homemade chicken nuggets are made with almond flour and arrowroot making them gluten free and paleo friendly. You can even freeze these for later (if there's leftovers)!
2. Juicy Air Fryer Chicken Breasts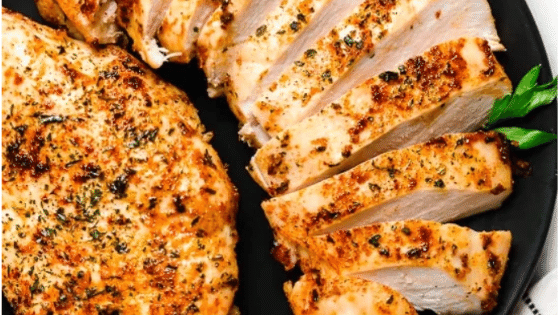 This foolproof recipe for making boneless chicken breast in the air fryer with give you perfectly juicy chicken every time. Just make sure to plan ahead – the chicken breasts need to sit at least 1 1/2 hours or up to 6 hours to brine. But the wait is worth it!
3. Air Fried Paleo Chicken Parmesan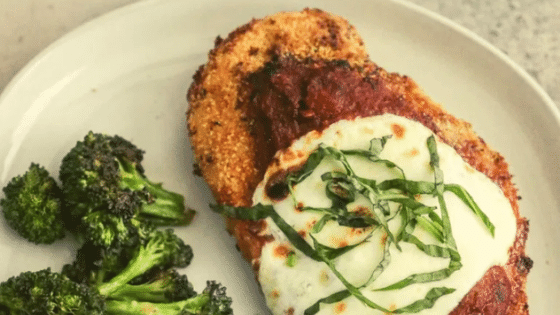 This chicken parmesan is crispy and flavorful. It is breaded with a low carb, gluten-free mixture made of almond flour and coconut flour. This Air Fryer Chicken Parmesan recipe tastes like the real deal, without frying in oil. I use a dairy-free cheese on top!
4. Air Fryer Chicken Thighs – Super Crispy!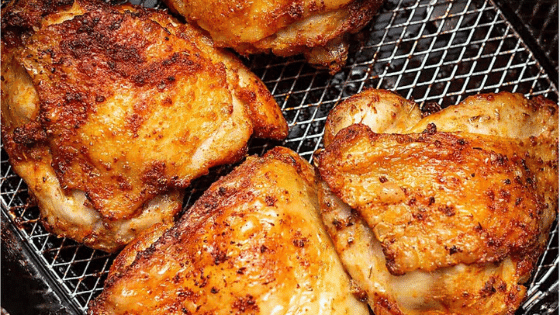 This is the perfect way to cook chicken thighs for that extra crispy skin and no need to heat up the oven. And you only need 5 ingredients!
5. Crispy Air Fryer Chicken Wings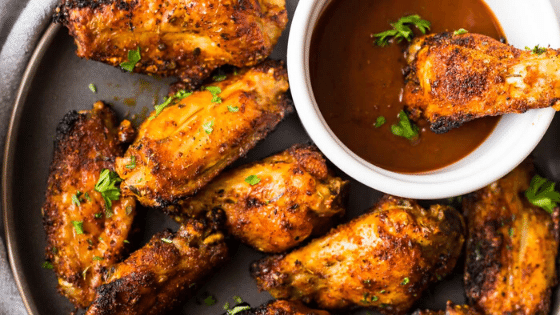 These are the best crispy chicken wings! They are seasoned with a perfect dry rub and then crisped in the air fryer in just 30 minutes. The whole family will love this easy and healthy recipe.
6. Air Fryer Chicken Fajita Dinner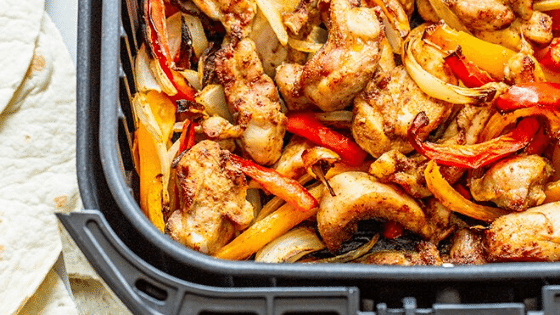 Who knew you could use the air fryer to make chicken fajitas? All you have to do is combine sliced chicken, peppers, and onions with fajita seasoning in the tray. So easy and takes less than 20 minutes! I serve them with guacamole and gluten-free tortillas.
7. Air Fryer Lemon Pepper Chicken Thighs: Whole30, Paleo, Keto, GF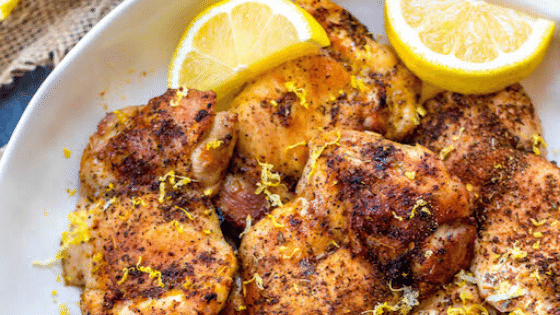 These paleo air fryer lemon pepper chicken thighs are crispy on the outside and full of juicy flavor on the inside. This gluten-free recipe is one of the easiest ways to get dinner on the table in just under 30 minutes.
8. Healthy Air Fryer Chicken and Veggies (20 Minute!)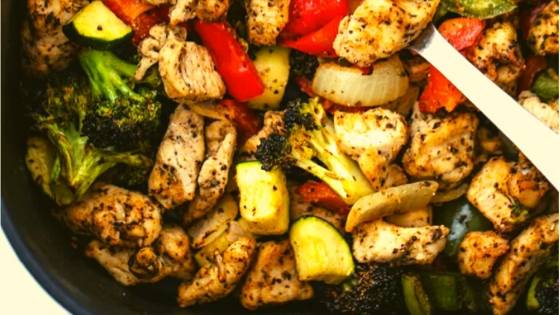 This nutritious air fryer chicken and veggies recipe is so EASY to make and full of flavor. It makes a complete meal in under 20 minutes. What's great is that this recipe will work with most quick-cooking veggies like asparagus, string beans, broccoli, bell pepper, onion, and zucchini. It's a great way to use those veggies from your garden!
9. Paleo & Whole30 Sesame Chicken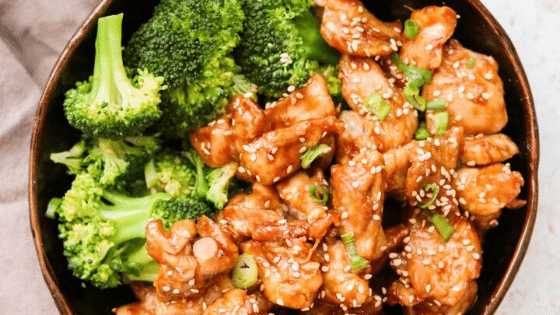 Forget takeout and enjoy this delicious paleo sesame chicken at home with all the healthy ingredients. You can make it on the stovetop or the air fryer! The sauce includes so many delicious flavors like coconut aminos and fresh ginger. It tastes so much better than take-out!
10. Air Fried Buffalo Chicken Strips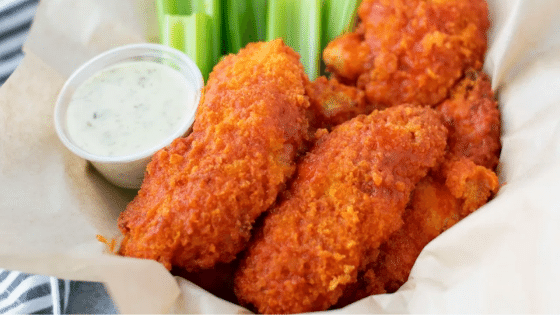 I couldn't have a chicken recipe roundup without buffalo wings. This recipe for air fried buffalo chicken strips is a healthier alternative to your typical fried buffalo chicken strips. It's made with minimal oil but you still get all the flavor and the perfect crunch! These are made with almond flour with an option to add panko breadcrumbs.
I hope you and your family enjoy these recipes! Let me know in the comments which one you can't wait to try!
You may also like these gluten-free recipes:
23 Healthy Instant Pot Recipes (Gluten-Free and Dairy-Free)
15 Healthy Gluten Free Desserts + Store Bought Options!
10 Quick and Delicious Gluten-Free Dinner Recipes
Gluten free air fryer recipes for chicken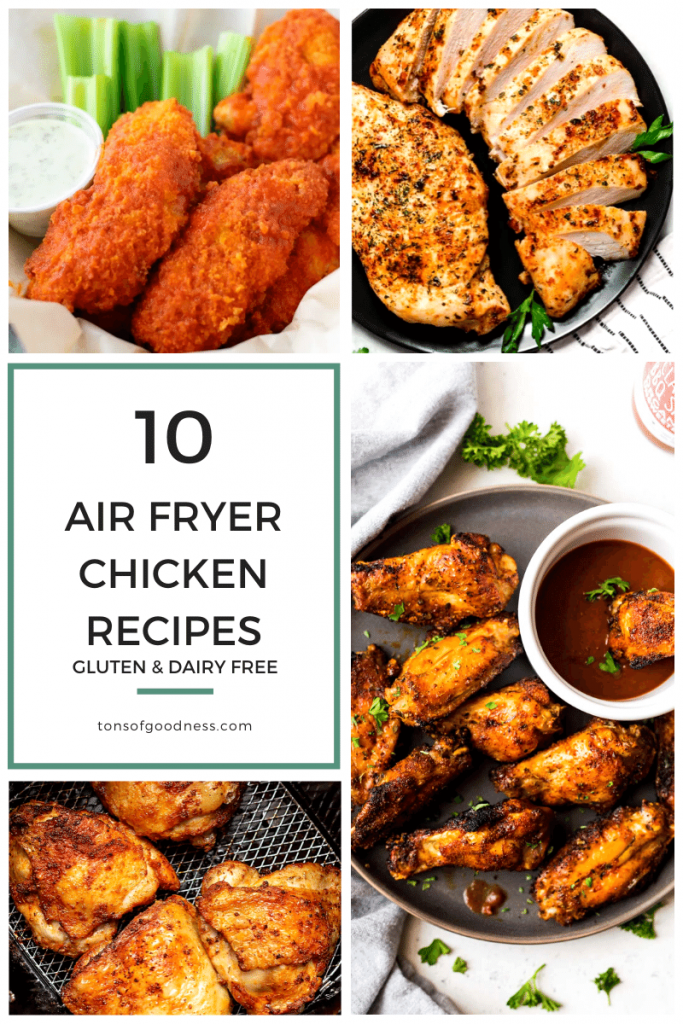 Summary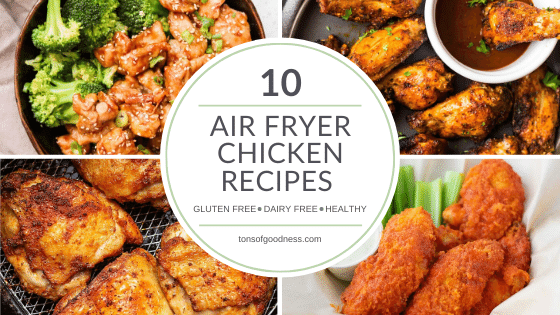 Article Name
Top 10 Air Fryer Chicken Recipes (Gluten-Free & Dairy Free)
Description
You'll love this roundup of 10 Air Fryer Chicken Recipes that are also gluten-free. From wings to entire meals, there are so many great options!
Author
Publisher Name
Publisher Logo