Disclosure: Some of the links in this article are affiliate links, which means that if you purchase through those links I will receive a small commission. For example, as Amazon Associate, I earn from qualifying purchases. If you decide to use these links, thank you!

During the summer months, it's especially important to stay hydrated. While you need to drink plenty of water, it's also fun and refreshing to make a summer drink recipe.
Most drink recipes you will find are filled with sugar and other additives that are not great for your health, or your hydration. But, here you will find healthy, tasty options that you can easily make at home!
These drinks are flavored with fruit, teas, or herbs. While I usually like my drinks naturally sweetened with fruit or unsweetened, I sometimes add a bit of Swerve Confectioners Sweetener.
Swerve is a plant-based sweetener and contains no artificial ingredients, preservatives, or flavors. It's zero-calorie and non-glycemic. I use the confectioners swerve because it dissolves quickly in drinks.
These are 9 of my favorite summer drinks!
9 Summer Drink Recipes
1. Sparkling Cherry Lemonade Recipe
This summer drink is incredibly refreshing with the perfect combination of sweet and tartness in a glass of sparkly goodness. There's absolutely no simple syrup or straining involved. All you have to do is pit your cherries and throw everything else right into the blender. You can even use frozen cherries to make this recipe faster!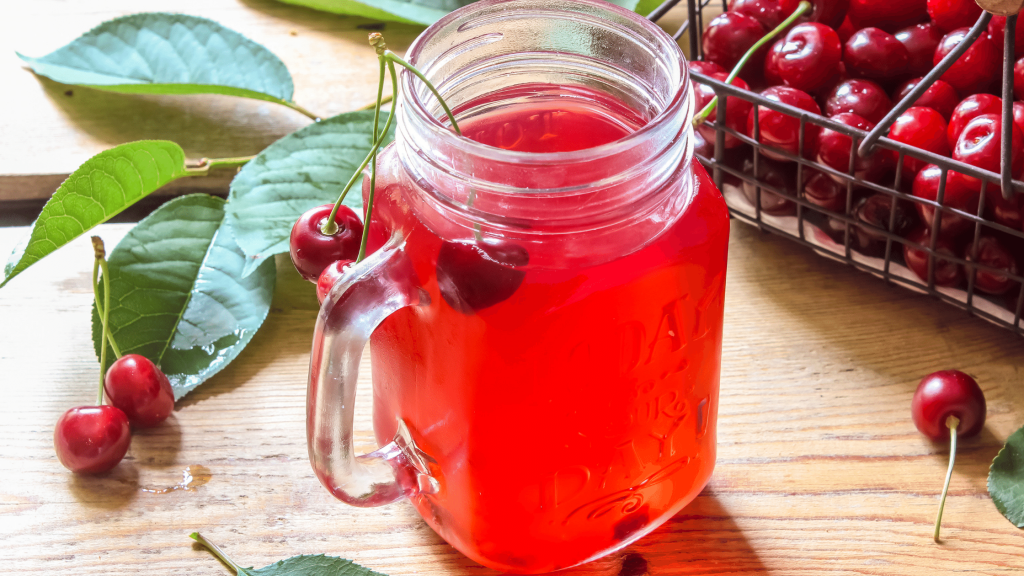 Ingredients:
2 cups fresh or frozen cherries, pitted
3/4 cup lemon juice
2/3 cup swerve sweetener (or sugar)
4 cups sparkling water
First, combine cherries, lemon juice, and sweetener in a blender until smooth. Place in the refrigerator until chilled. Serve over ice and sparkling water. Enjoy!
2. Peach Iced Tea
I love iced tea all year round. But, in the summer I love making this peach iced tea! You can make this unsweetened or sweetened depending on your preferences. This iced tea is light, flavorful, and refreshing. And it's easy to make!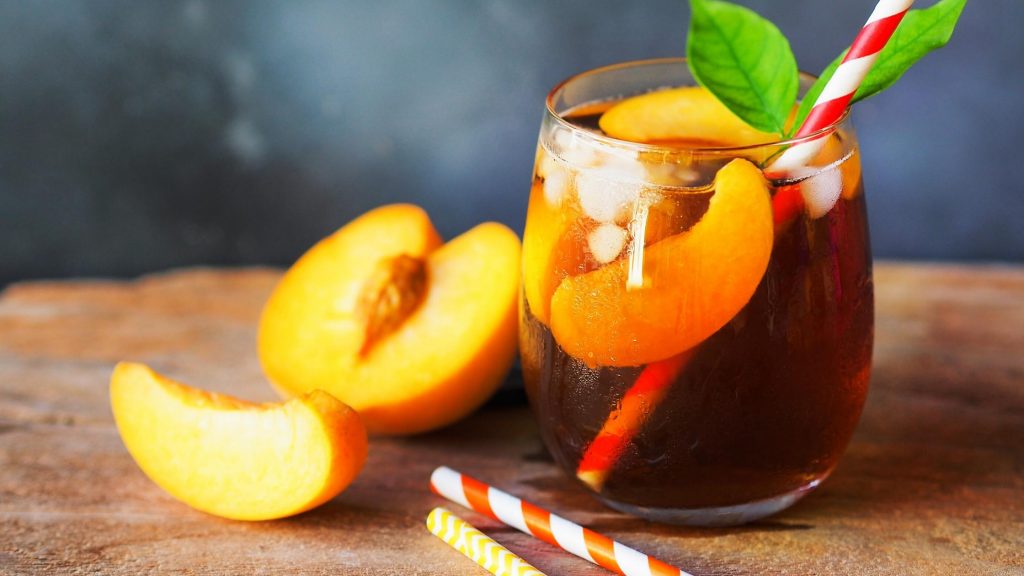 Ingredients:
2 ripe peaches, sliced
8 cups water, divided
2 Tablespoons swerve or sugar (for a less sweet version)
2 large tea bags
1 cup torn basil leaves (optional)
To make the peach puree, combine the sliced peaches, 1 cup water, and sugar into a saucepan. Bring to a boil, reduce to a simmer and let cook for 5 minutes. Stir intermittently. Remove from heat and let cool. Once cool, puree using a blender.
Bring the remaining 7 cups of water to a boil. Place the tea bags and basil leaves into a large pitcher and pour the boiling water over. Steep for 5 minutes. Remove tea bags and basil leaves. Stir in the peach puree and serve over ice.
3. Piña Colada Smoothie
This smoothie is made with just 3 healthy ingredients and makes for a delicious dairy-free treat! This recipe is non-alcoholic, but you could always stir in a shot of rum before serving. If you enjoy the flavor of rum but don't want the added alcohol, you could also add a bit of rum extract.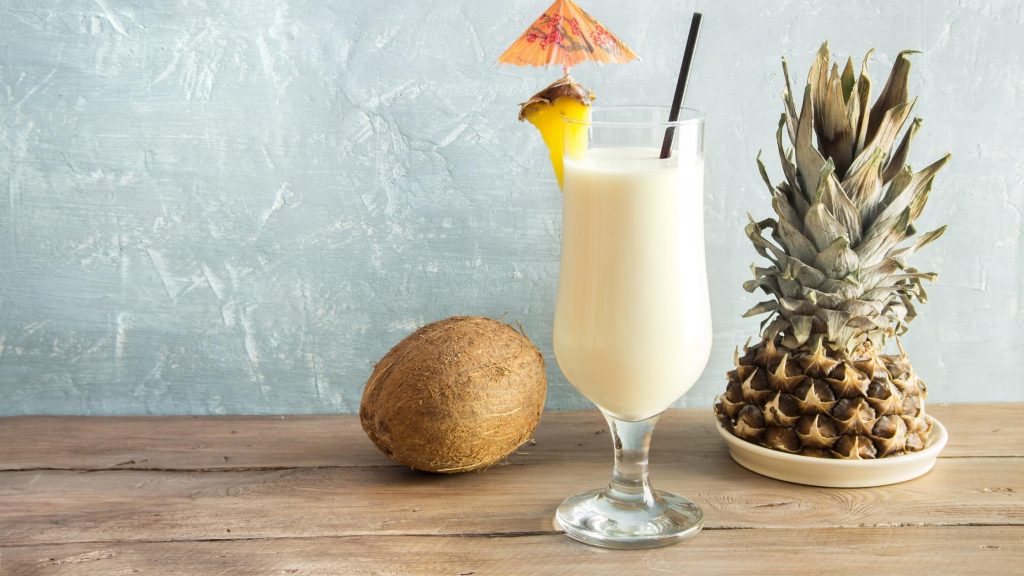 Ingredients:
1 can crushed pineapple in juice 20 ounces
1 can coconut milk 13.5 ounces
3 bananas peeled and frozen
Add all of the ingredients to a blender and blend on high until smooth. Divide between glasses and serve immediately! Serves 4. Add an optional slice of pineapple or a cherry
4. Fruit Infused Water
So, this isn't really a recipe. But, I included fruit infused water because it's so easy to make and there are so many combinations to try! Infused water is a great way to satisfy your thirst while getting in your daily water intake.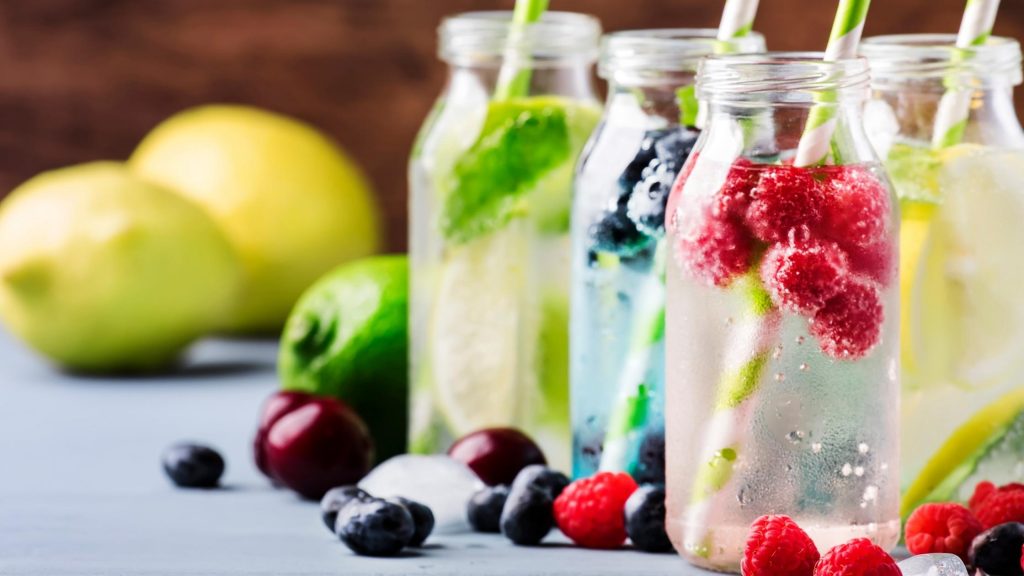 Some of my favorite combinations include orange-kiwi, raspberry-mint, strawberry-basil, strawberry-lemon, and pineapple-mint. The combinations are endless.
To make your fruit infused water, fill up a pitcher with water. Place all the sliced fruit and/or herbs into the water and add ice to the top. Refrigerate. You could also try a pitcher or bottle with a built-in infuser.
5. Strawberry Moscow Mule
A Moscow Mule is a classic, and it is fun to switch up the flavors!  This non-alcoholic cocktail is a refreshing blend of fresh strawberries, ginger ale, and lime juice. To make this an alcoholic drink, just add 1 ounce of vodka or light rum to each serving. Cherries or peaches taste great in this recipe too!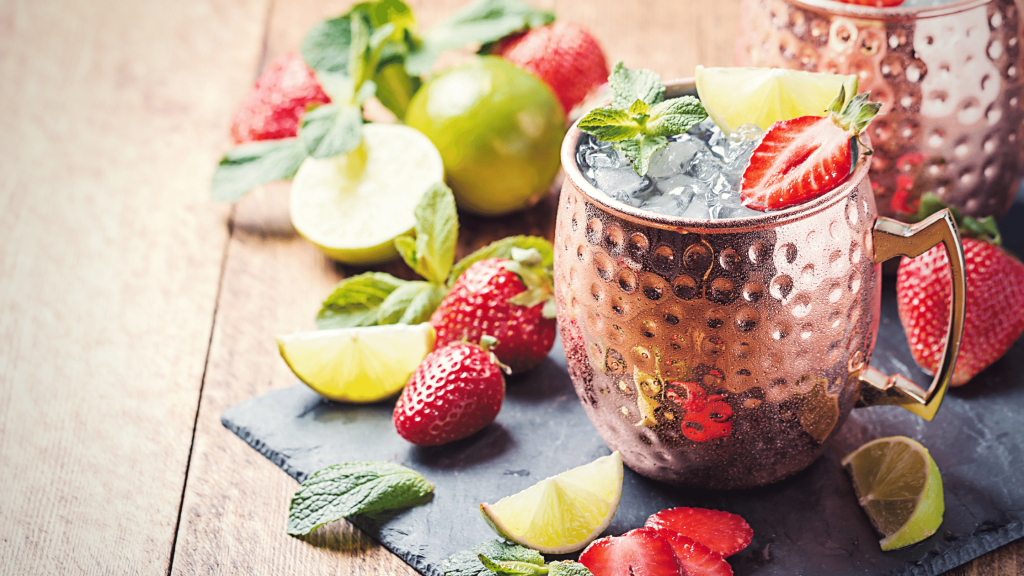 Ingredients for 6 to 8 servings:
4 cups strawberries
6 cups diet ginger ale
¼ cup fresh lime juice
ice
½ cup loosely packed small fresh basil leaves
In a blender or food processor combine strawberries, 1/2 cup of the ginger ale, and the lime juice. Blend until smooth.
Transfer strawberry mixture to a large pitcher. Slowly pour in the remaining ginger ale; stir gently. Fill eight glasses with ice; divide basil among the glasses. Pour in strawberry mixture.
I love using a copper mug to make it stay extra cold and refreshing.
6. Cucumber-Mint Water
We have so many cucumbers growing in our garden this year, so I was excited to try this recipe. Lime, cucumber, and mint work together to create a healthy drink that you'll want to keep in the fridge all summer long.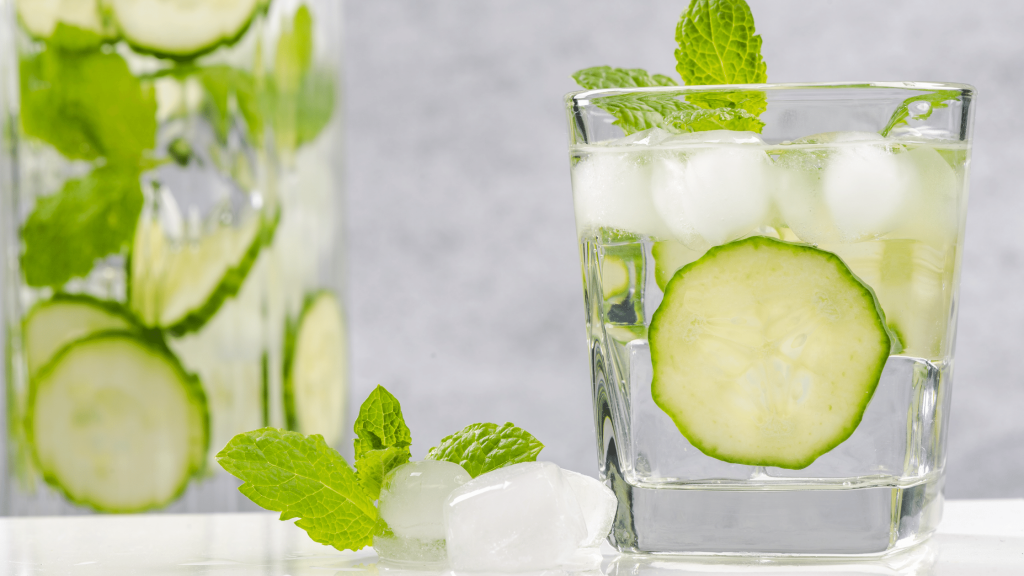 Ingredients:
12 slices of cucumber
4 slices of lime (or more for extra lime flavor)
4 large sprigs of mint
28 ounces of water
Combine the cucumber, lime, and mint in a 32-oz. Mason jar or pitcher. Muddle until lightly crushed. Add the water; seal and shake for 30 seconds to combine. Serve over ice. Your cucumber-mint water will keep in the refrigerator for up to 24 hours.
7. Cold Brew Hibiscus Tea
This ruby-red Cold Brew Hibiscus Tea is a fresh alternative to regular iced tea. This recipe uses orange slices and lime, however, you could switch it up and add raspberries, blueberries, or blackberries (or all three!). Hibiscus tea is a herbal tea, so it's naturally caffeine-free.
Make sure to use food-grade, organic hibiscus to make sure it isn't treated with pesticides. Look for whole-petal (not cut and sifted) for the best flavor and nutrients. My recommendation is linked in the ingredients below.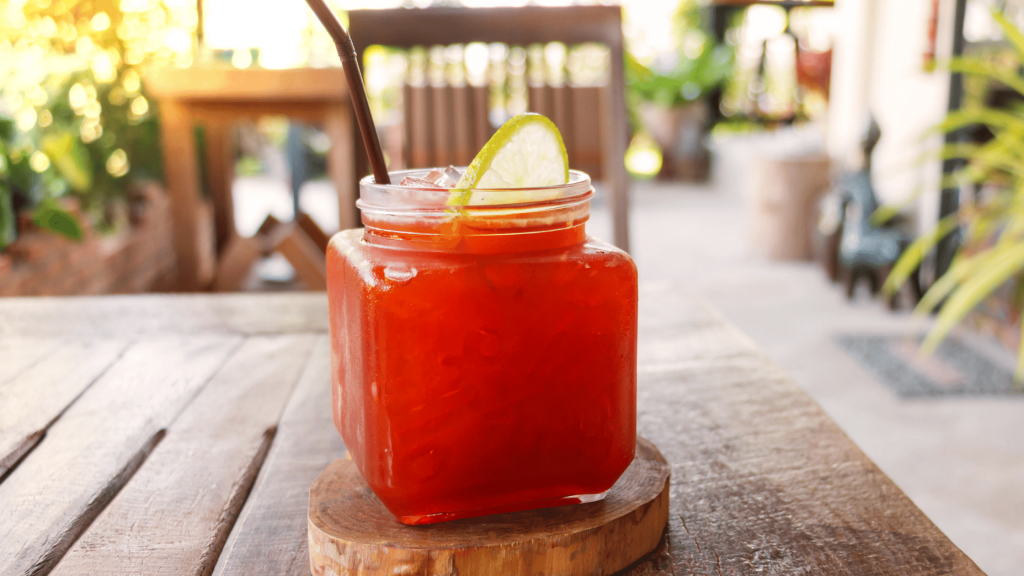 Ingredients:
1/4 cup Hibiscus Tea
8 cups water (room temperature, filtered)
1/4 cup swerve sweetener (or sugar) (optional)
1 navel orange, sliced
1 lime, sliced
Place hibiscus tea and water in a pitcher or glass container. Add the orange and lime slices. Cover the pitcher and place it in the refrigerator for at least 12 hours. Strain the tea. Stir in sweetener until dissolved. Serve over ice.
8. Sparkling Paloma
This sparkling Paloma is so light and energizing! Made with freshly squeezed grapefruit, a hint of lime, and grapefruit-flavored sparkling water; it's the perfect low-sugar, summer drink. If you would like to make this a cocktail, just add 1oz of tequila to each glass.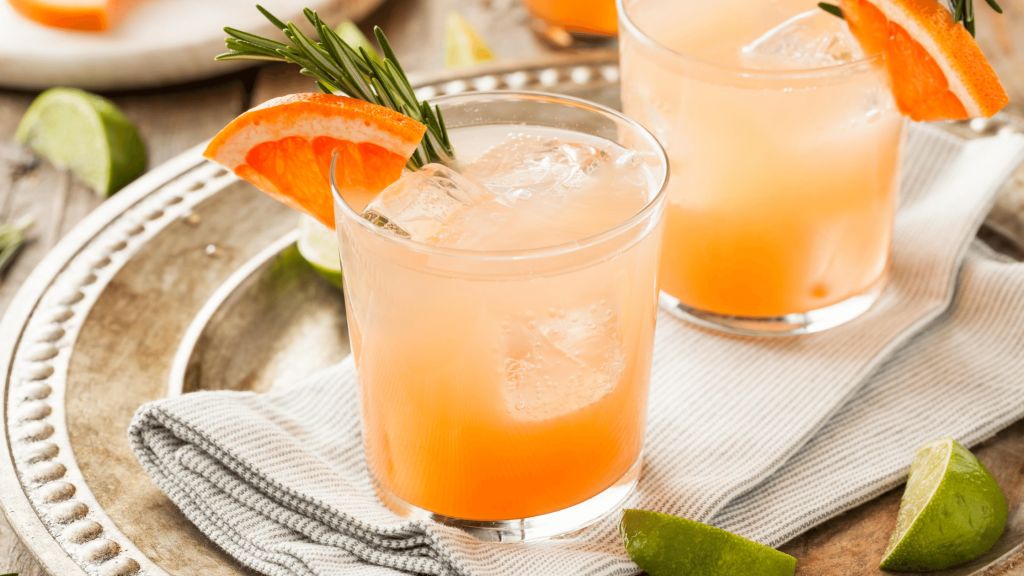 Ingredients (serves 2):
1/2 cup fresh grapefruit juice
grapefruit slices
2 ounces tequila (optional)
2 tablespoons fresh lime juice
16 oz. grapefruit-flavored sparkling water (La Croix or your favorite brand)
ice
Juice the grapefruit and lime. Add 1 ounce of tequila (optional), 1/4 cup of grapefruit juice, and 1 tablespoon of lime juice into each glass. Stir to combine. Add ice and fill the rest of the glass with sparkling water. Garnish with grapefruit slices.
For a sweeter option, add agave syrup or swerve sweetener.
9. Cold Brew Green Tea
This refreshing iced green tea will be one of your favorite drinks for summer. And what's great is that green tea is full of healthy antioxidants that help to lower cholesterol, help keep blood sugar stable, and prevent cell damage (source).
To get the full benefits from your green tea, it's best to cold brew whole tea leaves. Adding citruses, such as lemons or orange, also helps your body to absorb the antioxidants from green tea.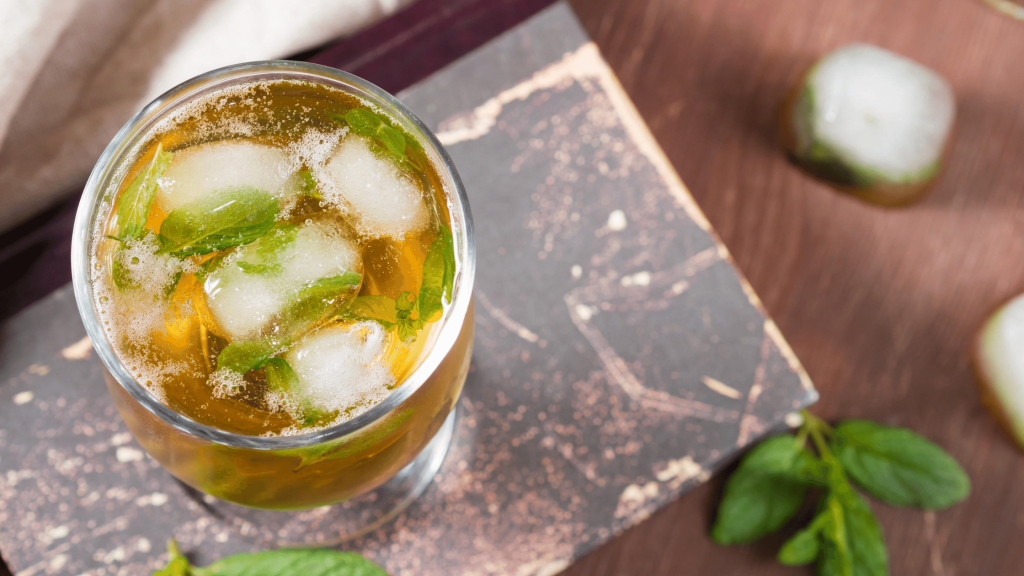 Ingredients:
1 teaspoon loose-leaf green tea per 6 to 8 ounces of water
Optional add-ins: sliced lemon, sliced orange, honey, mint leaves
ice
Just combine loose-leaf tea and water in a pitcher and let the tea infuse the water for 6 to 12 hours in the refrigerator. Strain, and you have cold-brew green tea! Then just add in the add-ins of your choice.
More healthy recipe articles:
15 Healthy Gluten Free Desserts + Store Bought Options!
Top Four Electrolyte Drinks a Budget
15 Quick and Healthy Lunches: Gluten Free and Dairy Free
Gluten-Free Banana Chocolate Chip Muffins
Healthy Summer Drink Recipes