Disclosure: Some of the links in this article are affiliate links, which means that if you purchase through those links I will receive a small commission. For example, as Amazon Associate, I earn from qualifying purchases. If you decide to use these links, thank you!

During the Holiday season I love to spend time with family, take part in all of the festive traditions, and enjoy yummy Holiday foods. So, this gluten-free and dairy-free Holiday recipe roundup is important to me because these recipes help me to feel included in the Holiday fun.
If you or a family member has allergies or food sensitivities, I'm sure can relate with my story. When I first discovered that I had gluten and dairy allergies, the Holiday's were pretty tough for me. There were so many things I was used to eating that I could no longer enjoy. It was sometimes difficult going to a get-together or party and feeling left out.
Yet, I soon discovered so many amazing gluten-free and dairy-free Holiday recipes that were just as good….and sometimes even better…than the recipes I was used to. I hope by sharing these recipes with you that you and your loved ones can get back to enjoying the Holiday season too!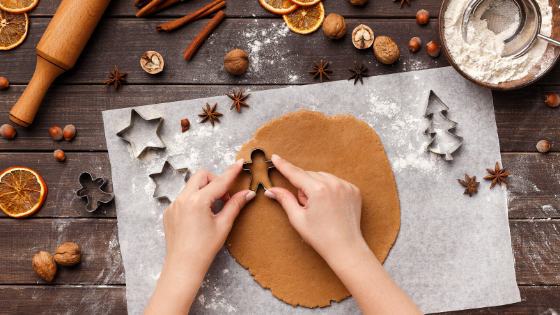 Gluten Free and Dairy Free Breakfast Recipes
Main Course Recipes
Side Dishes
Desserts
Gluten-Free & Dairy-Free Recipe Tips
In addition to providing you with these delicious recipes, I'd also love to help you make your own favorite recipes without the gluten and dairy. We all have our favorite family recipes…some passed down for generations. Luckily, with some easy fixes you can still make them!
Dairy Substitutes & Tips
When replacing milk with nondairy milk, it is substituted cup for cup. Rice milk, coconut milk, almond milk, oat milk, and hemp milk are great options.
For 1 cup of:
Buttermilk: 1 tablespoon lemon juice + 1 cup nondairy milk. Let stand for 10 minutes.
Yogurt, cream, or sour cream: nondairy yogurt, such as coconut milk yogurt
Butter: coconut oil or nondairy buttery spread (cup for cup); applesauce (use half of the amount of applesauce as the amount of butter called for in the recipe), vegetable oil (substitute 3/4 cup of vegetable oil for every 1 cup of butter called for).
Gluten Free Baking Substitutes & Tips
Almond flour and oat flour are great for baking. In addition, Bob's Red Mill GF All Purpose Baking Flour Blend is an easy substitute.
In gluten-free baking 1 cup of all-purpose bleached white flour = 120 grams. So, you can use 120 grams of your gluten-free flour blend in place of the all-purpose white flour.
Since gluten-free flours can be heavier, it helps to double the baking powder the wheat based recipe calls for when cooking gluten free.
Because gluten free baking needs help to stick together and not get crumbly Xanthan gum is commonly used. It helps the cookies or muffins rise as well as stick together. Add 1/4 tsp Xanthan gum for each cup of flour your recipe calls for.
Gluten Free Pasta
If you're recipe includes pasta, these two brands that I love:
Gluten Free Grains
There are several grains that are naturally gluten free. I always make sure to check the package to make sure that it is Certified Gluten Free. This is because most commercial grains are processed in facilities that also process wheat, barley, and rye. The gluten in these ingredients can contaminate other grains. So, check to make sure!
The following can be used for gluten free recipes:
Amaranth
Buckwheat
Corn/Cornmeal
Millet
I hope you love these recipes as much as I do! Please share the goodness and pin it or share on Instagram and hashtag it #tonsofgoodness. Thank you!