Disclosure: Some of the links in this article are affiliate links, which means that if you purchase through those links I will receive a small commission. For example, as Amazon Associate, I earn from qualifying purchases. If you decide to use these links, thank you!

Hi there! It's finally starting to feel like fall here in Ohio. October started out at 90+ degrees, so I'm ready for cooler weather and all the fall flavors! To get in the fall mood I've created this dairy-free pumpkin pie shake.
This dairy-free pumpkin pie protein shake has all the yummy pumpkin pie flavors and is packed with healthy ingredients. It's perfect for breakfast or as a nutritious snack. I love protein shakes for breakfast. They are super fast, easy, and pack a ton of nutrients into one drink.
Before we move on let me tell you a secret. The secret to this recipe is to freeze your canned pumpkin. The frozen pumpkin will make your shake creamy and well, more like a milkshake! I know, mind blown, right?! ?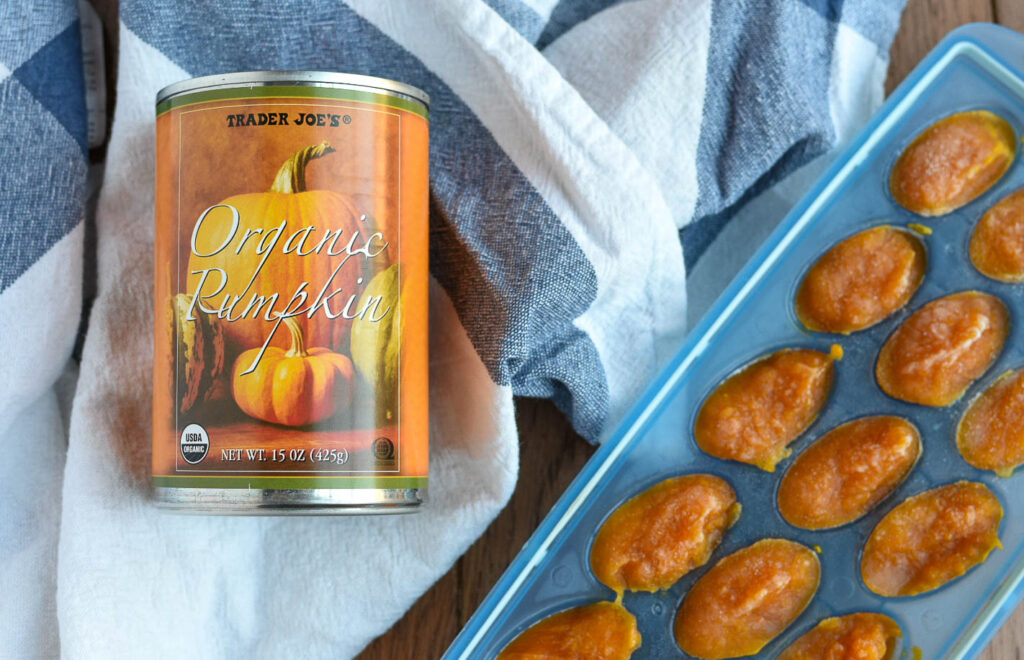 All you have to do is scoop or pour your canned pumpkin into an ice cube tray. I like to use easy release trays with a lid. These trays make it easier to pop out individual portions. I used these trays a lot when I used to make baby food for my daughter. They do come in handy!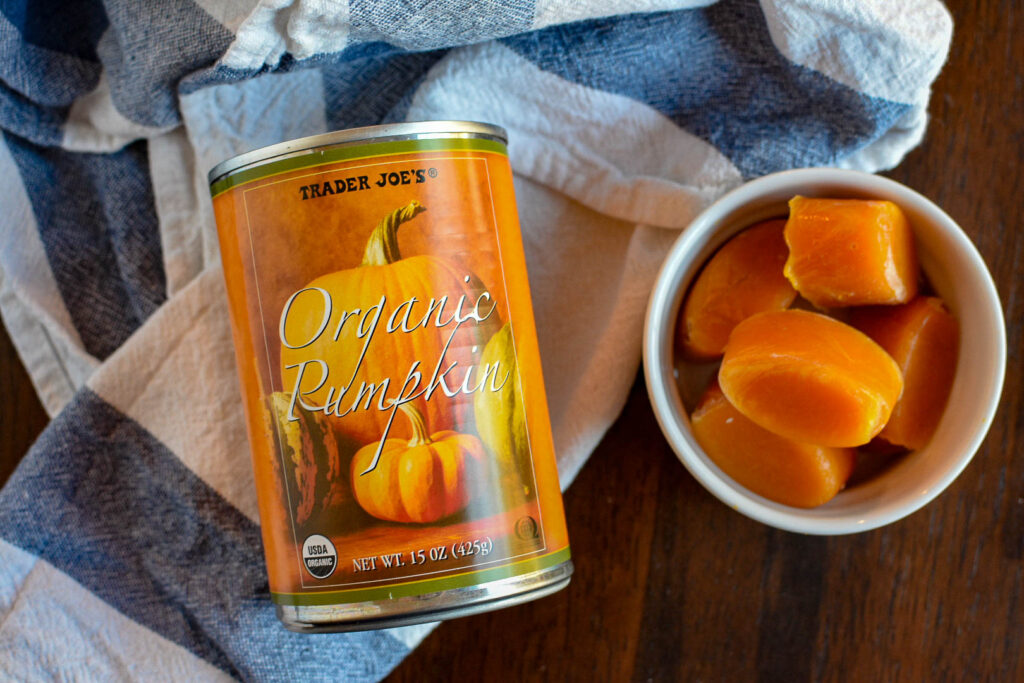 Also, make sure that you purchase pureed pumpkin and NOT pumpkin pie filling. Pureed pumpkin should be the only ingredient. Pumpkin pie filling is flavored with spices and is also sweetened with cane sugar.
Keeping it Dairy Free
I use unsweetened almond milk from Califia Farms for this recipe, but you can use any milk you prefer for this dairy-free pumpkin pie shake. I think oat milk or cashew milk would taste great too!
For a list of the best dairy-free protein powders, check out this post:
The 9 Best Vegan Protein Powders You Will Absolutely Love
Health Geek Pumpkin Facts
Before we get to the recipe, I have to geek out for a minute and tell you about how pumpkin is an incredibly nutritious food. Pumpkin is nutrient-dense, meaning it has lots of vitamins and minerals.
One cup of cooked pumpkin provides your amazing body with:
Fiber: 3 grams
Protein: 2 grams
Vitamin K: 49% of the RDI
Vitamin C: 19% of the RDI
Potassium: 16% of the RDI
Copper, manganese and riboflavin: 11% of the RDI
Vitamin E: 10% of the RDI
Iron: 8% of the RDI
Folate: 6% of the RDI
Niacin, pantothenic acid, vitamin B6 and thiamin: 5% of the RDI
It's also exceptionally high in beta-carotene, a powerful antioxidant. In summary, pumpkin is awesome.
Ok, back to the recipe!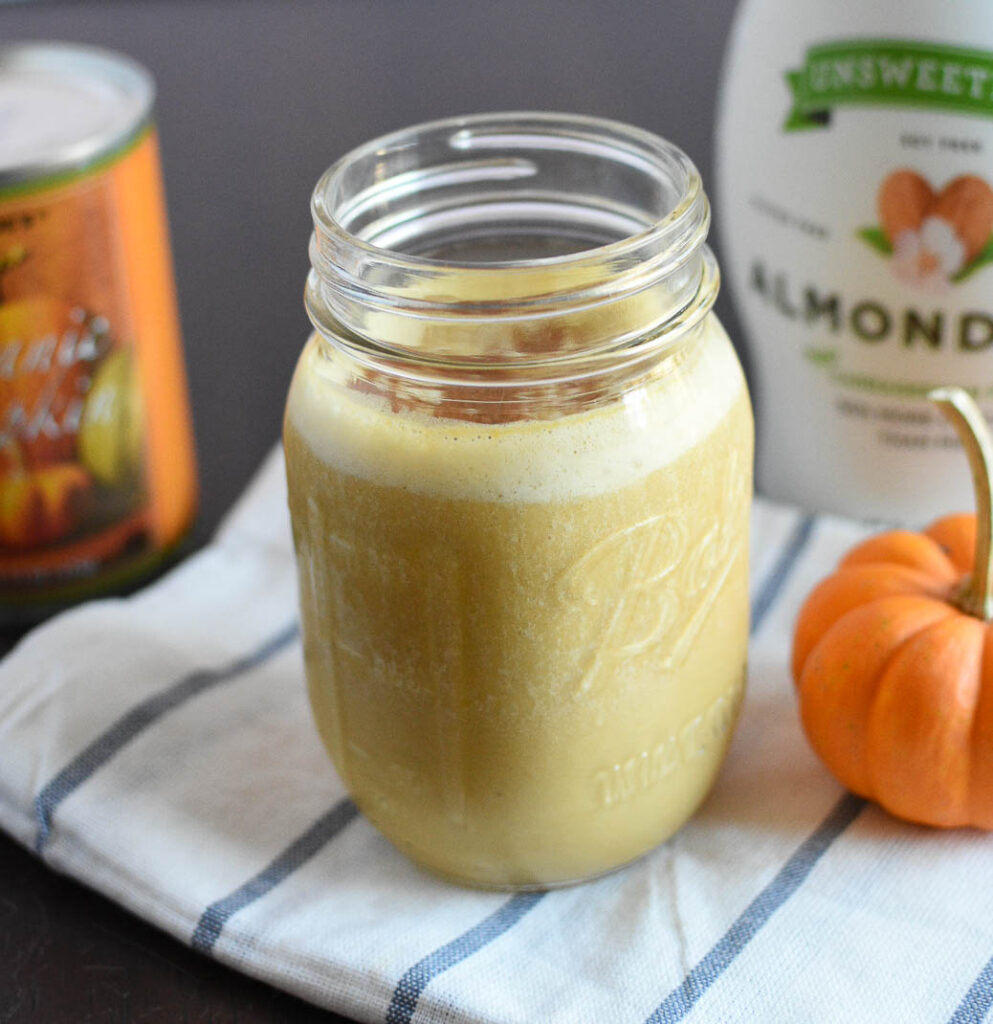 This recipe is high-protein, gluten-free, dairy-free, vegan, and has zero refined sugar, and is delicious.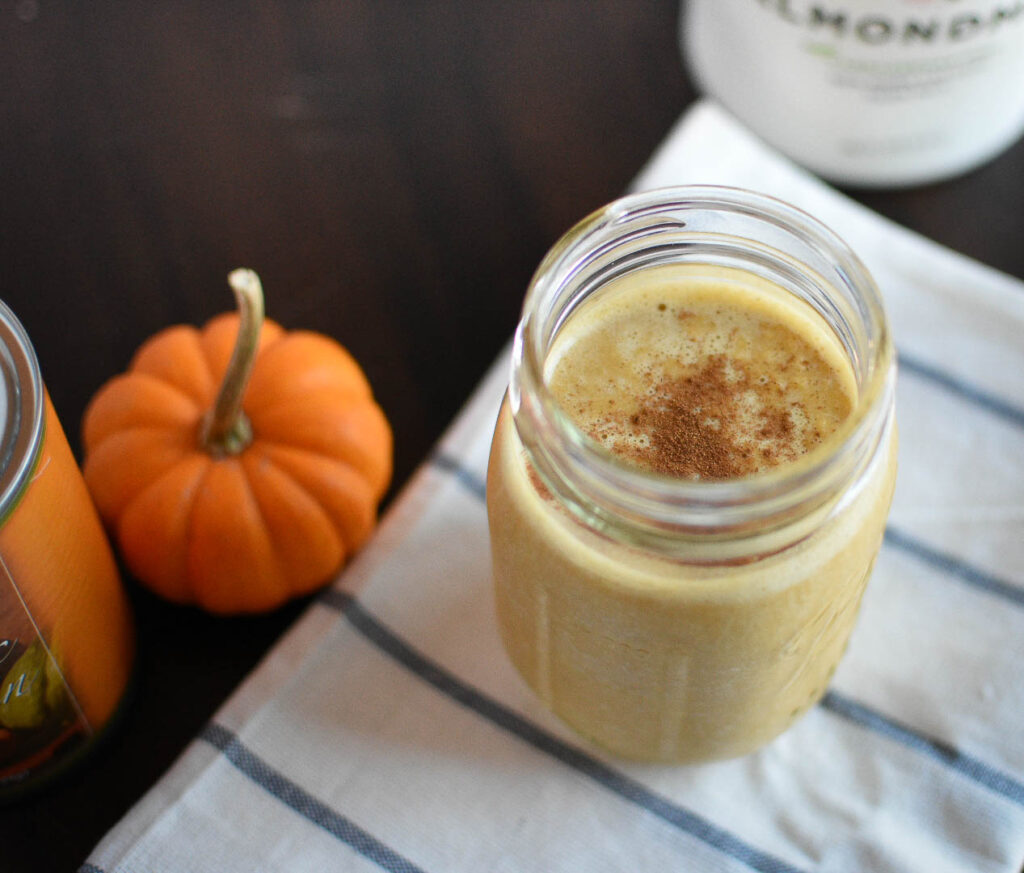 So, gather your ingredients and give this recipe a try!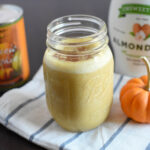 Dairy-Free Pumpkin Pie Protein Shake Recipe
This pumpkin pie protein shake recipe is creamy & delicious. It's packed with protein and nutrients with all the flavor of a pumpkin pie.
Servings
1
awesome person
Ingredients
12

oz

dairy free milk

I love Califia Farms almond milk

1/2

cup

frozen pumpkin puree

1

tsp

pumpkin spice

more or less depending on your preference

1

scoop

plant based vanilla protein powder

3

ice cubes
Instructions
Combine all the ingredients in a blender. Blend until smooth. Enjoy!
I think you will also love this Healthy Shamrock Protein Shake Recipe. This healthy shamrock protein shake recipe is made with almond milk, vegan protein powder, mint extract, and spirulina powder. It's super easy to make with simple ingredients. It's a great shake to make all year long!
Did you make this recipe and love it!? Please share the goodness and share on Instagram and Facebook and hashtag it #tonsofgoodness. Thank you!