Disclosure: Some of the links in this article are affiliate links, which means that if you purchase through those links I will receive a small commission. For example, as Amazon Associate, I earn from qualifying purchases. If you decide to use these links, thank you!

When you walk into a commercial gym or studio you'll notice that there is at least one mirror on the wall. And there are so many reasons that your home gym should have a mirror too! Let's dive into why this is a must-have for any home gym and how to choose one that's best for your space.
Why should you have a gym mirror?
Before you go looking for an at-home gym mirror, let's talk about why you need one. And don't worry, I'm not going to try to sell you The Mirror (priced at over $2,000). It looks like a fun workout idea, but it's not necessary to get an effective workout.
So why exactly do you need a gym mirror?
To Check Your Form
Using proper form is extremely important for any exercise. By using the proper form you can prevent injuries and get the most out of the movement. A mirror is crucial since you can quickly glance in the mirror and make any needed adjustments. This is especially important for a home gym since a personal trainer isn't there to help you.
This is true for all types of training from using dumbbells to running on your treadmill.
Think about when you perform a lunge. To complete it correctly, you need to make sure that your front knee is directly over your ankle, your legs should be at 90 degrees, your body should be in a straight line (not leaning), and your eye glance should be straight ahead (except when you glance at the mirror). This is a lot to think about, but with a quick look you can quickly see if you are using the correct form.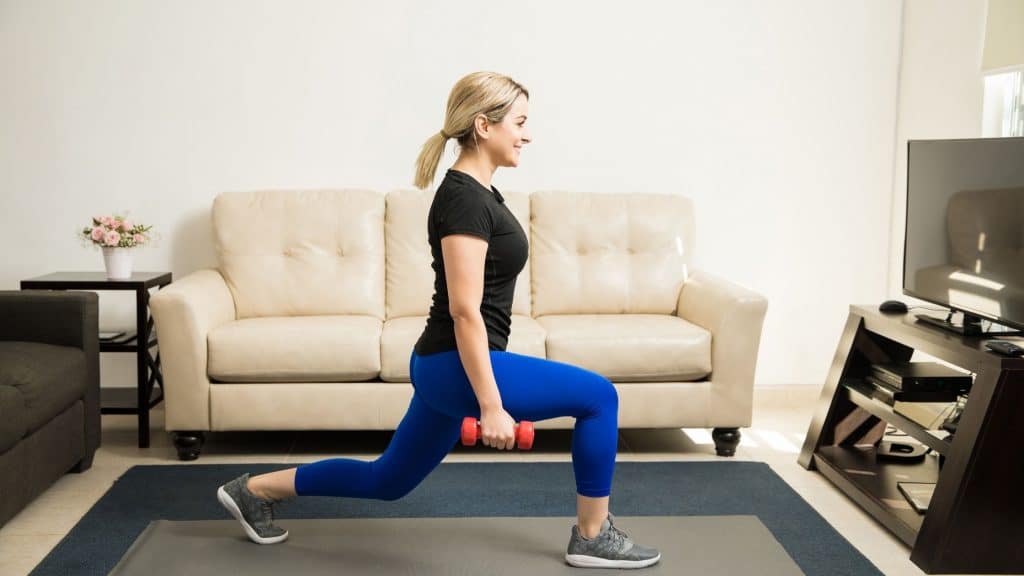 I've seen people take a video of themselves to check for form. But, being able to correct form issues during a lift or movement is the ideal time to do it. Checking after the fact isn't conducive to proper form and making progress.
Eventually, you will develop a mind-muscle connection and not need to check the mirror as often.
Increase Motivation
A gym mirror boosts your workout experience by helping you perform your best. For example, have you every been performing a movement, let's say high knees. You think you're moving as quickly and getting your knees as high as the trainer leading your Beachbody workout.
But, when you glance over at the mirror you notice you aren't moving as fast or performing quite as well as you thought.
It's a bummer at first. Yet, then you can set those negative thoughts aside and use your mirror to challenge yourself to do better, to get stronger, and perform your best. By doing this I have improved both my cardio and strength performance.
Develop Your Internal Focus
A gym mirror can also help you develop your internal focus by reflecting the quality of your breathing and muscle tension.
Use the mirror to check out the way you are holding your body: Are there areas of unnecessary tension? For instance, can you drop your shoulders or relax your jaw a bit? Try observing your breathing pattern in the mirror: are you breathing mainly in your upper chest, or holding your breath as you move? Use the mirror to practice taking some deeper belly breaths.
This has been especially beneficial to me during yoga, pilates, and barre practices. I tend to hold a lot of tension in my neck. Yet, this has helped me to notice when I am tense. I can then focus on releasing that tension and relaxing.
What to Look for When Buying a Gym Mirror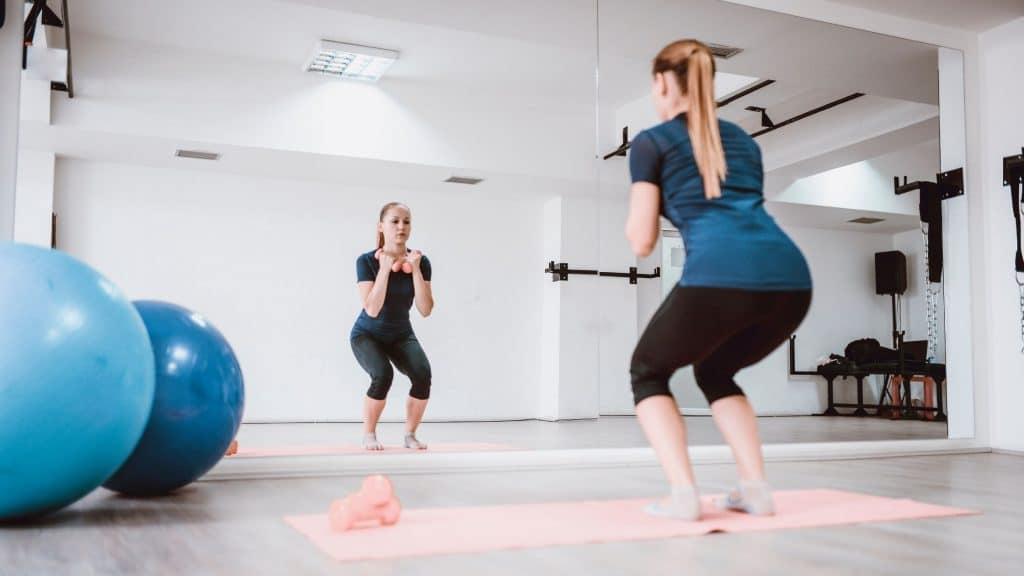 Now that we now WHY we need a gym mirror let's talk about which ones are the best for your home gym. There are a few aspects to consider including size, materials, and fixed vs. portable.
Mirror Size
The gym mirror that I use is 50″ tall and 15″ wide. It's on the small side, but it does the job. I am 5′ 6″, so if you are taller you may want to buy a larger mirror. If I were to buy a new mirror, I would look for one that covers my full arm span when they're extended to the sides. That width would allow me to see better during yoga and other movements.
Gym Mirror Materials
As far as the type of material, I recommend a glass mirror. They provide a clear reflection, unlike acrylic mirror sheets. I bought acrylic sheets once and it was a huge waste of money. They reflected in a wavy pattern, always looked cloudy, and I could not apply them flat on my wall. So, glass is the way to go.
If possible, buy one made of shatterproof glass. If broken it will crack like a web and will not break into sharp, jagged pieces. This is important in a gym where you are using dumbells and/or kettlebells.
Fixed vs. Portable
There are pros and cons to both fixed and portable mirrors. Fixed mirrors are those that you will mount on your wall and are not meant to be moved. These are, in general, safer because they are on the wall and you are not likely to bump into it or knock it over. The downside is that if you have a smaller mirror you may want to move it for certain exercises, like planks that are low to the ground. This is when a portable mirror would come in handy.
This is a personal preference, but I would say if you have any children or pets that may be in your home gym, then a fixed mirror that you can mount is the safer option.
The 5 Best Gym Mirrors on Amazon
I did the research for you and rounded up the best gym mirrors on Amazon. Here are all the details!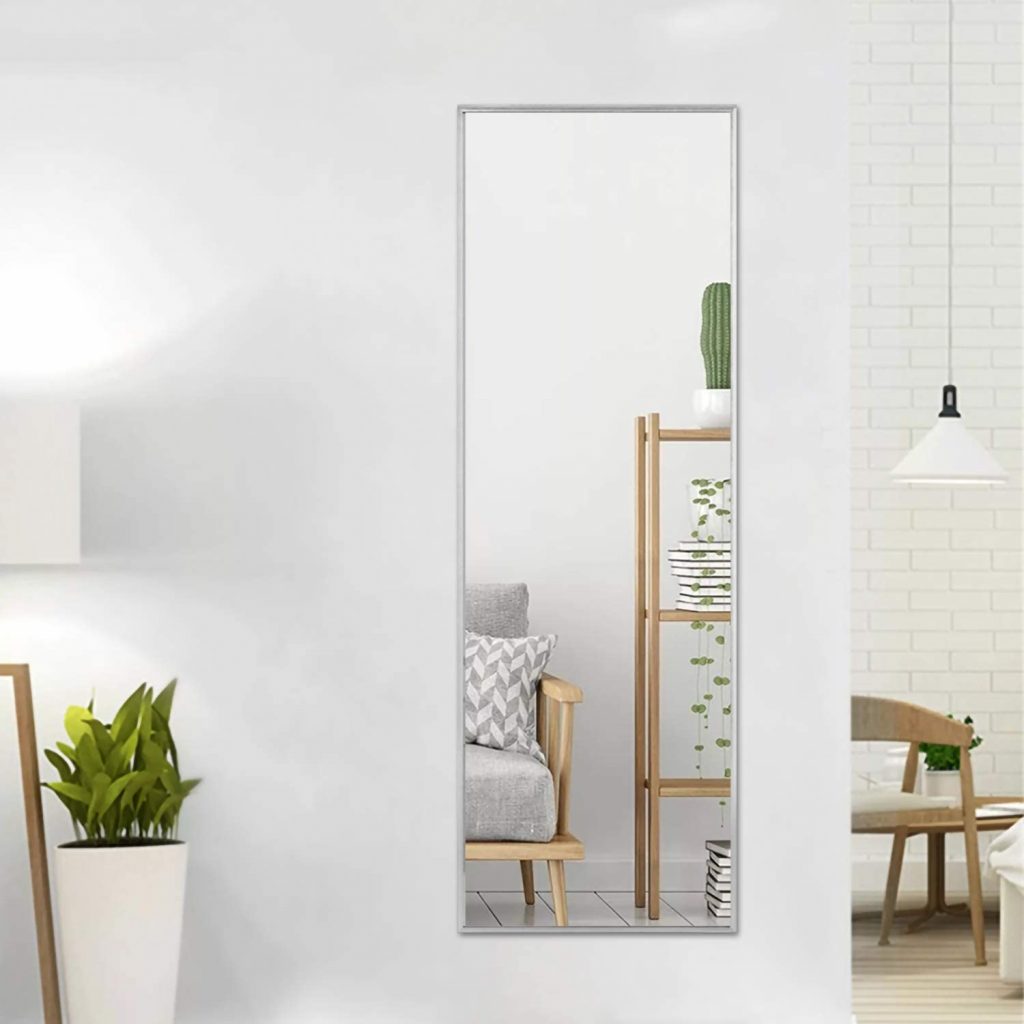 This mirror is made with an aircraft-grade aluminum alloy frame, which makes the mirror shock-proof in case of bumps or falls. You can lean it or hang it on your wall. This mirror is a nice size and the thin frame doesn't take up much space.
Overall, reviewers indicate that it's a well made mirror and is easy to hang.
---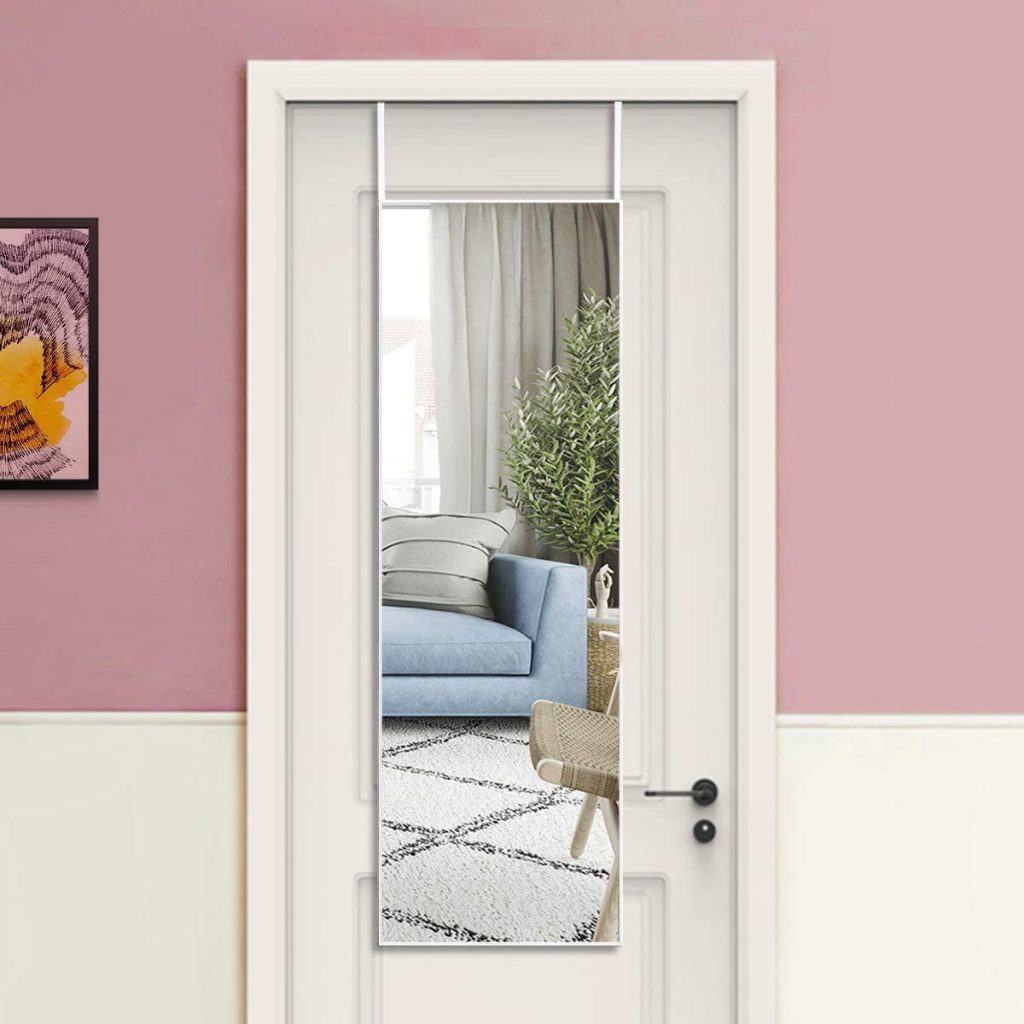 You can use the as an over-the-door mirror or mount it on your wall. It's made with shatterproof glass and has a thin, metal frame. This is the closest to what I have in my home. It only weighs 10 pounds and I used Command strips to hang mine since my home gym is in the basement and the walls are painted concrete.
---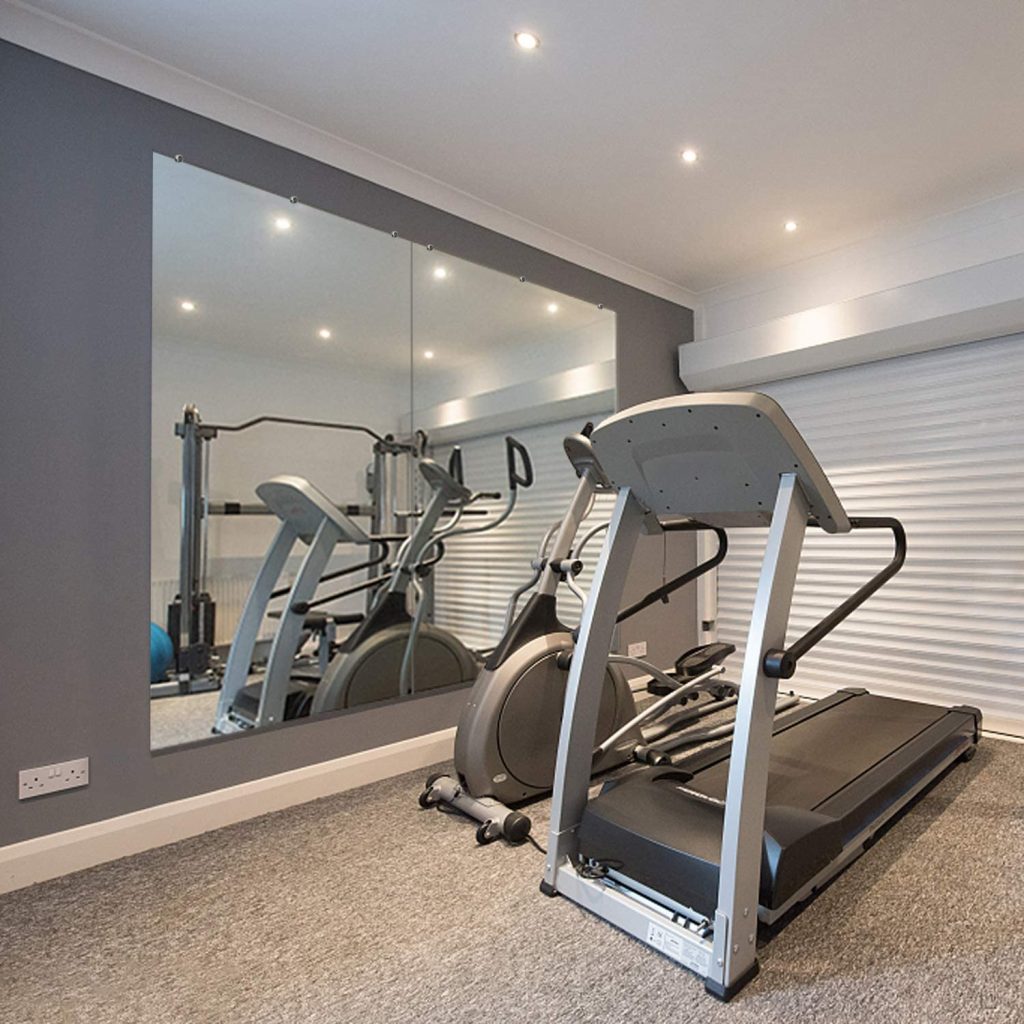 This mirror is the perfect size and you can mount it horizontally or vertically. It's made of a 5mm silver mirror plate with 3-layer. It includes all mounting hardware. It is frameless, so you can mount two side-by-side if you need a larger mirror.
---
This mirror is a great size and can be mounted on the wall or can stand anywhere with the standing holder. The glass is covered by an explosion-proof membrane. So, glass will not be shattered even if impacted by external force. Reviewers say that it's great for taller individuals and is a sturdy, well-made mirror.
---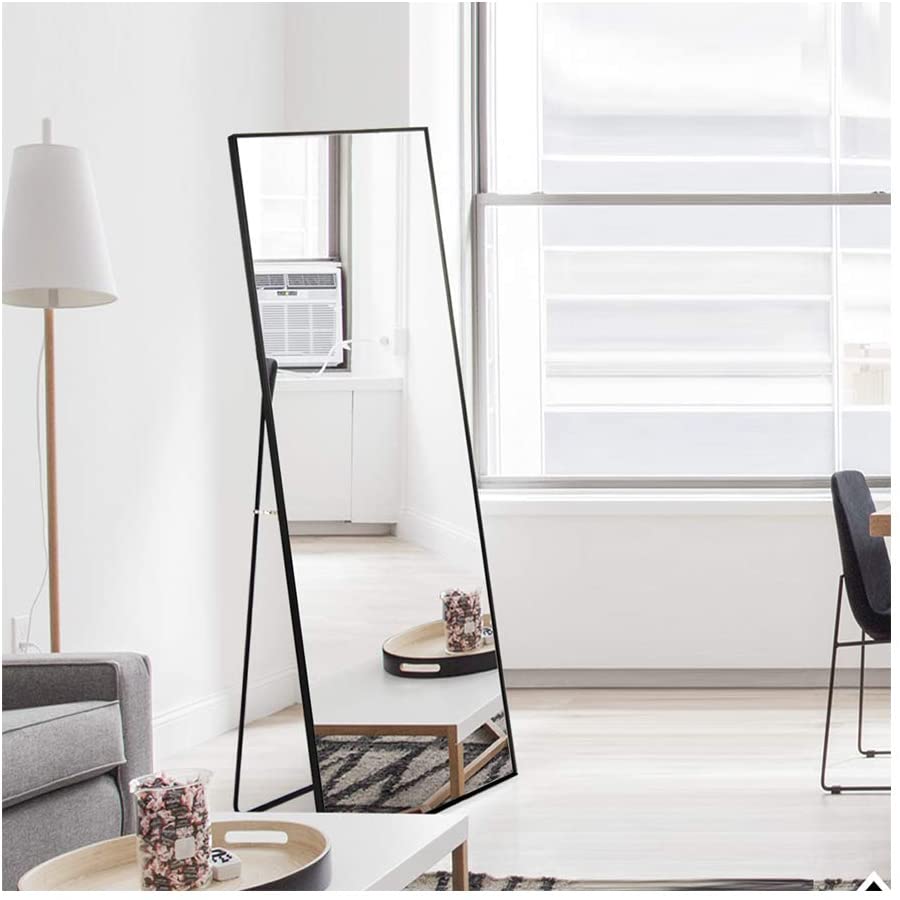 The mirror is a great size and is under $100. You can use the stand, mount it, or lean it against the wall. The description indicates that it's only 11.8 pounds, so you could easily move it if needed.
Summary
Having a mirror in your home gym can help keep you safe while pushing you to perform your best. How does a mirror help you with your workouts? Let me know in the comments!
More home gym articles:
Muscle Burns Fat Workout Review and Tips [#mbf review]
10 ROUNDS by Beachbody on Demand: Review and Tracking Sheets