Disclosure: Some of the links in this article are affiliate links, which means that if you purchase through those links I will receive a small commission. For example, as Amazon Associate, I earn from qualifying purchases. If you decide to use these links, thank you!

10 Rounds is Beachbody's first-ever boxing and lifting program. Today I'm sharing all the details of the program along with tracking sheets!
I know what you're thinking. This a grueling workout that I'm going to try to talk you into. You're going to sweat and cry and hate it so much you'll want your money back.
But, nope. Sorry, you're not going to be able to use any excuses for not trying this workout. And I'll tell you why.
10 Rounds on Beachbody on Demand is fun, it's great for people of all fitness levels, and each workout is less than 40 minutes. So, NO excuses!
Honestly, I was so excited to see that Beachbody on Demand came out with a boxing workout.
Some of their programs in the past have one or two workouts with kickboxing incorporated.
But, with 10 Rounds you will learn the fundamentals of boxing while developing power, speed, and endurance.
So, What is 10 Rounds?
10 Rounds is a six-week boxing and weightlifting program lead by Joel Freeman. It includes 3 days of boxing training and 2 days of weightlifting each week.
The boxing workouts are broken into 10 rounds with 45 seconds of rest in between.
The two weightlifting workouts per week are approximately 30 minutes each and are focused on building strength and endurance. There is one workout per week for Upper Body and one per week for Lower Body.
The workouts are in the real time format meaning you get a new workout every day of the program, which I love.
Each and every workout also has a core component! On the boxing days, you will use bands or just bodyweight. And during the lifting days, you will use weights during the core exercises.
You can do the 5 workouts any day of the week, as long as you do them in the order they appear on the calendar.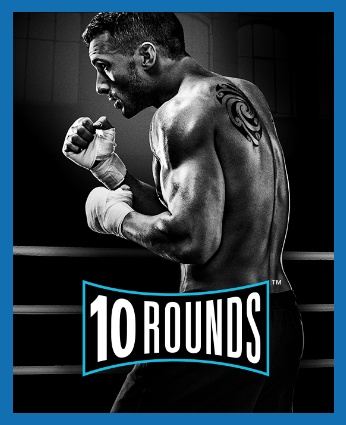 Who is Joel Freeman?
Joel Freeman is a Super Trainer for Beachbody. His career in the health and fitness industry spans over 15 years. He is the creator of LIIFT4 & co-creator of CORE DE FORCE. Joel is a NASM Certified Personal Trainer and a Master Fitness Presenter.
Who is 10 Rounds For?
10 Rounds is listed as an intermediate workout program. However, I think it is a great beginners boxing workout too.
This is because during the first three weeks of the program Joel breaks down each move clearly before building on to combinations. Then during weeks four through six you will feel amazing performing all of the combinations, pivots, and shuffles.
In addition, you can really modify this workout as needed or make it more intense if you are advanced. For example, during the boxing rounds, you can choose to slow it down. Or if you are advanced you can give it your all and really knock out those punches.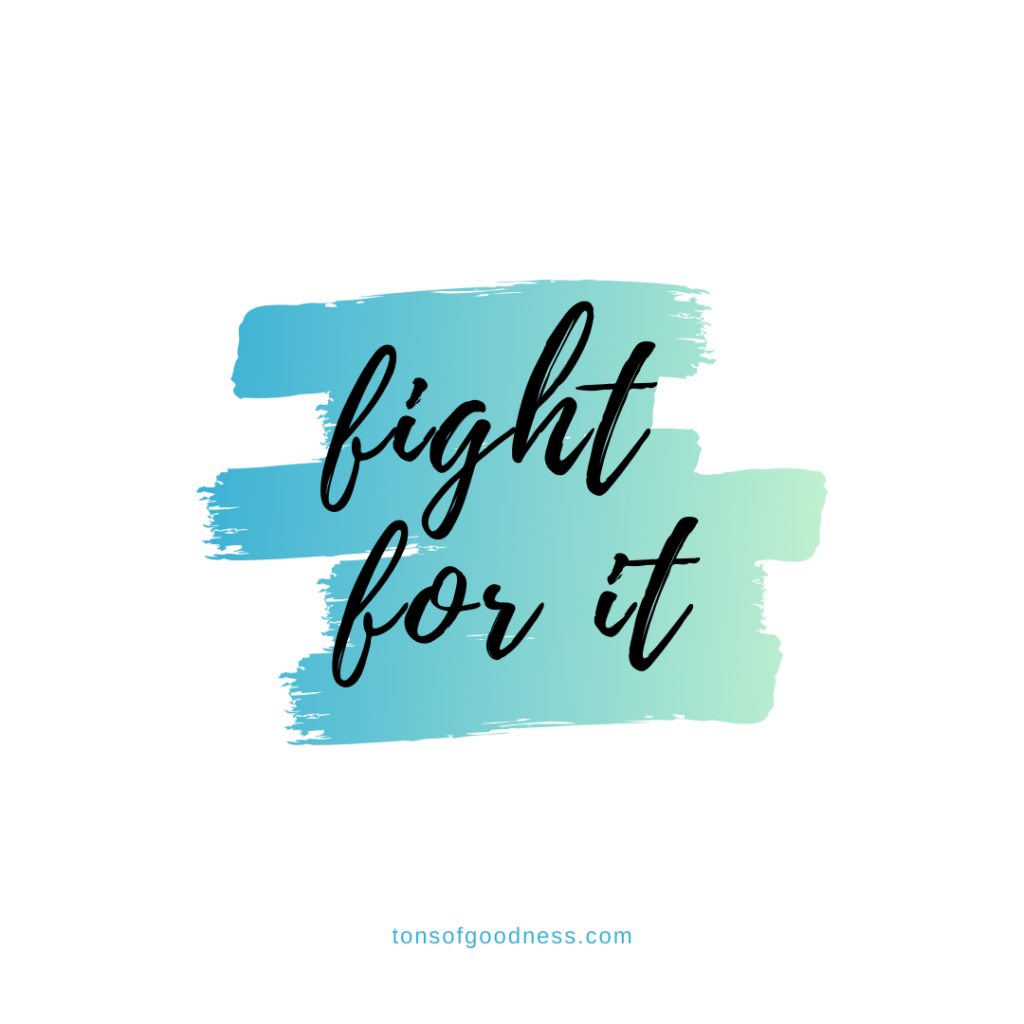 Equipment You Need for 10 Rounds
For 10 Rounds you will need the following equipment:
Resistance loops
Light/medium/heavy dumbbells
A small towel (optional)
The calendar to markoff your workouts
The weights recommend for women for 10 Rounds are 3, 5, 8, 10-pound dumbbells. However, you may want to select dumbbells a little lighter or heavier depending on your fitness level. Personally, I am using weights ranging from 8 pounds to 25 pounds.
Nutrition for 10 Rounds
When completing this program make sure you are getting the fuel and energy needed to perform your workout and recover.
I personally do not use the Beachbody supplements.
Why?
Because I have found less expensive, effective alternatives.
These are the shakes and supplements that I use:
Also, make sure you always have your water bottle nearby.
How Can You Track Your Progress During 10 Rounds?
The 10 Rounds program materials include a workout calendar to help you stay on track with your workouts.
In addition, I have created tracking sheets to use for the lifting workouts.
With these 10 Rounds Tracking Sheets you will be able to easily write down what weights you use for each exercise. This is important for a few reasons:
Before you push play you can review what you lifted previously and decide whether you want to challenge yourself and lift heavier weights.
The workouts are fast-paced, so having your weights ready and lined up will prevent you from missing any of the workout.
During the workout or immediately after, you can make notes about whether you want to lift the same weight next time or challenge yourself.
Tracking your progress will help you to stay focused on your goals, motivate you to challenge yourself, and will inspire you to wake up and press play.
This also includes two letter-size posters that you can hang up for motivation!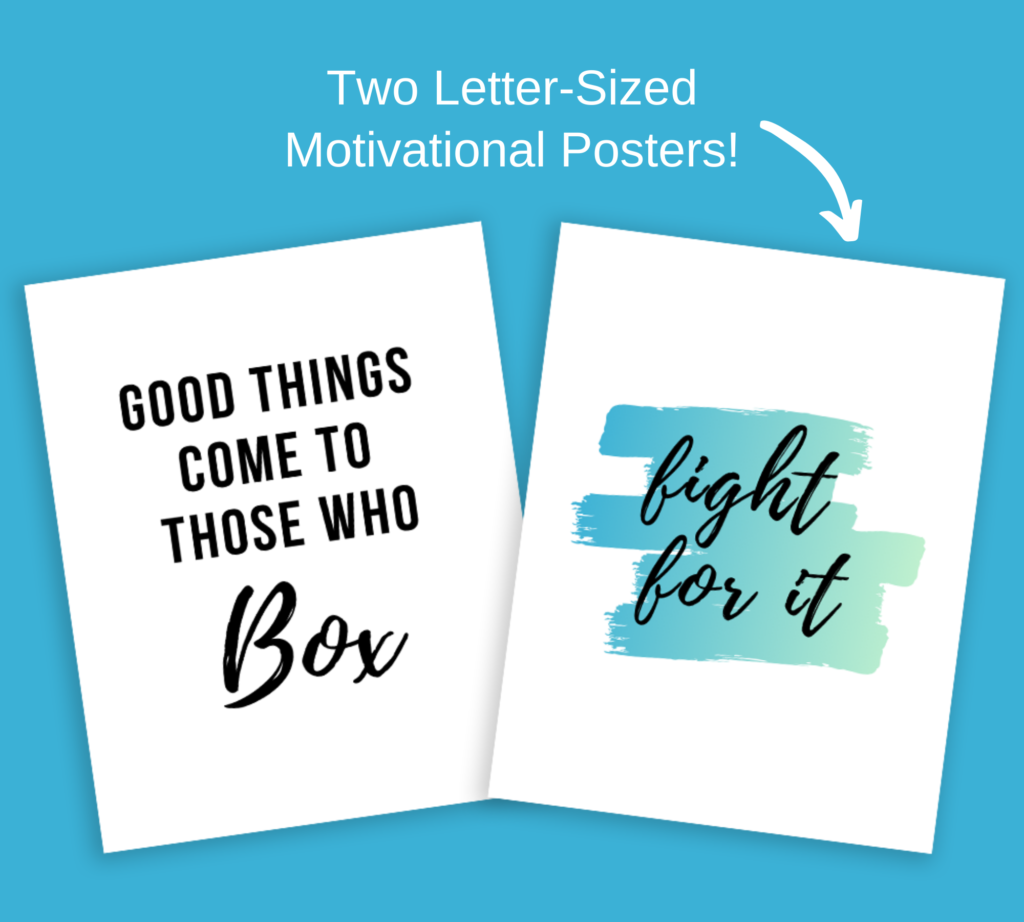 10 Rounds Tips
If you are new to boxing I would recommend that you watch the Boxing Basics video on Beachbody On Demand before starting the program. That way you will be using the correct form and technique. This will help you to get the most out of your workout and avoid injury.
There is also a Lift Prep video for a tutorial on the fundamentals of weight training that you can watch before you start the program.
If you have completed other Beachbody on Demand programs, you may be used to the trainer leading you through a cooldown/stretch immediately following the workout. However, some of the 10 Rounds don't include a cooldown, so you'll want to do the extra stretch videos that are included with the program.
I would recommend wearing shoes that do not have an elevated heel or shoes that catch on your flooring. During this workout you will be doing a lot of pivots that start at your feet, so you don't want to be wearing bulky shoes. I wear cross-training shoes and they seem to work well for these workouts.
Be patient. If you haven't done a boxing workout before it may take a bit to get used to the moves. Be patient with yourself and you'll get it!
Pros and Cons of 10 Rounds
Pros:
The trainer, Joel, explains each of the exercises well. He also has a sense of humor and is encouraging to the cast.
The workouts are shot in a different city each week. So, each week has a different vibe. Love it!
I LOVE the workouts! The workouts are only 30 to 40 minutes, so the time goes quickly. Also, there are so many great moves in each workout. I really feel like I'm getting a great workout every time I push play.
The boxing workouts are fun and challenging at the same time. You really have to focus to do the moves correctly. I love how each time you learn something new.
I also love the variety of lifting exercises. Joel really mixes it up so that you will never be doing the same exact workout twice. For example, sometimes there are unilateral movements, sometimes there are sets of movements, and one workout even had 20 different weighted exercises in one workout!
At the beginning, I was worried that I wouldn't be getting enough strength training. However, Joel incorporates so many lower body exercises that you will definitely be building strength and muscle endurance.
Keeping track of the weights during 10 Rounds helps me to know what weight to pick up next. It also helps me to challenge myself and make progress!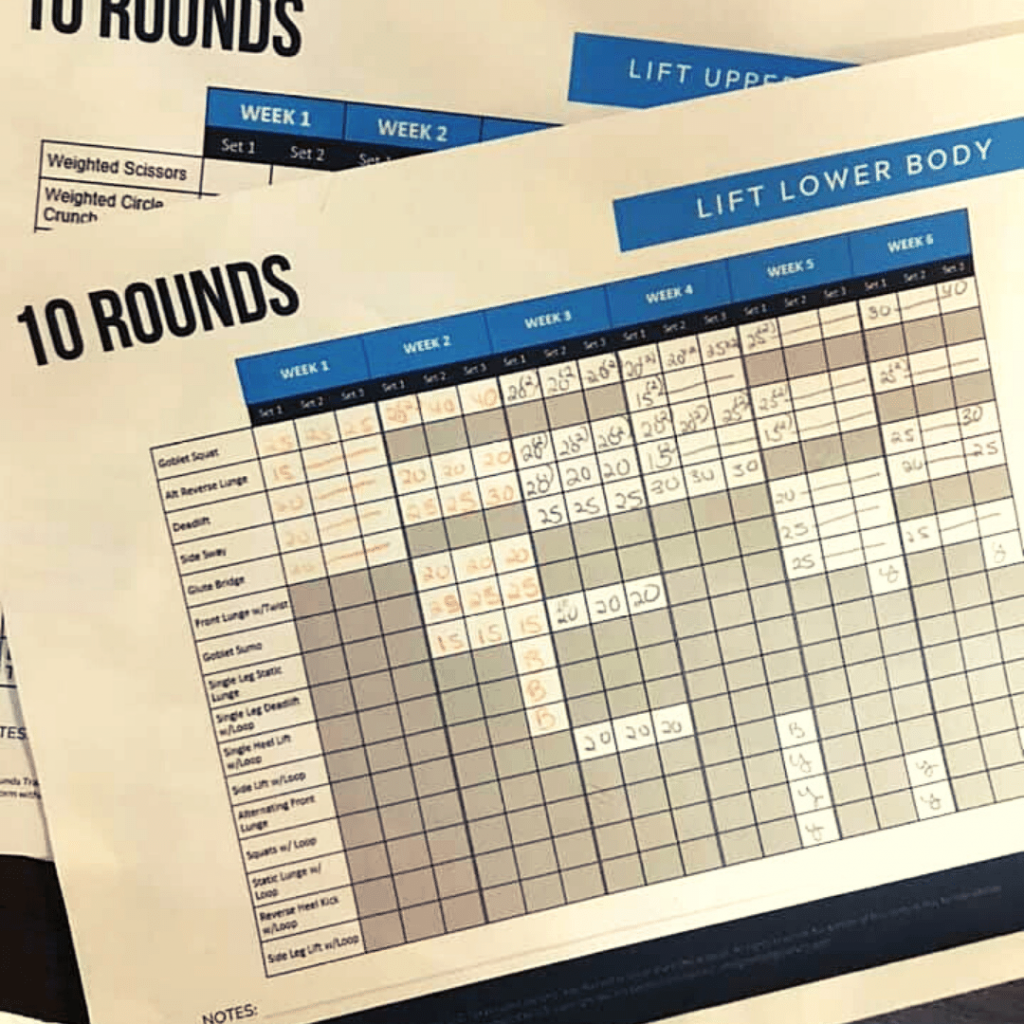 Cons:
While this is an intermediate program, during the first couple of weeks I don't feel like it's as intensive as other programs on the boxing days. My heart rate doesn't seem to get as high as when I do other programs. However, during Week 3 through 6 it's more intense.
10 Rounds on Beachbody on Demand Program Breakdown
Trainer: Joel Freeman
Intensity: Intermediate
Program Length: 6 weeks
Daily Commitment: 30 to 40 minutes – 5 days a week
Equipment Needed: Dumbells, resistance loops, small towel, tracking sheets
Best For: Cardio and Strength
VIP Early Access begins on April 6, 2020
Release on Beachbody on Demand: October 1, 2020
How Can You Get Started with Beachbody on Demand?
Getting started is easy! Here are the steps to get you going:
Head over to Beachbody and choose your Beachbody on Demand membership plan.
Print your calendar and materials from Beachbody.
Download and print your 10 Rounds Tracking Sheets and get started!
Do you have questions about this workout? Let me know in the comments. If you would like a link to a sample workout, just let me know in the comments or email me at kat@tonsofgoodness.com.
Other Beachbody workout programs and articles you might like:
21 Day Fix Real Time Review and Tracking Sheets
Morning Meltdown 100 Review & Tracking Sheets
25 Fitness Motivation Quotes to Inspire You
The Best Workout Shoes for Women [For Every Workout]
Pin for later!