Disclosure: Some of the links in this article are affiliate links, which means that if you purchase through those links I will receive a small commission. For example, as Amazon Associate, I earn from qualifying purchases. If you decide to use these links, thank you!

Muscle Burns Fat (#mba) is a three-week weightlifting and cardio workout program. It is a challenging and effective workout that will help you to get strong and healthy. Today I'm sharing my Muscle Burns Fat workout review along with tips for how to get the most out of this program.
Let's get started!
What is Muscle Burns Fat (#mbf)?
Muscle Burns Fat (#mbf) is a three-week program during which you will complete a 25 to 35-minute strength-training or cardio workout each day.
This is the weekly workout schedule:
Monday – Lower Body Burn
Tuesday – Core Circuit
Wednesday – Upper Body Burn
Thursday – Core Circuit
Friday – Full Body Burn
Saturday – Power Ignite
Sunday – Dynamic Recovery
As you can see, it is a great mix of weight lifting and cardio. And trust me, the lower body lifting day feels like a cardio day too.
What are the #mbf weightlifting days like?
This program uses both classic weight lifting movements and asymmetrical movements.
When performing classic weight lifting movements you work both sides of your body. For example, lifts like suitcase squats, decline chest press, and bicep curls are classic weight lifting movements.
On the other hand…
When performing an asymmetrical movement you are lifting weight on one side only. For example, in #mbf you will hold a weight in your right hand to do overhead presses. After that side is complete you switch the weight to your left hand and complete the lifting movement on your left side.
You will have to use your core strength to keep your unevenly loaded body stable while performing the exercise.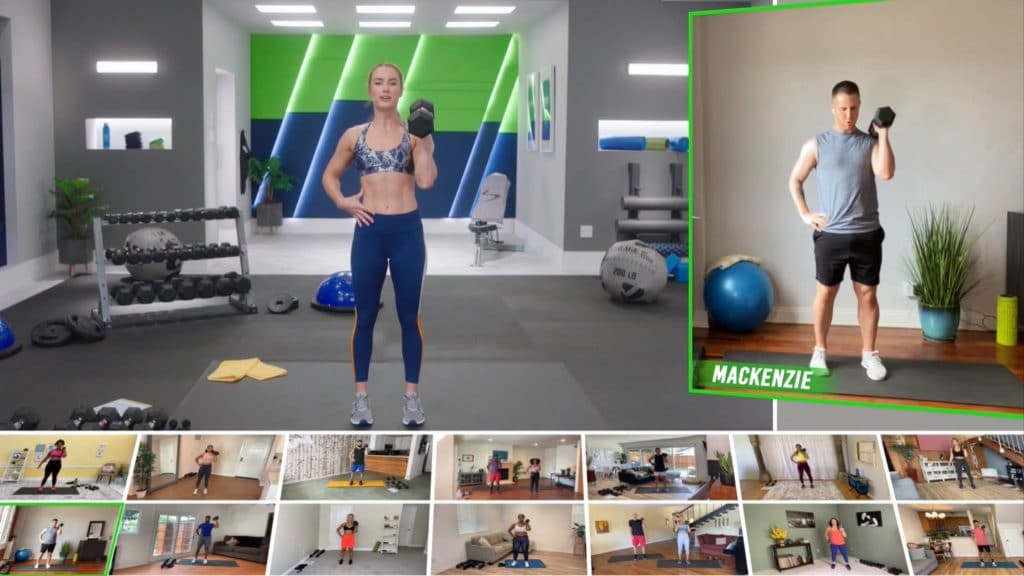 Benefits of Asymmetrical Lifting
There are a few benefits to adding asymmetrical lifting to the program.
Improved Core Strength & Balance – Asymmetrical movements require you to engage your entire core. By using your entire core you avoid using momentum and avoid leaning to one side. As a result, you will have a stronger core and improved balance.
Enhanced Body Awareness – When you complete an exercise on just one side of your body you become more aware of how that side of your body functions. You may have one side that is stronger than the other and that is normal. The asymmetrical movements will help to even out those differences.
Mind-Body Connection – You should always visualize the muscle you're training to strengthen it more effectively. When you are using one side of your body this becomes easier and more natural.
Improved Performance of Daily Activities – When you think about daily activities like carrying your child, lifting grocery bags, and even writing you are using just one side of your body. Asymmetrical movements train your body to complete these everyday movements more effectively.
Cautions
While asymmetrical movements have many benefits there are a couple of things to watch out for to prevent injury.
If you have issues with balance you may want to decrease the amount of weight you are using at first and then build up as your balance improves.
Also, if you have any alignment issues this type of training can make those issues worse. To prevent injury, make sure to watch the #mbf form basics video to make sure you are using the correct form. You may also need to lighten your weights during these movements to decrease the stress on your body.
If you ever feel pain during an exercise it's crucial to decrease your weight or modify.
With that said, #mbf does incorporate a wide range of weight training movements. So, you will always be able to challenge yourself and never get bored.
What are the #mbf Core Circuit days like?
Core circuit days rotate between blocks of cardio movements and core exercises. After the blocks are completed you then finish with an AMRAP (as many rounds as possible) to really challenge yourself. Each week you can try to beat your own number of AMRAP's completed!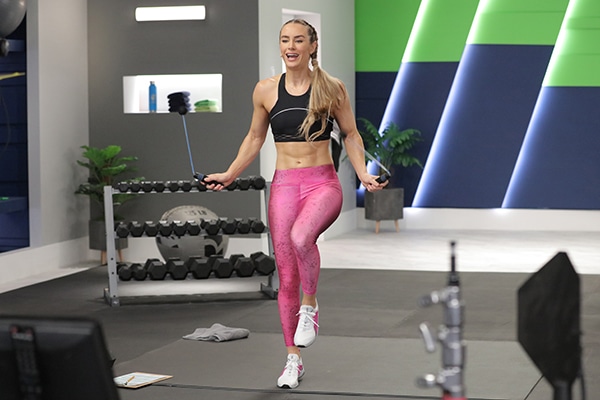 You will use a cordless jump rope frequently during this program. You can buy your jump rope from Beachbody, but it seems overpriced at $29.95 + shipping. I purchased my cordless jump rope from Amazon.com for only $14.99 (price as of 11/24/20 at 12:39pm). They work great and are easy to adjust if needed.
I have to admit that I feel like the Core Circuit workouts are mediocre as compared to other workouts I've done. The transitions between exercises were a bit long and I wasn't a fan of the core blocks. They didn't seem as intense as they could have been.
Yet, I did enjoy the AMRAP's at the end of the workout and liked challenging myself to get at least one more round in each time.
What is Power Ignite?
Power Ignite is the workout that you will complete on Saturdays. This quick 25-minute EMOM (every minute on the minute) workout will challenge you to do a specific number of reps during each minute. The faster you finish, the more rest you get.
What is Dynamic Recovery?
Dynamic recovery is your Sunday workout. This active stretch and flow recovery workout helps to release tension and increase mobility to help get you ready for the next week. Trust me, you don't want to skip your recovery day!
Extra Workouts
Also included as part of the program are:
2 Sample workouts (1 for #mbf and 1 for #mbfa)
4 on-the-go workouts that use no equipment
4 bonus ten minute workouts
Who is the Trainer?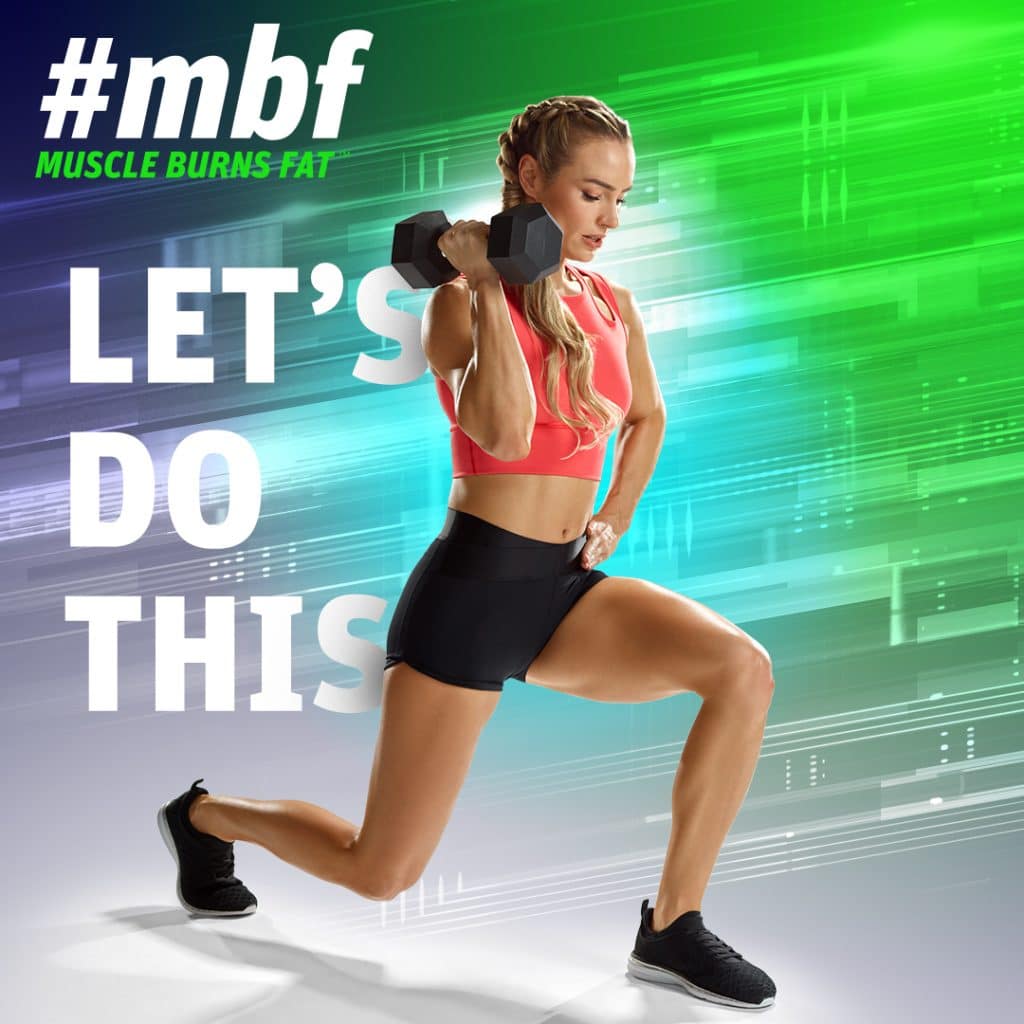 Megan Davies is a Super Trainer and the creator of #mbf Muscle Burns Fat and #mbfa Muscle Burns Fat Advanced. She has a straightforward workout style and a motivating personality to get you through your workouts.
Megan began her career as a personal trainer in college. She's also a former dancer and gymnast who owns a gym with her family in Florida.
She then spent years training clients and earned a certification from NSCA. She participated in the fitness reality show, THE 20s, and was chosen as the next Beachbody Super Trainer to create her first program, Clean Week.
Who is the Cast?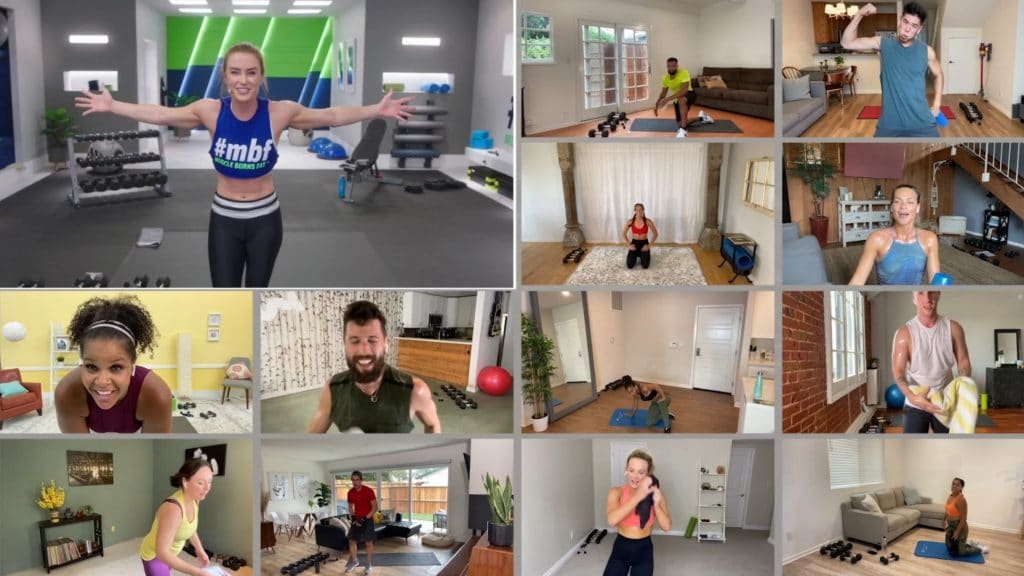 The cast is one of the most exciting, unique parts of this workout program. Instead of having a cast on-set with the trainer, each member of the cast is at home in their own workout space.
So, you get to see where they workout and what equipment they are using. It's also encouraging to see other people workout at home and get an amazing workout.
Equipment You Need for #mbf
For Muscle Burns Fat you will need the following equipment:
The program calendar (provided in the program materials)
Tracking sheets (provided in the program materials)
I used dumbbells ranging from 8 pounds to 20 pounds for this program. Yet, you may want to select dumbbells a little lighter or heavier depending on your fitness level.
Nutrition for #mbf
When completing this program make sure you are getting the fuel and energy needed to perform your workout and recover. I do not use the Beachbody supplements.
Why?
Because I have found less expensive, effective alternatives.
These are the shakes and supplements that I use:
Also, make sure you always have your water bottle nearby.
How to Track Your Progress During Muscle Burns Fat
The Muscle Burns Fat program materials include a workout calendar to help you stay on track with your workouts. They also provide tracking sheets to use for the lifting workouts.
With the tracking sheets you will be able to easily write down what weights you use for each exercise. This is important for a few reasons:
Before you push play you can review what you lifted before and decide whether you want to challenge yourself and lift heavier weights.
The workouts are fast-paced, so having your weights ready and lined up will prevent you from missing any of the workout.
During the workout or immediately after, you can make notes about whether you want to lift the same weight next time or challenge yourself.
Tracking your progress will help you to stay focused on your goals, motivate you to challenge yourself, and will inspire you to wake up and press play.
#mbf Tips
Make sure to watch the Form Basics video listed under Getting Started. This will help you to get the most out of your workout and avoid injury.
Do not skip the warm ups or the stretches!
Wear cross-training shoes that are for both cardio and weight lifting.
Don't get frustrated. If it feels too hard do your best. And feel free to follow the modifier. After a few workouts, when you're feeling stronger, you can follow the rest of the cast.
When you start using the cordless jump rope you might feel like your hands aren't rotating symmetrically or that you're jumping off-beat. It's ok! It just takes some getting used to. And you're still getting a great workout even if it's not perfect.
Muscle Burns Fat Workout Breakdown
Trainer: Megan Davies
Intensity: Intermediate
Program Length: 3 weeks
Daily Commitment: 25-35 minutes – 7 days a week
Equipment Needed: Dumbbells, cordless jump rope, comfort mat
Best For: Cardio and Strength Training
VIP Early Access: July 27, 2020
Release on Beachbody on Demand: December 18, 2020
What workout to do after #mbf: Muscle Burns Fat Advanced (#mbfa) is designed to follow this program
How Can You Get Started with Beachbody on Demand?
Getting started is easy! Here are the steps to get you going:
Head over to Beachbody and choose your Beachbody on Demand membership plan.
Print your calendar and materials from Beachbody.
Get started!
Do you have questions about this workout? Let me know in the comments. If you would like a link to a sample workout, just let me know in the comments or email me at kat@tonsofgoodness.com.
Other Beachbody workout programs and articles you might like:
21 Day Fix Real Time Review and Tracking Sheets
Morning Meltdown 100 Review & Tracking Sheets
10 ROUNDS by Beachbody on Demand: Review and Tracking Sheets
The Best Workout Shoes for Women [For Every Workout]
Summary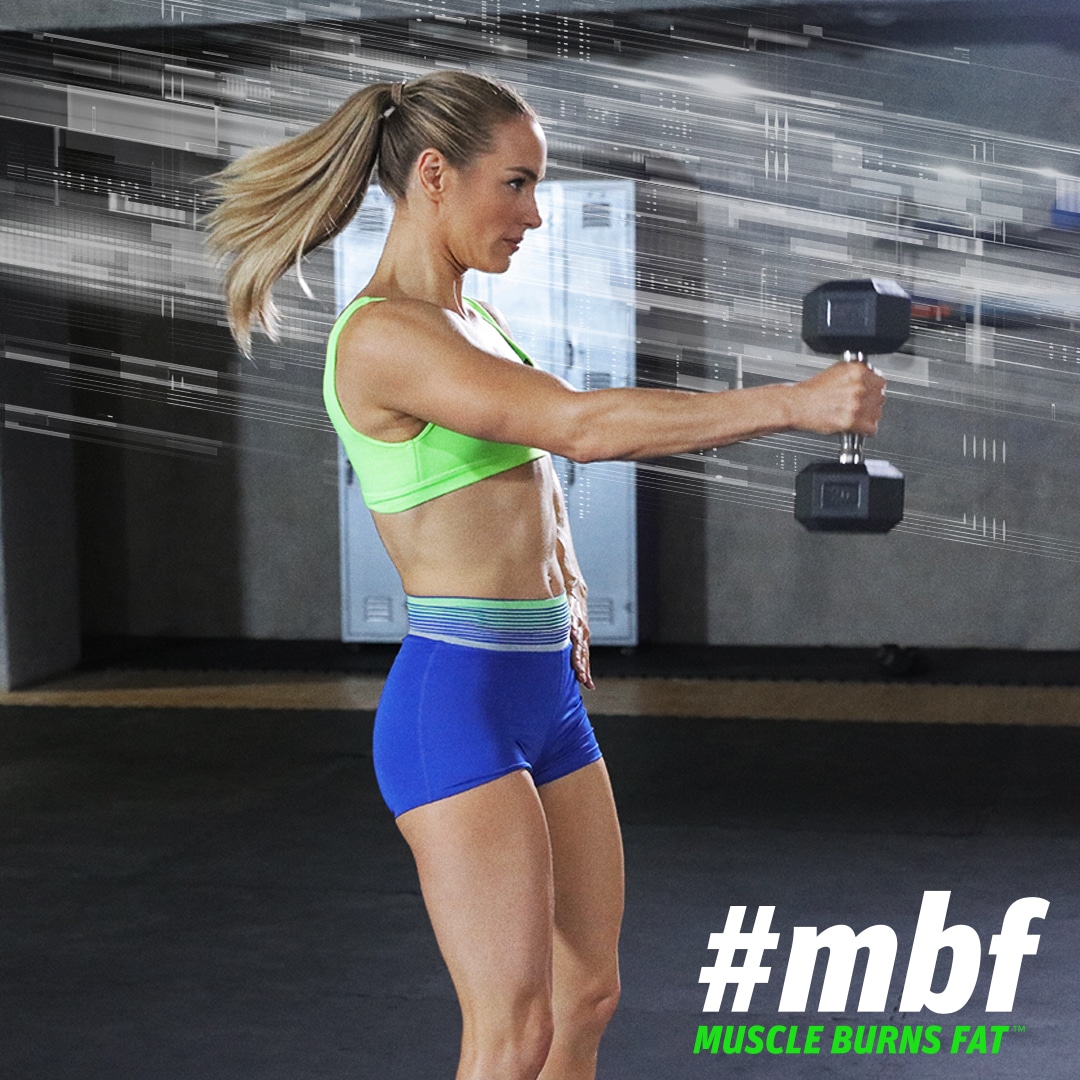 Reviewer
Review Date
Reviewed Item
Muscle Burns Fat Workout (#mbf) by Beachbody
Author Rating





Title
Muscle Burns Fat Workout (#mbf) by Beachbody
Description
Muscle Burns Fat is a 3-week cardio and weight lifting workout program. All you need are dumbbells, a cordless jump rope, and a comfort mat. It's best for cardio and strength training. Commit to 25 to 35-minute workouts each day to get in shape and feel great!
Upload Date