Disclosure: Some of the links in this article are affiliate links, which means that if you purchase through those links I will receive a small commission. For example, as Amazon Associate, I earn from qualifying purchases. If you decide to use these links, thank you!

The idea of starting a food business came to me during the summer of 2016.  I was just starting to follow a ketogenic diet and noticed that there were really no convenient snacks that I could buy that would fit what I was looking for (a yummy snack with no preservatives, dairy, or gluten and was low carb/high fat). So, I started making my own fat bombs following recipes on Pinterest and then began to create my own. After extensive research and hundreds of recipe attempts, I developed three distinct recipes that I loved and wanted to share.
Over a few months, my husband and I were a bit obsessed with getting the business started. Ok, I was a lot obsessed. We signed up for our business license, researched ingredient sources, made hundreds of fat bombs, and created a website and social media accounts to begin marketing. We also worked with our amazingly talented friend, Lori Crone, to develop our packaging and marketing materials.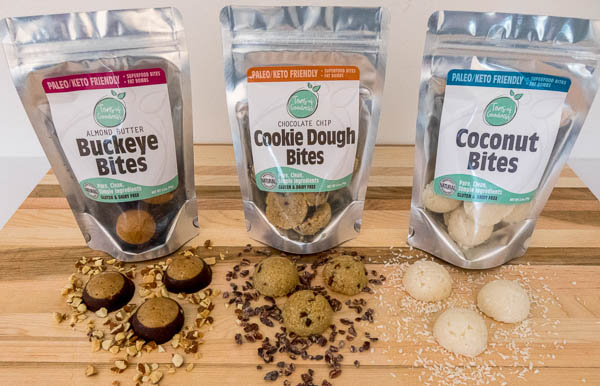 We learned so much during this adventure and had a lot of success in the short time that we were in operation. We sold our bites at a local store, Haren's Market, sold to customers nationwide, and were vendors at local 5k's and events. We were lucky to have so many amazing supporters including Maria Emmerich from Maria Mind Body Health. I also loved that our daughter was involved. She enjoyed attending events and giving out samples. I like to think that she learned a bit about running a business with us.

We decided after many late nights and weekends of making fat bombs that our hearts were no longer in it. We were both working full time and doing this as a side business and working out of a commercial kitchen. I felt like we were not spending enough time together as a family and honestly, I was tired of making fat bombs in such large quantities.   For these reasons, our business came to an end.
I am telling you this because I now want to share our recipes with all of you. I have so much respect for small business owners. The work that goes into making it a success takes dedication, passion, and perseverance.
I love cooking and making food for my family and I would love to continue sharing my family's recipes with you. I hope that those of you who knew us as a small food business will still loving hearing from us as a source of information for building a happier and healthier life. I hope you enjoy the fat bomb recipes!