Disclosure: Some of the links in this article are affiliate links, which means that if you purchase through those links I will receive a small commission. For example, as Amazon Associate, I earn from qualifying purchases. If you decide to use these links, thank you!

As I mentioned in my previous post, Keto Fat Bombs and Our Family Business, after hundreds of recipe attempts I developed three paleo and keto friendly fat bomb recipes that I loved and wanted to share. This post is all about Almond Butter Buckeyes.
Almond Butter Buckeyes are a keto/low carb and paleo-friendly version of the traditional buckeye. For my friends who are not from Ohio, where these treats originated from, a buckeye is traditionally made with peanut butter mixed with a ton of powdered sugar (3 to 4 cups), butter, vanilla, and salt. They are then dipped in chocolate to look like a buckeye.

This version is made with a creamy roasted almond butter center surrounded by handcrafted dark chocolate made with pure cocoa and cocoa butter. They are rich, smooth and irresistible. They are free of sugar, gluten, and dairy and taste amazing.

SUPER FOOD BENEFITS

Only 2 net carbs per bite
No sugar added
4 grams of fiber
Rich source of healthy fats, magnesium, antioxidants, and vitamin E
Immune system support
Prebiotic dietary fiber
Anti-inflammatory polyphenols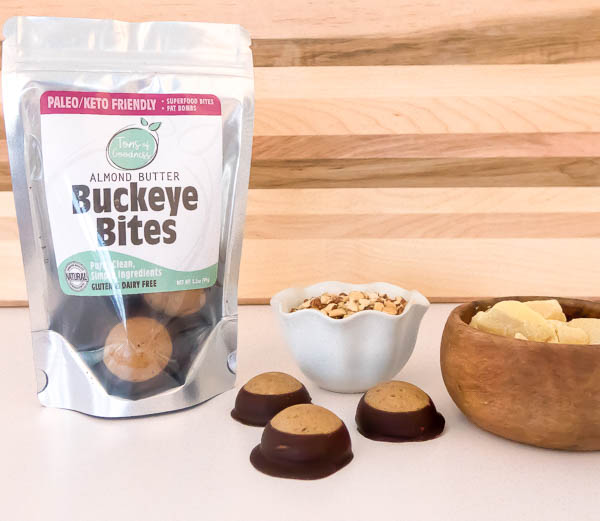 Coconut
I love using coconut in my recipes. Coconut is pretty amazing! It is classified as a "functional food" because it provides many health benefits beyond its nutritional content. Pacific Islanders consider coconut oil to be the cure for all illness. The coconut palm is so highly valued by them as both a source of food and medicine that it is called "The Tree of Life."
Most people know about coconut oil and shredded coconut, but some of you may not be as familiar with coconut butter. Coconut butter is made from the meat of a coconut. It is flaked and conveyed through a hot dryer and is then ground like a nut butter. We used Nutiva Organic Coconut Manna in our recipes. I found that it has the best consistency for fat bombs and it is made with fresh organic coconut meat that is not pasteurized or refined.
Almonds
I chose to use almonds in this recipe instead of the traditional peanut butter due to the health benefits of almonds. Almonds are high in healthy monounsaturated fats, fiber, protein and various important nutrients. They are high in antioxidants that can protect your cells from oxidative damage. Almonds are also extremely high in magnesium, a mineral that many people don't get enough of. Check out Dr. Axe's post for more information about almonds and their benefits. For my recipes I use dry roasted almonds from Treehouse Almonds. They are a great farm-to-table source for almond products.

Vitafiber IMO
VitaFiber IMO (isomaltooligosaccharide) is a natural, organic, plant-based prebiotic fiber sweetener. It is minimally processed and free of sugar, gluten, allergens, artificial colors and flavors, and preservatives. VitaFiber IMO is made from the root of tapioca, or cassava, plant. It is rich in dietary fiber, which can help support healthy weight management by promoting feelings of satiety or fullness. It also provides a good source of prebiotics to assist in healthy gut function.
We chose to use Vitafiber IMO due it's health benefits. Many people, especially those following a ketogenic diet, lack fiber and prebiotics from plants in their diet. This is a healthy and tasty way to incorporate more fiber and prebiotics into your diet. Vitafiber also has a unique syrupy, sticky texture that gives our fat bombs a chewy texture. You can learn more about Vitafiber IMO's health benefits and find more recipes here. You can also purchase it here.
So, gather your ingredients and give this recipe a try!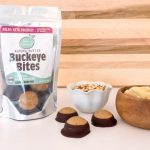 Almond Butter Buckeye Bites
Almond Butter Buckeye Bites are a modern version of the traditional buckeye. They are made of a melt-in-your mouth, creamy roasted almond butter center surrounded by handcrafted dark chocolate made with pure cocoa and cocoa butter. They are rich, smooth and irresistible.
Ingredients
1/3

cup

coconut manna or coconut butter

1

tbsp

organic virgin coconut oil

1/2

cup

almond butter

1

tsp

organic vanilla bean extract

1

dash

sea salt

3

tbsp

Vitafiber

1

batch

melted chocolate (see instructions)
Instructions
In a saucepan, heat coconut butter and coconut oil over low to medium heat and stir until well combined.


Stir in almond butter and mix until combined.


Stir in vanilla extract, sea salt, and vitafiber.


Once well mixed take the saucepan off the heat. Measure a tablespoon of the mixture into each of the silicone mold cavities. Or, shape the mixture into balls.


Place the balls onto a wax paper lined tray and freeze for at least 10 minutes until the mixture hardens. If the mixture is too hard when you remove it from the freezer let thaw for a couple of minutes before dipping, otherwise, your toothpick may break off into your almond butter ball. And that would be sad.


While your mixture is freezing, prepare your chocolate for dipping. You can use my recipe for Easy Homemade Keto Dairy Free Chocolate OR you can melt your favorite dairy-free or low sugar chocolate in a microwave safe bowl in 30-second increments until melted.


Pop your almond butter goodies out of the molds. Insert a toothpick into the top of your almond butter ball. Dip 3/4 of the ball into chocolate, leaving the top uncovered to resemble a buckeye. Remove excess using a fork or small spatula. Place on wax paper-lined tray. Remove toothpick. Smooth over holes. Freeze until firm.
Recipe Notes
Coconut manna/butter is usually solid in the container. You can soften it by placing the jar in a bowl of hot water or by microwaving the jar without the lid in 30 second increments until softened.
For different variations, you could try cashew butter or walnut butter in place of almond butter. I think they would all taste amazing.

Did you make this recipe and love it!? Please share the goodness and click on an image to pin or share on Instagram and Facebook and hashtag it #tonsofgoodness. Thank you!