Disclosure: Some of the links in this article are affiliate links, which means that if you purchase through those links I will receive a small commission. For example, as Amazon Associate, I earn from qualifying purchases. If you decide to use these links, thank you!

Walking is one of the best things we can do to improve our overall health, yet somehow it's not always seen as "real" exercise. Maybe it's because you don't get as sweaty as you do during your cardio sessions? Or maybe because there is no workout equipment required?
Whatever the reason, what we do know is that now is as good as a time as ever to start walking.
This is because the COVID-19 pandemic has not only been a big threat to public health, but also to our fitness. During an April 2020 survey in the United States, 27 percent of respondents stated that they had been exercising less often than usual as a result of the crisis (source). In addition, 68 percent of respondents stated that they were much less likely to go to the gym based on what they knew about the coronavirus (source).
Whether or not COVID-19 is interfering with your fitness routine, walking can be a great activity to incorporate into your day.
Today we will chat about the benefits of walking, how to get the most out of your walks, and how to start a walking challenge.
Benefits of Walking for Exercise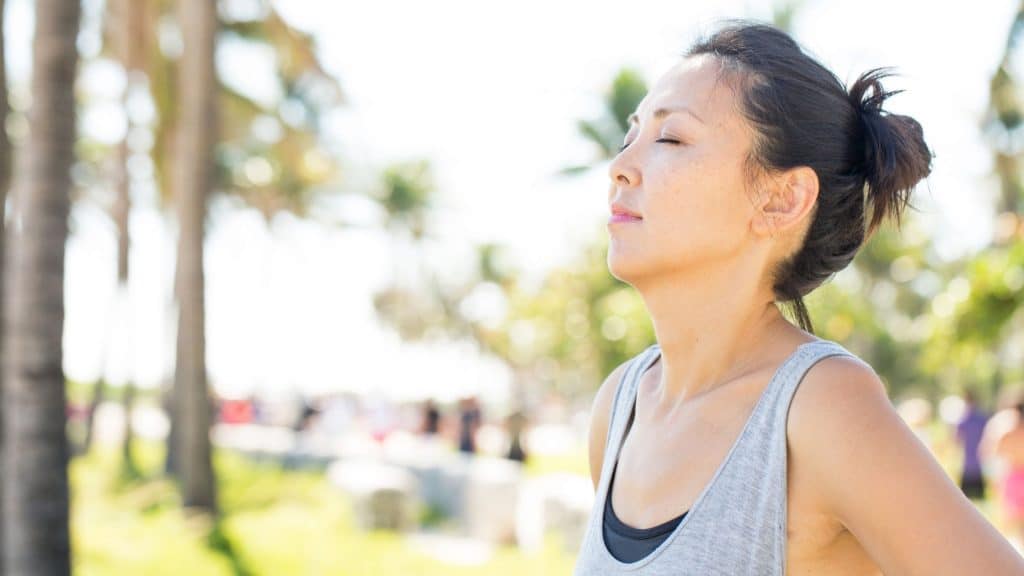 Walking is the most studied form of exercise, and multiple studies have proven that it's the best thing we can do to improve our overall health. Here are a few of the benefits of walking for exercise:
Clears your mind. Walking can provide a much-needed "brain break" when you've been sitting all day. You will find that you will function much better and experience less brain fog if you take the time to go for a walk.
It helps with cravings. A pair of studies from the University of Exeter found that walking can reduce cravings and intake of a variety of sugary snacks.
It reduces the risk of developing breast cancer. An American Cancer Society study found that women who walked seven or more hours a week had a 14% lower risk of breast cancer than those who walked three hours or fewer per week.
It boosts immune function. A study of over 1,000 men and women found that those who walked at least 20 minutes a day, at least 5 days a week, had 43% fewer sick days than those who exercised once a week or less. And if they did get sick, it was for a shorter duration, and their symptoms were milder.
Active recovery. Walking allows the repair and recovery that you may need from more intense workouts. It improves circulation and helps muscles repair faster.
It's amazing for your heart. Walking can help to reduce cholesterol, lower stress, reduce inflammation, and improve your exercise tolerance (source).
Walking is a Convenient Way to Exercise
One of the best things about walking is that it's convenient for so many reasons. Here are a few:
It's free.
You can do it anytime, anywhere.
It's low impact and gentle on your body.
Walking in nature is especially good for your mental health. Studies show it boosts your mood and creativity.
Showering afterward is optional.
Tips for Getting the Most from Your Walking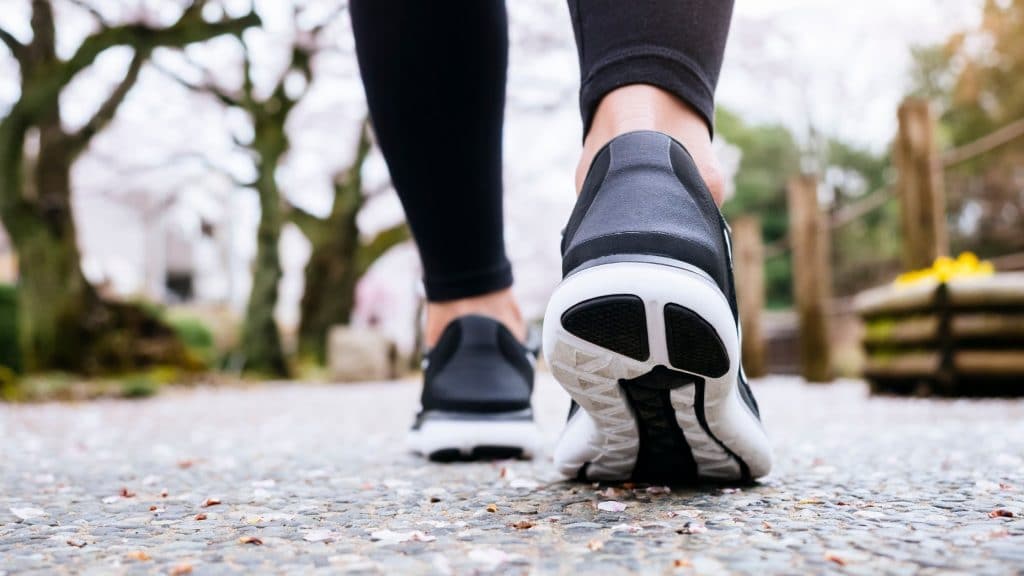 The optimal amount for your health is 30 minutes of moderate-intensity walking, daily. So how do you know that you are walking at a moderate intesity?
Moderate-intensity activities are any activity comparable to walking briskly at about 3 to 4 miles per hour. You can track this using a Fitbit, a walking app, or do the talk test. To use the talk test – if you can comfortably talk, but not sing, you're doing moderate-intensity activity.

Here are a few more ways to get the most out of every step you take:
Walk more often. Taking walking breaks throughout the day helps battle inactivity and the health hazards of sitting too long. Research is increasingly showing this to be its own health risk.
Pick up the pace. Research shows that people with a faster stepping rate have similar health outcomes as those who take more steps per day.
Use your arms. You can increase your heart rate faster when you pump or swing your arms. (if you choose hand weights, remember to keep them light…start of with 1 lb, and don't exceed 3 lbs to avoid injury).
Add some interval training. For example, speed up for a minute or two every five minutes. Or alternate one fast mile with two slower miles.
Walk up hills. Walk up and down hills to build strength and stamina. Combine hill walking with your regular flat-terrain walking as a form of interval training.
7 Ways to Beat Boredom While Walking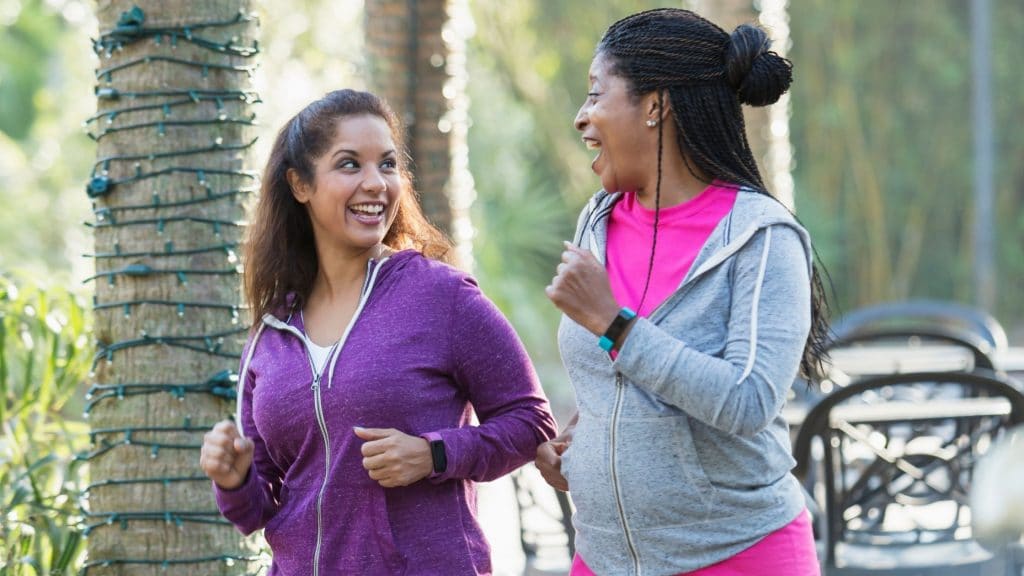 While I have always enjoyed walking, I'm used to the fast pace of Beachbody workouts, so walking can seem a little dull at times. These are all things that I have done to help me enjoy and appreciate walking even more.
Quiet your mind. Walking quiets my mind and allows me to think with more clarity. I find that I am able to solve problems easier and think more creativily while I'm walking.
Listen to an audiobook. I love listening to books using Audible. A mystery or thriller is perfect for keeping you walking. You can use this link to get a free trial! Click Here.
Listen to a podcast. There is a podcast for everyone, so find one you love and download a few episodes for your walk.
Walk a dog. Walk your dog if you have one, or your neighbor's dog if you don't. Dogs are amazing walking companions and provide you with motivation to walk. Learn more about how a dog can inspire you to walk everyday.
Walk with a friend. A walk is a great time to catch up with your friends and family.
Walk for a charity. I have been using the app, Charity Miles, and I'm loving it! You can choose any charity you like and each of your steps raises money for that charity. You can even take a picture of your walk using the app and share it on Facebook or Instagram.
Vary where you walk. For example, walk on a trail at a park, walk in your neighborhood, or walk in a town. I'm usually too tempted to walk in a mall or shopping center, but if that works for you, go for it!
Start a Walking Challenge
I started a walking challenge for the month of October and I've been loving it! The challenge is to walk at least 1-mile every single day of October. I started this challenge because I'm great about working out in the morning, but I wanted to get in more exercise in the afternoon or evening.
If you would like to start your own group, it's super easy to post on Facebook or start a Facebook group. I created walking group images so that you can easily schedule them for each day of your challenge.
This walking challenge has been motivating to me and my friends in the group. We are about half-way through the challenge and I've already walked 55 miles!
Click on the image if you'd like to purchase this set of fall images: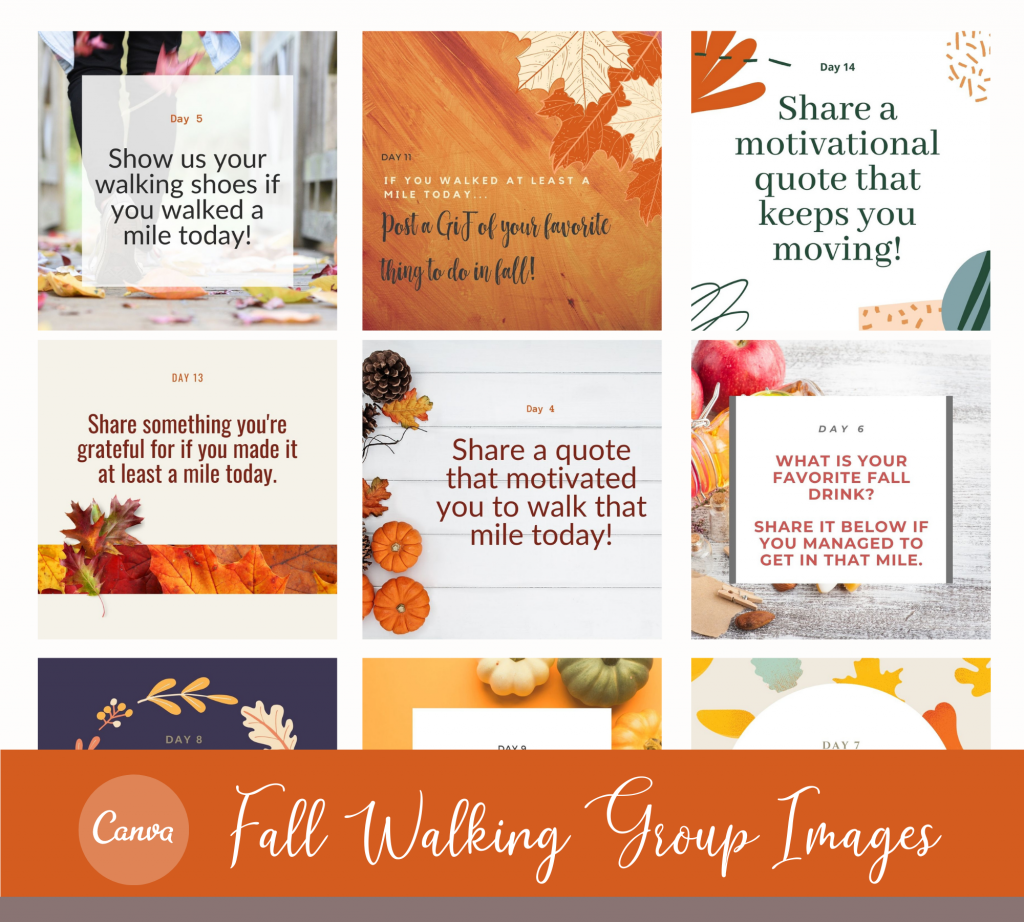 Conclusion
Walking for exercise is absolutely worth your time. I hope that these tips will help you to stay motivated to get your daily walks in! What is your favorite thing to do during a walk? Let me know in the comments!
More exercise articles:
The Best Workout Shoes for Women [For Every Workout]
21 Day Fix Real Time Review and Tracking Sheets
The Step-by-Step Guide to Exercise with Hashimoto's Thyroiditis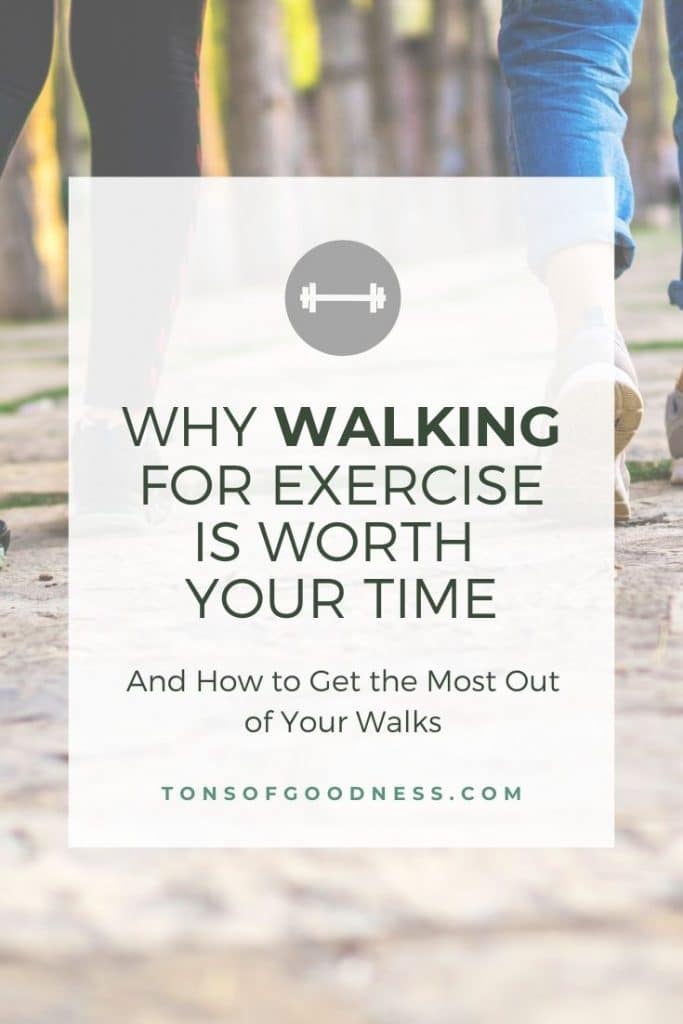 Summary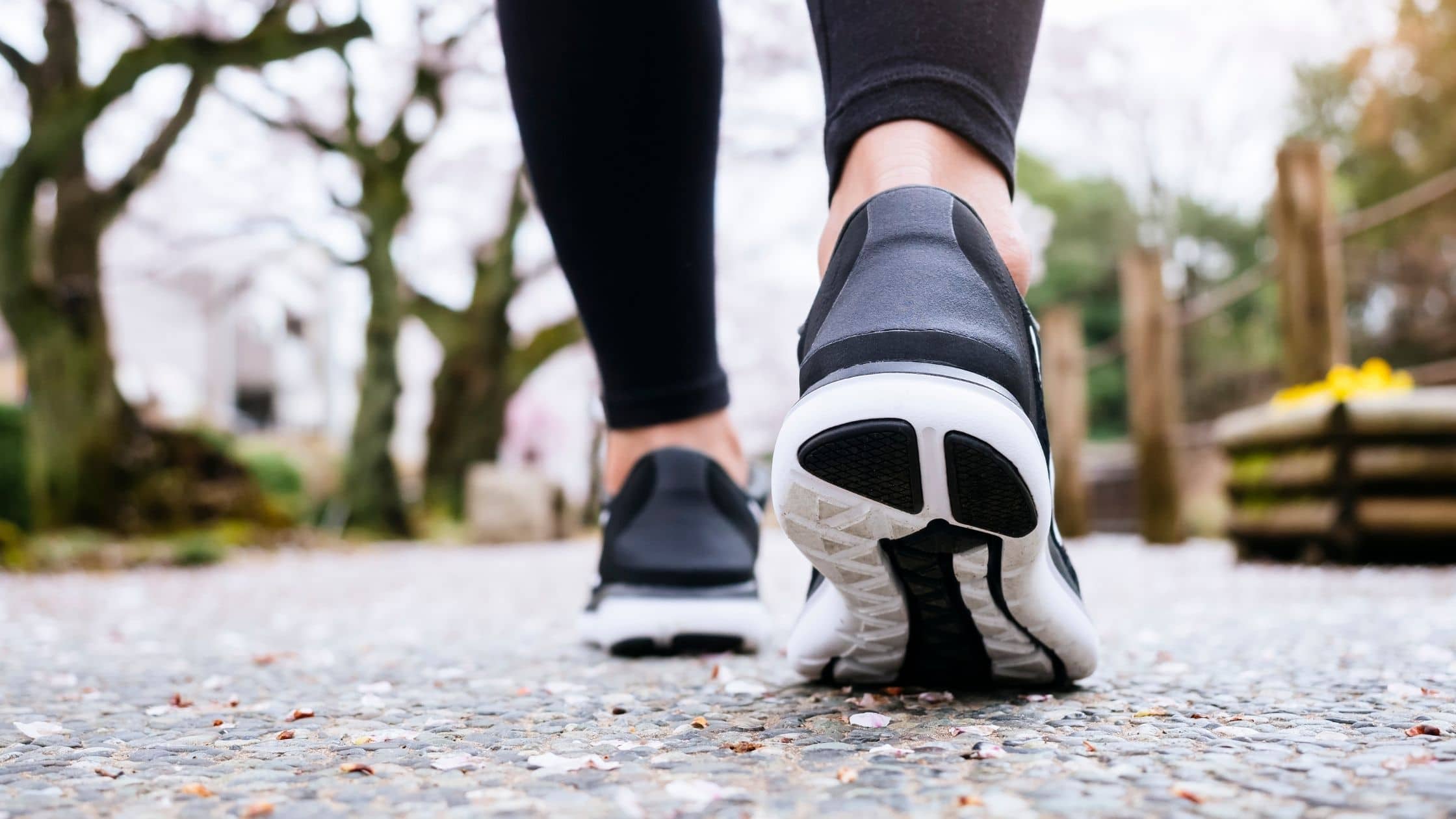 Article Name
Why Walking for Exercise is Worth Your Time
Description
Walking for exercise has countless benefits. Here you will find tips to beat boredom while walking and how to start a walking challenge!
Author
Publisher Name
Publisher Logo