Disclosure: Some of the links in this article are affiliate links, which means that if you purchase through those links I will receive a small commission. For example, as Amazon Associate, I earn from qualifying purchases. If you decide to use these links, thank you!

Every winter my motivation to workout seems to not be as strong as it is the rest of the year. Maybe it's just natural for people to want to hibernate in the winter and not move as much. But, I do not want to lose the progress that I have worked hard for. So, I chose to start a new workout program called 21 Day Fix Real Time with my accountability group.
Accountability groups are a great way to keep yourself motivated and to remind you of your fitness goals. If you would like to join my Health and Natural Living Tribe on Facebook, click here to get signed up!
With the support of this group I was able to complete 21 Day Fix Real Time. I looked forward to my workouts every day and remembered why I started.
So, What is 21 Day Fix Real Time?
21 Day Fix Real Time is an at-home workout by Autumn Calabrese designed to be completed in 21 days. It includes a mix of cardio, strength training, and stretching. What's great is that there is a different workout every single day. And each week you build on the moves to intensify your workout.
These workouts are quick-just 30 minutes each-so you can get a great workout and get on with your day.
Who Is This Program For?
21 Day Fix Real Time is a beginner to intermediate level workout program. There is a modifier to show you a modified version of each of the moves so that you can still get a great workout no matter what your fitness level is. On the flip side, I have been lifting weights for a long time and I still can get a great workout from this by lifting heavier weights.
It doesn't get easier. You get better.

Autumn Calabrese
The Workouts
21 Day Fix Real Time includes a great variety of workouts to keep you challenged and motivated. These include:
Total Body Cardio Fix and Cardio Fix to help increase the strength of your heart and lungs while building endurance.
Lower Fix, Upper Fix, and Dirty 30 to build strength.
Pilates Fix and Yoga Fix to stretch and strengthen your entire body on an active recovery day.
This program also includes a 10-minute fix for abs that is on the schedule two times per week.
In Week 3 there is an option to double up and do a second workout each day.
Click here to see the full workout calendar!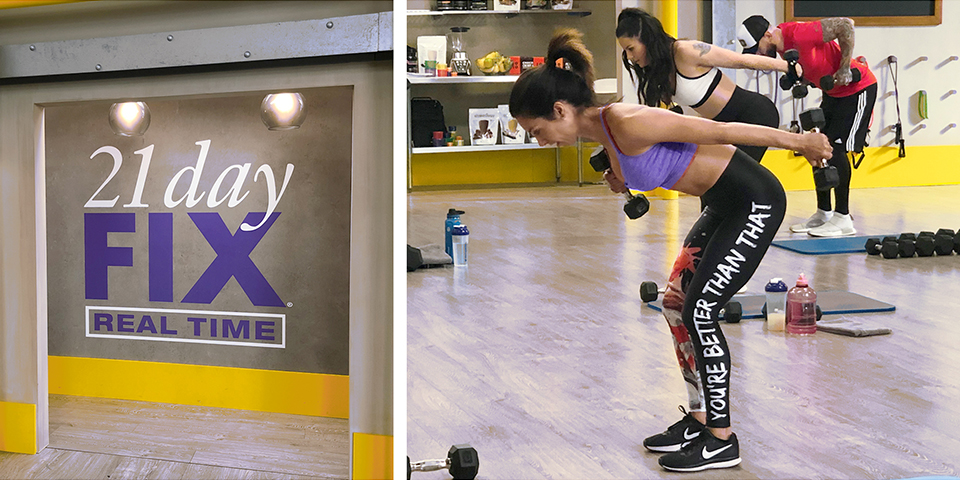 21 Day Fix Real Time Pros and Cons
Pros:
The workouts in the program are shot in real-time for 21 days. This means that you will be following the program with Autumn and the cast as they follow the program.
The trainer, Autumn, is very encouraging and has a great sense of humor. I feel like the workouts fly by because of the awesome cast.
I LOVED the workouts! The workouts are only 30 minutes, so the time goes quickly. Also, there are so many great moves in each workout. I really feel like I'm getting a great workout every time I push play.
Each week you will be doing the same moves, but the moves will increase in intensity or weight. For example, during the Lower Fix workout, you will do split squats in the first week, split squats with hold the second week, and then during week three you will do split squats with a hold and then jumps. I love the added challenge each week!
Cons:
One downside to this program is that there are no off days. There are, however, active recovery days in the form of yoga and pilates. These workouts will help you to stretch and recover from the strength training and cardio workouts.
The second thing I don't like this the name, 21 Day Fix. The program materials indicate that you will see amazing results in 21 days. I know that they have to say these kinds of things because many people are looking for a quick, easy "fix". However, I think that fitness and health are about long term commitment, rather than doing a program for three weeks and then falling back to old habits. I do agree that after the 21 days you will feel healthier and stronger.
What Equipment Will You Need?
You'll need the following equipment. Also, make sure you always have your water nearby.
Light, medium, and heavy dumbells
Workout mat/yoga mat
Resistance loops
The calendar to mark off your workouts.
The weights that recommend for women are 3, 5, 8, 10-pound dumbells. However, you may want to select dumbbells a little lighter or heavier depending on your fitness level. Personally, I am using weights ranging from 8 pounds to 25 pounds.
How Can You Track Your Progress During 21 Day Fix Real Time?
The 21 Day Fix Real Time program materials include a workout calendar to help you stay on track with your workouts. In addition, I have created tracking sheets to use for the resistance-based workouts. Tracking my performance and the weights that I lift is an important part of my body positive fitness goals.
With these 21 Day Fix Real Time Tracking Sheets you will be able to easily write down what weights you use for each exercise. This is important for a few reasons:
Before you push play you can review what you lifted previously and decide whether you want to challenge yourself and lift heavier weights.
The workouts are fast-paced, so having your weights ready and lined up will prevent you from missing any of the workout.
During the workout or immediately after, you can make notes about whether you want to lift the same weight next time or challenge yourself.
Tracking your progress will help you to stay focused on your goals, motivate you to challenge yourself, and will inspire you to wake up and press play.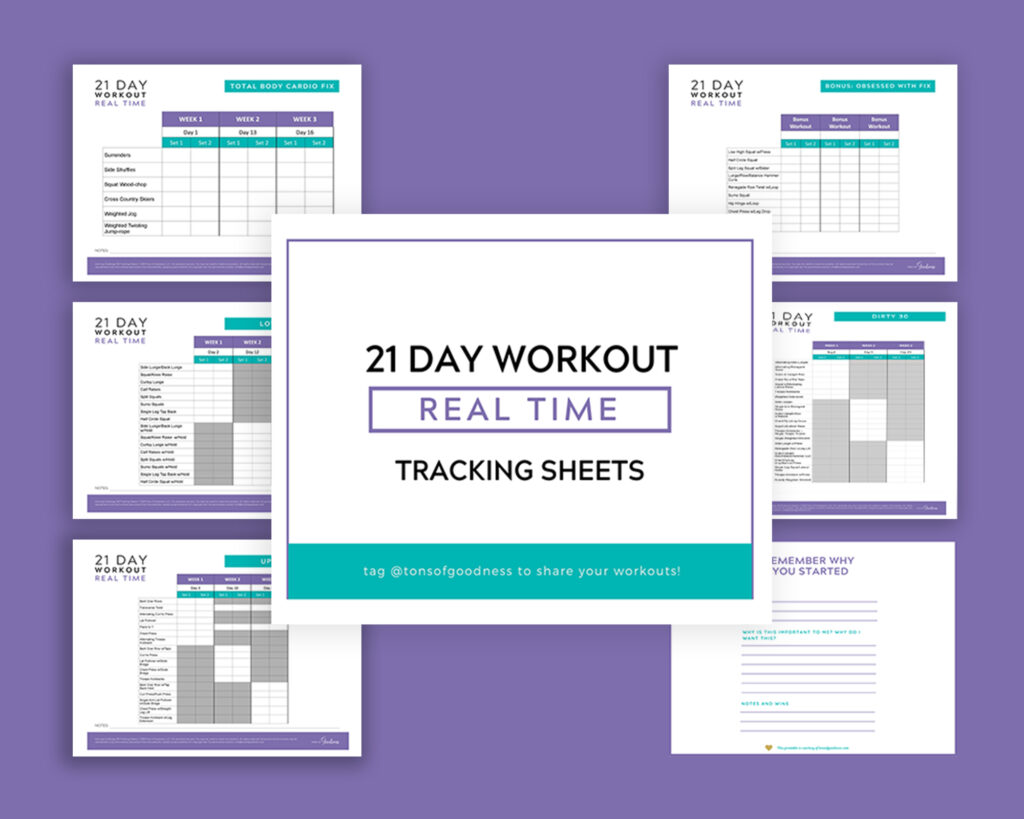 21 Day Fix Real Time Program Breakdown
Trainer: Autumn Calabrese
Intensity: Beginner to Intermediate
Program Length: 21 days
Daily Commitment: 30 minutes + 10 minutes twice a week
Equipment Needed: Dumbells, workout mat, resistance bands
Best For: Cardio and Strength
How Can You Get Started?
Getting started is easy! Here are the steps to get you going:
Head over to Beachbody and choose your Beachbody on Demand membership plan. This link will take you to Christina Battson's coaching page. She is my coach too and can help to answer questions about the program. From this listing you can find all of the Beachbody programs, including 21 Day Fix Real Time.
Print your calendar and materials from Beachbody.
Download and print your 21 Day Fix Real Time Tracking Sheets and get started!
Do you have questions about this workout? Let me know in the comments. If you would like a link to a sample workout, just let me know in the comments or email me at kat@tonsofgoodness.com.
More Beachbody Workout Reviews and Trackers:
Morning Meltdown 100 Review & Tracking Sheets
21 Day Fix EXTREME Real Time Printable Tracking Sheets
21 Day Fix Real Time Weight Tracking Sheets