Disclosure: Some of the links in this article are affiliate links, which means that if you purchase through those links I will receive a small commission. For example, as Amazon Associate, I earn from qualifying purchases. If you decide to use these links, thank you!

Myth: If you have Hashimoto's Thyroiditis, then your exercise options are limited.
Fact: This is a common misconception, even among doctors and personal trainers. I am here to tell you that if you have Hashimoto's Thyroiditis then exercise IS beneficial. And you can still do the workouts you love.
As I talked about in my previous post, I have a diagnosis of Hashimoto's Thyroiditis. It took several years and multiple doctors to make a diagnosis. However, with a combination of thyroid hormone and dietary changes I am feeling better and am more able to function throughout the day.
One thing that was a struggle for me was figuring out how exercise could fit into my life. For instance, prior to my diagnosis I loved working out and even ran a half-marathon. But, while I enjoyed exercise, I felt overly fatigued and lethargic afterward. It was really frustrating because exercise is supposed to make you feel good and give you energy, right?
What I have learned since then is that exercise was triggering my Hashimoto's Thyroiditis symptoms.
If you have Hashimoto's, or have a loved one with this condition, you know that Hashimoto's symptoms can be triggered even if you are doing your best to follow your treatment plan.
But why? And how can you get back to doing the exercise that you love?
---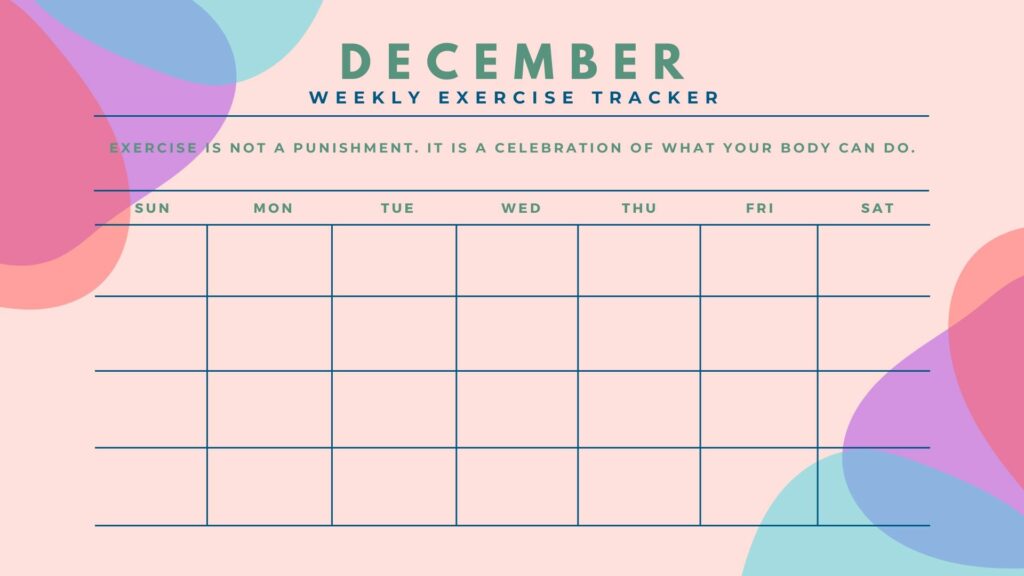 Sign up here to gain access to the Resource Library password. The Resource Library includes a PDF version of this Motivational Exercise Tracker and Hashimoto's Symptoms Survey.
---
Hashimoto's Thyroiditis Flare-Ups
With an autoimmune disease like Hashimoto's Thyroiditis, symptoms may come and go. A period when the symptoms go away is called remission. A period of symptoms is called a flare-up.
The symptoms that a person experiences during a flare-up can vary, yet, the most common include fatigue, brain fog, muscle aches, depression, puffiness, and constipation. These symptoms can gradually increase over time. Or they can hit you all at once.
Why Would Exercise Cause a Flare-Up?
Hashimoto's flare-ups can be caused by anything that puts stress on your body (source). For example, lack of sleep, nutritional deficiencies, psychological stress, food sensitivities, etc. have the potential to over stress your body.
And guess what exercise does? It puts stress on your body.
When you exercise, there is an inflammatory response that is the first step toward repairing the damage. Then, through recovery and adaptation your body starts repairing muscles and tissues. You will be stronger than you were before.
However, if you have Hashimoto's Thyroiditis, you may be more sensitive to the amount of stress caused by exercise. This may cause a flare-up.
So, Should You Stop Exercising if you have Hashimoto's Thyroiditis?
You may be thinking, "If exercise causes stress, then why would I do it?"
Well, there are numerous studies that show that exercise is beneficial for individuals with thyroid conditions and autoimmune conditions. Here's what I have learned:
Physical activity is a critical part of maintaining good health.
Exercise reduces the risk of heart disease, type 2 diabetes, depression, and also improves immune function.
Exercise can help you to decrease stress. Physical activity has been found to reduce levels of cortisol, your body's main stress hormone (source).
Exercise has been shown to decrease inflammation. Physical activity has been shown decrease pain and fatigue in individuals with an autoimmune condition (source).
Exercise can improve perceived quality of life in women with subclinical hypothyroidism (source).
These are just a few of the studies I came across. From these studies we can see that exercise is beneficial for those of us living with an autoimmune disease.
So definitely do not stop exercising! In fact, if you stop exercising, your symptoms, like fatigue and weakness will actually increase over time. The goal is to exercise daily and I will show you how.
The Performance and Stress Curve
The goal is to find the level of exercise that is optimal for you – your "sweet spot". As you can see from the image below, you body needs stress and challenge from exercise in order to feel energized and strong. However, if you go too far past your sweet spot you may start experiencing symptoms.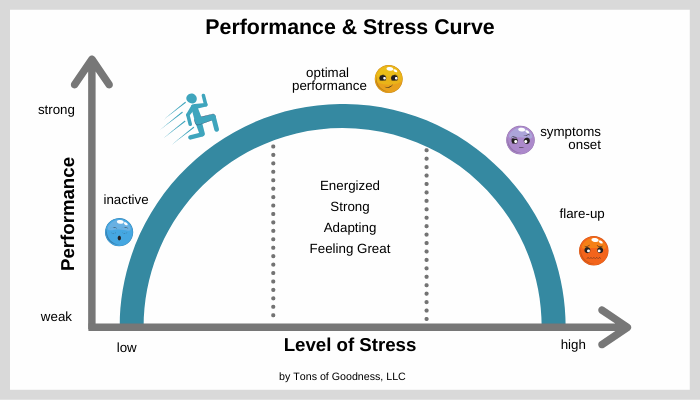 The following is a system to help you find your sweet spot and get you back to doing all of the exercise and activities that you love.
How to Exercise with Hashimoto's Thyroiditis
Step 1. Create a Plan
I've created a printable Motivational Exercise Tracker to help you plan and track your workouts. The goal is to exercise every day even if it's just for a short period of time. It's important to exercise daily so that it becomes a habit.
When planning your workouts it's helpful to think of the four main categories of exercise: endurance, strength, balance, and flexibility. Doing a mix of these types of workouts is beneficial and will ensure that you never get tired of your workouts!
Beginner Workouts
If you are just starting, a great way to begin is to schedule three days of strength or endurance workouts with balance/flexibility days in between. Strength training using lighter weights, walking, and yoga are great choices for beginners. At this point, when we talk about endurance, I don't mean go for a long-distance run. Walking, swimming, or any low-impact movement is great. Movement throughout the day is also important. I love tracking my steps using a Fitbit (affiliate link) to make sure I get enough movement in throughout the day.
Intermediate Workouts
If you are already exercising regularly, then you may be ready to add more workouts to your calendar. This could look like five days of a mix of strength and endurance workouts and two balance/flexibility workouts. You could also think about increasing your weights and/or reps during your strength-training sessions. If you've read my previous posts, you know that I am all about the strength-training. Check out this post, Strength Training: Be MORE and Change Your Life, for more information about it's benefits and ways to get started.
Advanced Workouts
The next step would be to add longer or more intense endurance workouts to your program. These are activities like running, HIIT workouts, biking at a faster speed, etc. It should be noted though, that long sessions of aerobic workouts can put you at a higher risk for increasing cortisol and triggering your symptoms. A great way to incorporate these is to make sure that you always have a restorative exercise or low intensity workout scheduled for the next day.
As a general rule, you should choose a workout that you enjoy and makes you feel better.
Step 2. Track Your Symptoms
In order to make improvements and make sure that your exercise plan is working for you, it is important to track your symptoms. I've included a printable that includes the most common Hashimoto's Thyroiditis symptoms. So make sure you print several copies and complete one at the end of each week. This will help you decide whether your program is causing too much stress or whether you can start increasing the type or intensity of your workouts.
Step 3. Adjust Your Exercise Plan
Take time to review your symptoms checklist and think about how you are feeling. If your symptoms are increasing then you may want to scale it back. It's totally normal for your body to take longer to adapt to workouts if you have Hashimoto's Thyroiditis.
Give yourself some grace and listen to your body.
If your symptoms are improving and you are feeling good, then it's time to decide whether you want to stick with your current plan or move to the next level.
Step 4. Repeat the Process
After you have reviewed your symptoms and decided what your program will look like next, it's time to fill out your Exercise Tracker and plan your next workouts!
I have mentioned in previous posts that I really enjoy Beachbody workouts. I am not a coach, but I have completed most of the programs they offer. They incorporate a great mix of cardio, strength, and balance/flexibility workouts. One that may work for you is Morning Meltdown 100. If you have questions about other workout programs, feel free to email me or ask in the comments!
Support Your Body
Like I mentioned previously, Hashimoto's flare-ups can be caused by anything that puts stress on your body (source). So, it is important to support your body by decreasing stress as much as possible. I know, easier said then done. But, there are things you can do to de-stress.
Recovery – Recovery is an essential part of any workout routine. What you do post-workout can have a huge impact on your overall fitness, progress, and results. Check out this post, The Dos and Don'ts of Workout Recovery, for recovery methods that work.
Healthy Foods – It's also important to eat healthy foods that will give you the energy you need for your workouts. Make sure to eliminate any foods that your are sensitive to. These foods will cause inflammation and will be counterproductive to your exercise program. For example, gluten is a major culprit of inflammation and autoimmune conditions. It's also important to add healthy foods and supplements to support you body. For example, turmeric has anti-inflammatory properties that can positively affect the thyroid gland.
Sleep – While sleep requirements vary slightly from person to person, most adults need between 7 to 9 hours of sleep per night to function at their best.
Essential Oils – Lavender is known for its calming and relaxing properties (source). In addition, a favorite of mine is Ylang Ylang. Ylang Ylang aroma has been shown to be relaxing and decrease blood pressure…and it smells amazing. Diffuse or apply essential oils topically to your temples, the back of your neck, or the bottoms of your feet.
Meditation – A great way to de-stress is meditation. After a session of guided meditation I feel well rested, less stressed, and energized. A study from the University of Waterloo found that practicing brief sessions of mindfulness meditation can significantly improve brain function and energy levels.
Have Fun – Fun activities help to decrease cortisol and promote feelings of well-being. Make a list of fun, relaxing things you enjoy doing and make sure to make time for fun!
---
Free Printables
Enter your name and email address below to gain access to the Resource Library password. The Resource Library includes a PDF version of this Motivational Exercise Tracker and Hashimoto's Symptoms Survey.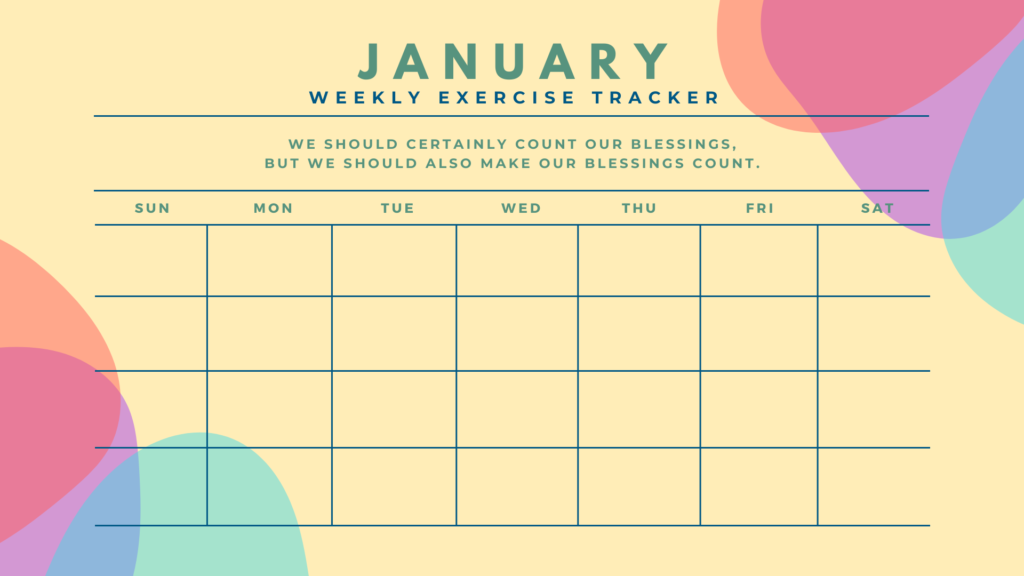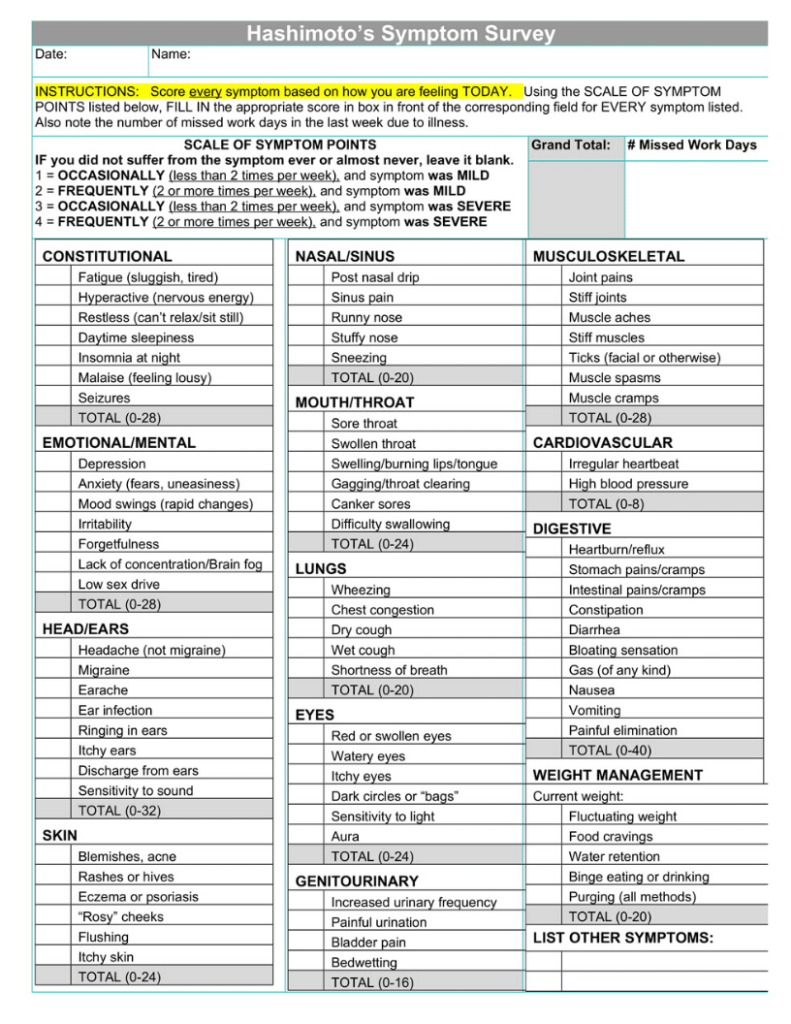 ---
I hope this helps you to get back to the exercise you love doing! If you have any questions or want to let me know what exercise you love, let us know in the comments!
Please share the goodness and click on an image to pin or share on Instagram and Facebook and hashtag it #tonsofgoodness. Thank you!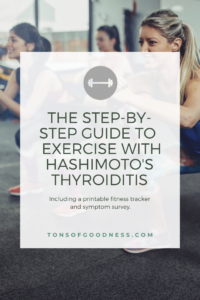 *Please note that the information in this blog post should not be used to diagnose, treat, prevent or cure any disease or condition. This information is not a substitute for medical advice from your health care professional. For more details see my medical disclaimer here.