Disclosure: Some of the links in this article are affiliate links, which means that if you purchase through those links I will receive a small commission. For example, as Amazon Associate, I earn from qualifying purchases. If you decide to use these links, thank you!

Do you want to eat healthier while saving time and money? Then all you need to get started is this guide to meal planning for a healthy week!
When I asked an amazing group of women, "What keeps you from eating healthy foods?", the majority said they don't have the time or the energy to shop for and prepare healthy foods.
And believe me, I get it. We are all so busy with work, family, and all the things that eating healthy foods can drop to the bottom of our priority list.
However, with the right mindset and determination, you can do this. Just take it one small change at a time.
This is where meal planning comes in.
What is Meal Planning?
Meal planning is as simple as it sounds, planning out your meals for the week.
You can either go all in and use this guide to plan your breakfast, lunch, dinner, and snacks. Or, maybe you will choose to focus on just one mealtime for the week. Either way is great and is a move toward improving your diet and your health.
This isn't about eating a "perfect" diet, because that doesn't really exist. The goal of meal planning for a healthy week is to eat more foods that support your body.
This information is part of the guide, "The Beginners Guide to Eating Healthy in Less Time". For 50% off this guide enter the code EATHEALTHY at checkout!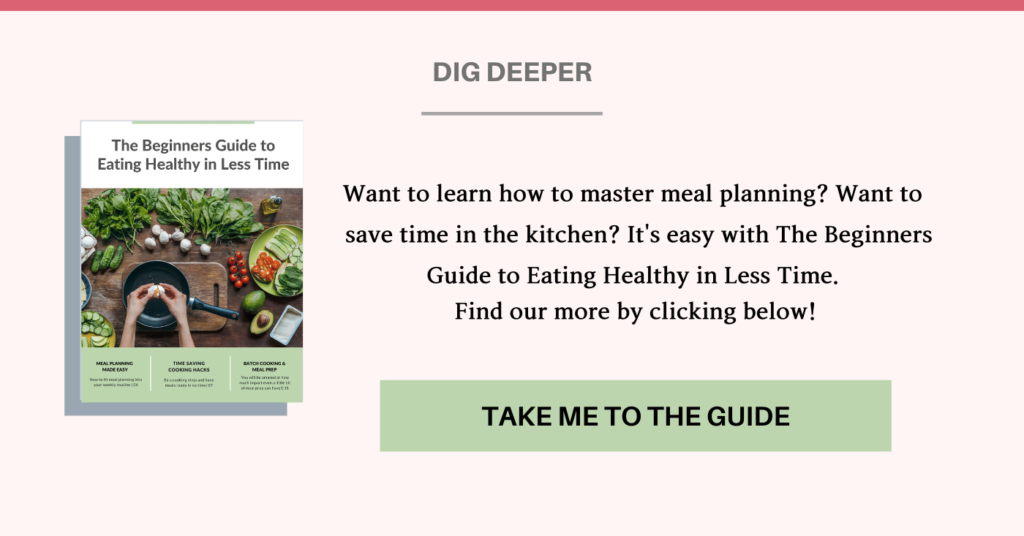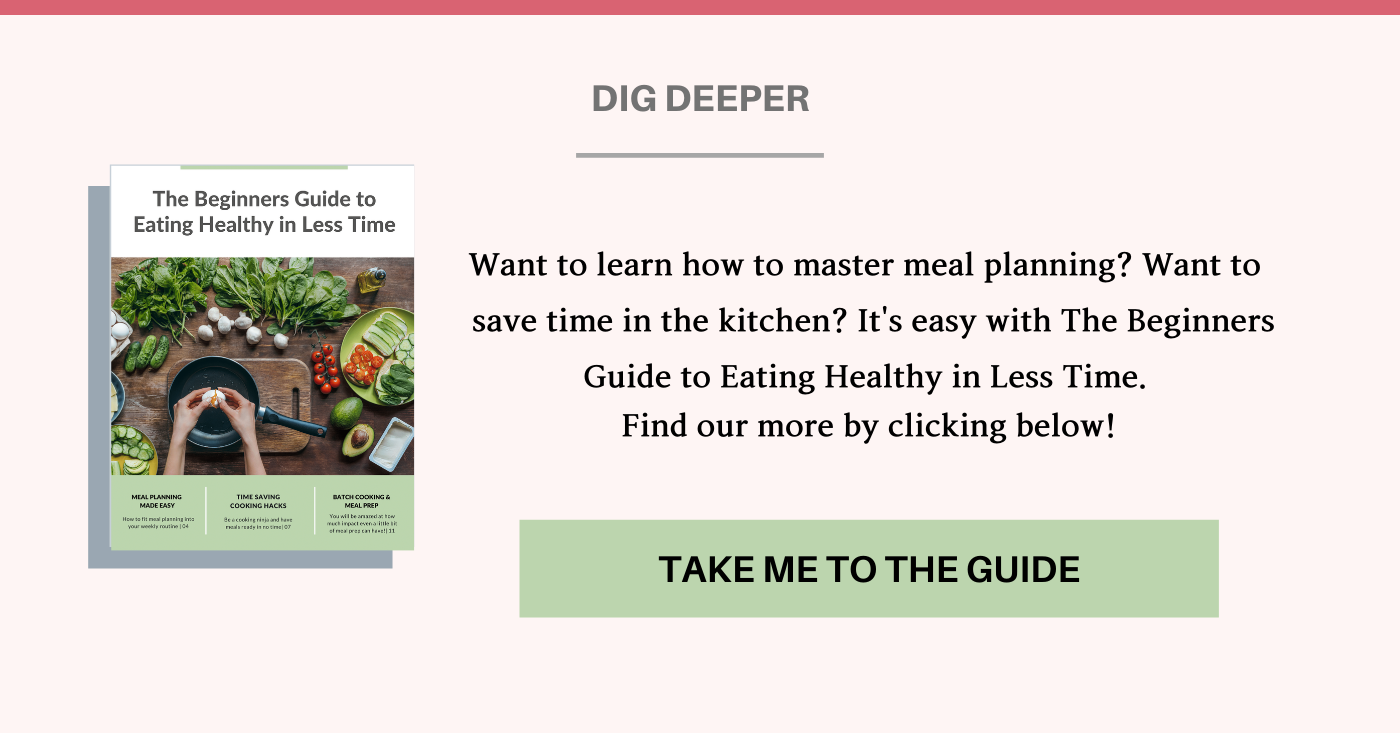 Why is Meal Planning for a Healthy Week Important?
There are several benefits to meal planning for a healthy week. For example, a study published in the International Journal of Behavioral Nutrition and Physical Activity revealed that people that planned their meals were more likely to have a better quality of diet and eat more variety of foods than people that did not plan their meals. Also, meal planning was associated with lower odds of being obese or overweight.
Meal planning can also help you to feel less stressed. How many times have your kids asked, What's for dinner? and you have no clue? Or you're getting home late from work and there are no groceries in the fridge? Meal planning can help you to avoid these situations.
Meal Planning for a Healthy Week Made Easy
So, the first step to master healthy eating is to plan your meals for the week. This may sound daunting at first, but once you get used to the process it will be easy peasy and just another part of your weekly routine.
Step 1. Pick a Day
To get started, choose a day when you will create your plan for the week. I usually do this on Saturday and have my groceries delivered on Sunday, but pick whichever day of the week makes the most sense for you.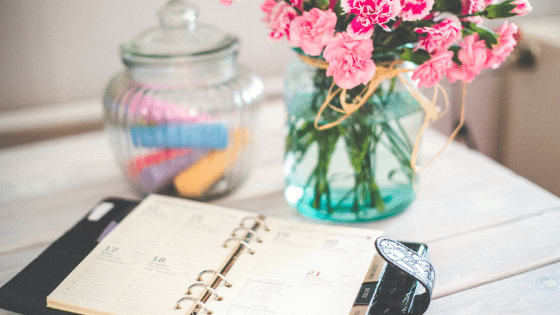 Step 2. Create a Weekly Meal Planning Template
Your weekly meal planning template is a calendar with the days of the week and a plan for what you will eat each day.
I have created a FREE meal planning PDF that is available in the resource library. Just click here to get signed up.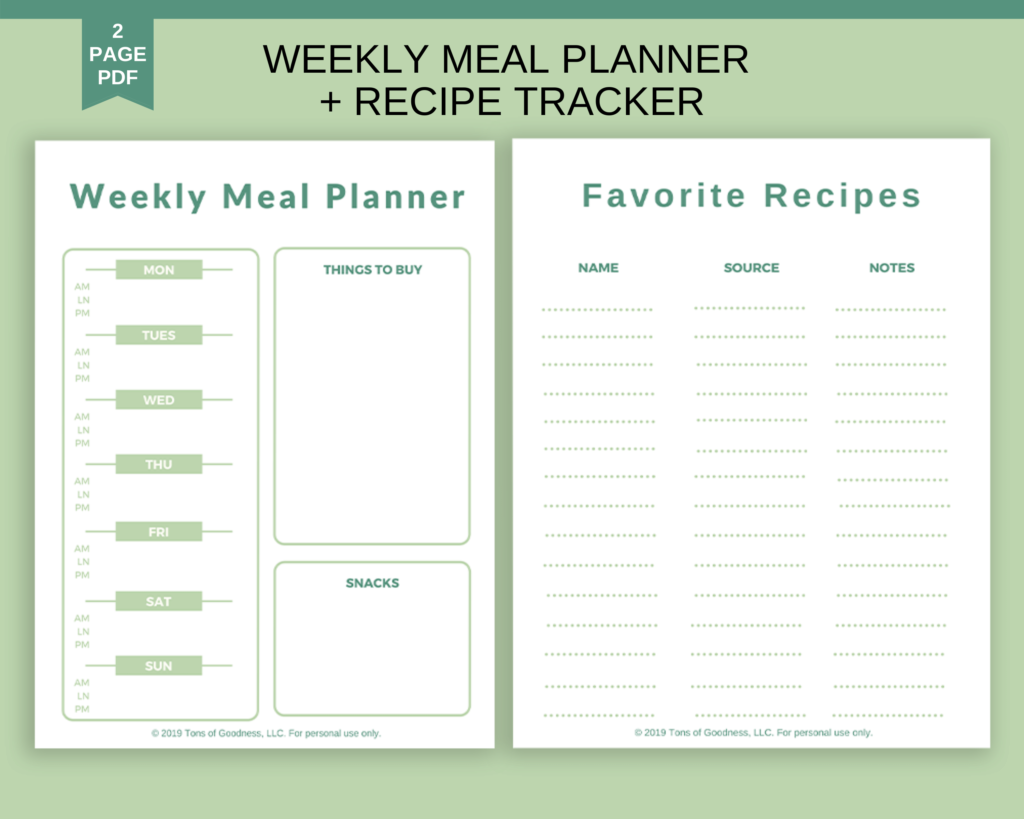 Tip: Place the printout in a plastic sleeve and use a dry erase marker when writing your plan. This way you can reuse your plan without reprinting it each week.
Step 3. Clean Out Your Fridge
Before you start thinking about recipes and meals, take a few minutes to clean out your fridge. This doesn't have to be a full clean-out (like scrubbing all the shelves, etc.) just get rid of any old condiments, carry-out boxes with questionable contents, overripe produce, and anything else that is too old to consume.
This way you will know what you already have available when you are making your grocery list. You will also save time when your groceries arrive (think about trying to unload groceries into a fridge with things falling out of it!)
This will save you money as well because you will avoid buying more of the same ingredient that you already have one…or five of.
Step 4. Review Your Schedule
Take a minute to look over your family's schedule for the week. Note any events that might alter your meal plan. For example, if you know that you will be home late on Tuesday because you are taking your child to practice then you may want to plan for a super quick meal that day or plan for a slow cooker meal that you can prepare earlier in the day.
Tip: Double your recipe and serve leftovers the next night, eat them for lunch the next day, or freeze for a quick freezer meal. Also, if you are making something that takes a while, like chicken or rice, make extra and use for other meals throughout the week. If I am making chicken I always make extra for salads, quesadillas, tacos, etc.
Step 5. Write Down Your Plan for The Week
Now you have your calendar ready and are aware of your schedule for the week. So, the next step is to pick out your meals and add them to your meal plan.
Check out my Pinterest board or my recipe page. Pinterest is always a great place to find recipes. I usually search for "quick healthy recipes" , "paleo recipes" or "healthy one-pan recipes". You can then filter by specific diet and time that it takes to make the recipe.
6. Save Your Favorites
When I find a recipe that I love I either save it to my Pinterest board or I print it out and add it to my binder of recipes. I have included a worksheet in the Resource Library so that you can keep track of your favorite recipes and where you can find them.
This will save you tons of time later because you will be able to just check your list and find recipes that you already know you love and can add to your plan.
7. Make Your Grocery List
As you write down your meal plan, read the recipes and write down a list of items that you will need to buy from the grocery store to make that recipe. If I am going to the store, I will organize my list by where the items will be located in the store to save time when I'm shopping.
If I'm ordering groceries online, I just go ahead and add them to the cart. Read more about online grocery shopping here:
How Grocery Delivery Can Save Money, Time, and Your Health
Thrive Market Review: And Favorite Gluten-Free and Dairy-Free Finds
You Can Win at Eating Healthy
I hope this guide has provided you with the tips you need to start meal planning for a healthy week!
Remember that whether you choose to make your food for all of your meals or choose to focus on one mealtime you are making a huge step toward improving your diet and health!
What benefits have you experienced from meal planning? Let me know in the comments! Also, if there's anything I left out let me know!